"The sound is tight, punchy and clear"
24 February 2015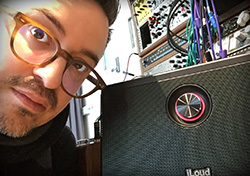 Rik Simpson with his iLoud
Grammy award winning producer and engineer, Rik Simpson has been an IK fan over the last 10 years. He is acclaimed for his production work with Coldplay and other artists such as Jay-Z, Portishead, Kasabian and many more.

Rik tells us that when he is in the studio and on the move, he always keeps his iLoud close at hand:

"I got an iLoud recently, which I love! I'm using it loads - both in and out of the studio. I'm travelling to LA to work in a couple of weeks time and will be taking my iLoud with me".

He then goes on to explain:

"The bass is full but not overly extended or flabby - unlike most other portable/Bluetooth monitors!"

Last year Rik teamed up with with another IK user, Oscar winning Paul Epworth, to produce Coldplay's "Ghost Stories" album.

Rik is currently working on the forthcoming Coldplay album "A Head full of Dreams", due for launch in 2015. As well as his iLoud, Rik is a keen user of the entire AmpliTube range and recently started using SampleTank 3.
+++ STOP PRESS +++
To transport his iLoud when travels to Los Angeles, Rik has just informed us that he has grabbed himself one of the new iLoud travel bags to fully protect it for the journey!

Visit Rik Simpson's website here
Learn more about iLoud here
Learn more about SampleTank 3 here
Learn more about AmpliTube Custom Shop here