Worldwide hit "Video Games" uses T-RackS, CSR and Miroslav Philharmonik
17 April 2012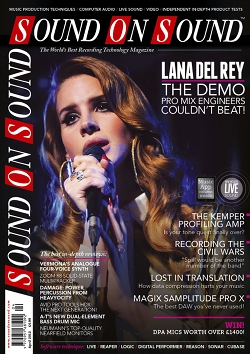 Hit sensation Lana Del Rey released her single "Video Games" on the internet last year and it quickly became a global phenomenon. Subsequently released in the UK, USA and across Europe it rapidly reached Number 1 in many countries.

Her producers, Daniel Omilio and Brandon Lowry,  have been talking about their techniques and methods in the April 2012 issue of Sound on Sound magazine.

The track, initially created in Cubase 6 before being moved to ProTools, makes use of T-RackS 3 Classic Compressor, CSR (Classik Studio Reverb) Hall module and, giving the track its notable string wash background, Miroslav Philharmonik. The CSR Hall module being used to enhance the piano sound.

Commenting on this, Omelio says :
"When you're doing a pop record, you try to get as many takes as possible and you comp and edit them to perfection, but with Lana we focussed on maintaining and enhancing the natural vibe. I began working in IK Multimedia's Miroslav Philharmonik and through string patches that felt the most real and the best connected to the sound of the piano and the timbre of Lana's voice."

He then continues:
"I think I found something called Expressive String patch and also played with some compressors, reverb and delay (built-in effects) and really tried to make the strings sound as real and uncut as possible."

"Staying inside Miroslav Philharmonik, I then took a harp sound, then a chime sound, a choir patch and a snare sample - Miroslav Philharmonik has a palette of orchestral percussion sounds and I selected some snare rolls"

Co-producer Brandon Lowry added:
"Miroslav Philharmonik is a cheaper alternative to East West or Vienna, but the sounds are very versatile if you know how to tweak them".

"The final production was prepared using Ableton Live helped out by the T-RackS 3 Classic Compressor with some slight stereo stereo image manipulation and an EQ with a 2dB hump in the low shelf below 200Hz and above 2000Hz".

As this hit continues to make waves across the world, the latest news is that Lana Del Rey has been nominated for the prestigious  2012 Ivor Novello song award.

We thank Sound on Sound magazine for their kind permission in reproducing the above comments.