The "Greatest Band in the World" chat about Touring, T-RackS and 'Trons
7 August 2012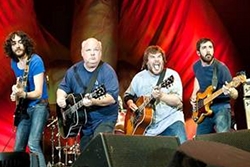 John Konesky, Kyle Gass, Jack Black, John Spiker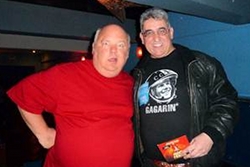 Kyle Gass with IK`s Paul Kaufman
Tenacious D, the self-proclaimed greatest band in the world (and who are we to argue!), have recently embarked on an extensive tour of the UK, Europe and the USA to promote their massive new album 'Rize of the Fenix' which is receiving critical acclaim and hit number 1 in the Billboard album charts in mid June 2012. Jack Black and Kyle Gass are currently touring with a full band featuring virtuoso guitarist John Konesky and mighty bassist John Spiker.
We were delighted to get an opportunity to spend some time with guitarist John Konesky ('Kones') and bassist John Spiker backstage on the UK leg of their tour immediately after their sell-out gig at the O2 Brixton Academy in South London. Our very own Paul Kaufman, an acknowledged, lifelong fan of the band, was invited to hang out with the guys and get some answers to a few questions:
The new album, Rize of the Fenix*, is getting great reviews (No.1 in the Billboard USA album chart!) – how is the tour going so far, are you having fun?

Kones: It's literally the time of my life. We've been having more fun than anyone should be allowed to have. Touring around with my favorite people, playing some of my favorite tunes - It's amazing!

John: We're having a blast!! It's been a lot of fun seeing these new songs go from the studio to the stage. You never really know how things will translate till you get out there in front of people, and it seems like everything has been going over great.


How do you get that amazing response from the audience? – Not just the atmosphere, but that they seem to want to sing along to every song (and they know all the lyrics perfectly).

Kones: You'd have to ask Jack and Kyle that question. I'm amazed every night at how those two can command a crowd. They have a real gift for it. Also, they write these tunes that aren't only catchy, but they're quotable. It always seems to me that fans really love having that funny line that they can quote with their friends. That is entirely what D lyrics are comprised of.


Whose idea was it to have the giant, inflatable, err 'phallus' at the back of the stage set?

You mean the bird? It was Jack's idea.


Kones, can you tell us a little about your stage gear? How are you getting that guitar sound?

I recently switched from Mesa Stiletto combos to Mesa Lonestars. In front of that I use a few pedals. The most important being the Analog Man "King of Tone." It's the nicest sounding overdrive pedal I've heard. There's also a few other staples, like my Maxon AD-999, Phase 90, RMC Wizard Wah, Pigtronix Philosopher's Tone, and a few others that I swap in and out. Also, my Mockingbird has a set of Seymour Duncan Pearly Gates, and my Tele has TV Jones, so the pickups in the guitars really help out as well.


We understand you recently got hold of one of our iRig interfaces for guitar. How are you finding that?

Yeah totally useful! It's really great as not only a warm-up tool, but also as a way to breakdown and learn material. I really dig it.


John, can you tell us about your bass rig? I hear that you used the Ampeg SVX plugin on the new album?

I'm a big fan of Fender basses, and I tend to drift towards this one particular p-bass I've had forever when I'm in the studio. It was a unique challenge both playing and engineering on this record - so on most of the songs I tracked just a DI from the bass through a Neve 1272 so I could focus on playing. Then I would both re-amp through an old SVT and use the Ampeg plug-in to get more aggressive sounds to blend in. I'm a big fan of parallel processing, and it was cool getting sounds by blending a couple different sounds.


Kones, we understand you've been using AmpliTube 3 and AmpliTube Metal for a while now

I use them in my home studio for working up ideas. They can be crucial for getting great tones on the fly while you're working and writing. Sometimes stopping to set up amps and mic's can really halt the flow of ideas. I love modeling plugins for that reason. Just plug in and play! Often times the tones on the demo end up just getting used because they sound that good!


John, apart from playing bass, you also engineered most of the new album. What platform do you do most of your work on? We hear that you've been using T-RackS 3 on many of the tracks. Which modules are your favourites and how are you using them?

I'm a Pro Tools guy, for better or for worse. I engineered and mixed the whole record except for "Deth Starr". While I was mixing - I ended up using the T-RackS Pultec Program EQ plugin on some of the guitars as well as the T-RackS Fairchild 670 on quite a few things.


On some of the tracks we noticed a hint of Mellotron coming through, this wouldn't happen to be SampleTron by any chance?

On "Ballad of Hollywood Jack and the Rage Kage" Jon Brion lent us some of his magic, so on that track he used a real Mellotron, but - any other time on the record you hear Mellotron (which is quite a few other times!) it's SampleTron. I'm not sure what presets we used, I'm sure it was the M400 though. I can say that I've never used a Mellotron plug-in before that was so easy to get amazing sounds out of. I love it because you can just pull up a preset and be ready to go. On a side note - I love it that there are really great sounding Optigan samples available there too! It's gotta be the best Tron virtual instrument out there!


Kones, you also run a guitar tutorial and gear site with Kyle, called Guitarings. How did this come about? Any plans to feature iRig or AmpliTube?

Definitely! KG (Kyle Gass) noticed, a few years ago, that a bunch of people were teaching D songs on YouTube, but doing it wrong. He asked me if I wanted to do something like that with him. Once we started, we realized we could take it to another level by having guests on the show, and talking about and reviewing gear. We pitched the idea to our friends at Fret 12 and they helped us launch it into what it is today! We're stoked about how cool the response has been!


A final question, which has puzzled hardcore Tenacious D fans for a long time! – When Jack sings 'Tribute' what kind of tail does the 'shiny demon in the middle of the road' have? Floppy? Fluffy? Schlompy? It's difficult to hear the exact word!

Kones: I believe it's "Whompy"

It was a real pleasure meeting the guys, we thank them for the time they set aside in their busy schedule to chat to us.

Tenacious D are extending their current 2012 tour up to the end of the year, you can find the full schedule here together with details of the new album 'Rize of the Fenix'.   

For guitar playing hints, tips and chat, make sure you check out Kyle and Kones' Guitarings site here
*All copyrights acknowledged