Krishnan Guru-Murthy, the presenter of Channel 4 Evening News, talks about AmpliTube for iPhone
21 December 2011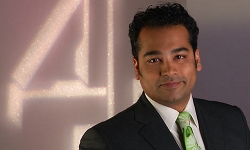 "And Now The News Headlines...": Krishnan Guru-Murthy, the presenter of Channel 4 News and one of the UK's most famous journalists, has been talking to Tap! Magazine about his favourite iPhone apps of all time. Being a keen guitarist (he plays in a band with Peter Barron, who heads up the PR department for Google in the UK), Krishnan loves his AmpliTube for iPhone. 

He told Tap! Mag:

"It's really good fun and such a brilliant toy for creating different guitar sounds."

He then went on to say:

"The trouble is, once you start it's easy to get lost for hours just mucking around!"

Catch Krishnan Guru-Murthy every day on Channel 4 News and foreign affairs programmes.