By Dave Kerzner, a progressive rock adventure story
10 November 2011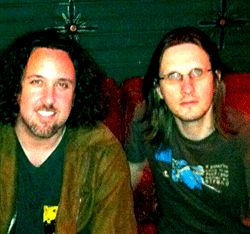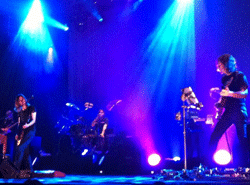 Here are quotes from Dave Kerzner about how Steven Wilson uses SampleMoog, SampleTron and iKlip on tour with "Porcupine Tree":

"Steven Wilson of the progressive rock band Porcupine Tree has released his second solo album entitled 'Grace For Drowning'. I befriended Steven in 2010 as he was integrating IK Multimedia and Sonic Reality products into his studio set up. Products like T-RackS, AmpliTube, SampleTank, SampleTron and SampleMoog quickly became an important part of his arsenal of music tools that he uses inside Apple's Logic on the Mac. Steven uses a combination of live hardware instruments, often vintage keyboards and guitars for example, as well as cutting edge software to create his music. During the making of 'Grace For Drowning' I also contributed various keyboard and guitar oriented 'sound design' on a 23 minute epic song called "Radier II" which also featured Jordan Rudess of the band Dream Theatre on keyboards. The entire album is filled with Steven's multi-instrumental performances and vocals as well as performances from top rock and jazz musicians such as Theo Travis, Nic France, Steve Hackett, Pat Mastellato and many others. Having just finished remixing nearly the entire King Crimson catalog with Robert Fripp, Steven had been influenced in many ways while working on his latest release, Grace For Drowning."

"On November 8th, I caught up with Steven in Orlando to see his first ever solo gig in the United States. He performed songs from 'Grace For Drowning' live at the House of Blues with Marco Minnemann on drums, Adam Holzman on keyboards, Theo Travis on winds and keys, Nick Beggs on bass and stick plus a new addition to the solo band for this leg of the tour, John Wesley on guitar. John has played live previously with Steven Wilson's popular progressive rock band Porcupine Tree but this was John's first gig with Steven's solo band. He was given the gig on short notice and had only one week to learn his parts! His IK Multimedia iKlip was a key part of his live rig for important notes and cues he needed to see on stage with his iPad®. Steven and Adam were running Logic Main Stage on their Apple computers with various Sonic Reality and IK Multimedia sounds used on the album. It was an incredible show with great musicianship. A mixture of jazz-infused progressive rock and dark modern alternative with huge dynamics rich with mood and atmosphere."


Dave Kerzner, (aka Squids)

For Steven's latest tour dates and information about his latest album visit his website, "Grace for Drowning".

Listen to Steven Wilson talk with Dave Kerzner of Sonic Reality about SampleTron and SampleMoog in an exclusive phone interview.

Follow Dave Kerzner's progressive rock adventures on Facebook.