Geo Slam from RedOne Productions, who rule the current charts globally, loves his AmpliTube
11 October 2011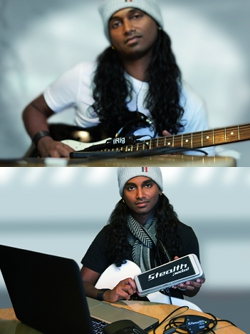 Geo Slam is a highly respected guitarist, producer and songwriter working for the Grammy-winning Swedish RedOne Productions team.

RedOne and the team around him is one of the world's most successful producers of pop music today, with a CV that covers work with, amongst many others, U2, Lady Gaga, Jennifer Lopez, Pitbull, Enrique Iglesias, Marc Anthony... to name just a few.

The team is, in a truly modern manner, functioning as a collective group effort consisting of seven members with a diverse and successful background in music, standing together behind the typical RedOne sound, currently dominating the charts.

Even before Geo joined the RedOne team he had earned production credits for around 10 Singles and more than 20 albums. He has released more than 100 songs including producing the Japanese boy band 'Shonentai'.

Geo is currently partnering with artists such as Taio Cruz, Porcelain Black, Parade, One Direction and Darin. Furthermore, he is currently in the middle of producing the UK band Blue´s new album.

Right now Jason Derulo's song "Fight For You" is climbing the charts - co-produced by RedOne and Geo Slam, plus Geo features on guitar as well.

Read here what Geo has to say about IK's guitar products.

AmpliTube 3
"Brutal and aggressive distortion or soft noiseless warm clean sound, I don't have to compromise, AmpliTube does it all!
Simple to use but highly advanced, it makes my guitar cut through in mixes without taking over from the other instruments.
AmpliTube models every nuance of the characteristic classic tube amps with amazing accuracy. It works and sounds just like the old way I used to record my guitars with analog gear and every setting I've tried actually sounds good.
Close is not enough, AmpliTube takes me all the way!"

AmpliTube iRig
"Easy to plug in and you are ready to record in seconds. The sound is amazing and extremely accurate, the converter is brilliant!
This is a definite favorite and a friend on the road!"

StealthPlug
"StealthPlug has given me the freedom to record and perform with perfect results in every situation. Late night sessions in the studio or in the hotel room, it doesn't matter, StealthPlug does the job! A professional USB Audio interface with low latency gives me the freedom to trust what I'm hearing through my headphones. In this way I can let my creative side go off completely!"

StealthPedal
"I've never been a fan of bringing a whole array of pedals around, this one does it all for me! A combined USB powered interface with a Wah-pedal/MIDI footswitch makes it the perfect mobile workstation. Just connect the cables and your headphones and you're ready to go! On top of that it looks really cool!"