Win a Guitar, IK Gear and a whole lot more, ends on October 18, 2011
28 September 2011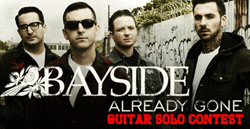 Here's your chance to rock out and show your chops as a guitarist! Enter to win the IndabaMusic.com "Bayside Guitar Solo Contest". Featured prizes are an autographed Epiphone Guitar, AmpliTube iRig and iKlip bundle for iOS, and AmpliTube Custom Shop Gear Credits.

Check out the video from Bayside's guitarist, featuring video from Bayside's guitarist, featuring AmpliTube iRig for the guitar solo contest.

From the IndabaMusic.com website:

"Bayside has been rocking the pop/punk scene since 2000, and their Cult of fans shows no signs of stopping. They just released their 5th full-length album, Killing Time, on Wind-up Records.

Now, the band wants you to shred some awesome guitar sounds over their single "Already Gone". If your solo is deemed best by the band, you'll be given an Epiphone guitar, a full iOS rig, and a feature on the band's website."

Enter the Opportunity to get started.