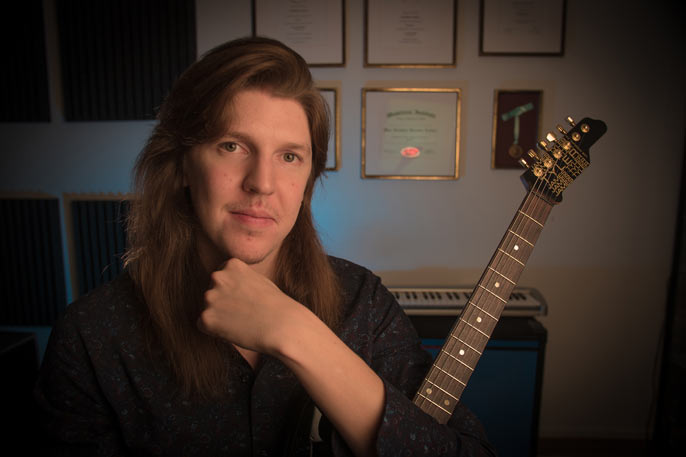 Incredible 80's style guitar tones with an award-winning guitarist/producer
19 September 2017
Sweden based producer, songwriter and guitars Kristian Larsen was able to get his hands on IK's Fulltone® Collection for AmpliTube for Mac/PC and absolutely loved the sound he could get from it. The Fulltone Collection offers guitarists and all musicians an essential palette of sounds that span from classic to contemporary tones, and includes 3 powerful processors that are equally at home in music production as well as in creative sound design - the OCD overdrive pedal, Solid State Tape Echo - now in rack form with an added bpm sync function - and That 80s Rack Chorus.
Kristian has worked in London as an assistant/engineer in the highly revered Kensaltown Studios, owned by the Swedish songwriter and producer Martin Terefe. While living and working in London Kristian engineered and played guitar for artists such as: James Blunt, Mika, Mike Posner, Harry Connick Jr, Jesse & Joy.  He was also nominated for a Latin Grammy for his work with the already grammy winning pop-duo "Jesse & Joy" who went on to win "Best Latin Pop Album" in 2016. Today, Kristian Larsen is one of the most highly sought-after studio session players, whose style is immediately recognizable for being a concentrate of melodics and tasteful playing.
Watch as Kristian demonstrates how easy it is to create some incredible tones for performing and recording with the Fulltone Collection for AmpliTube for Mac/PC.




The Fulltone® Collection is available from the IK Online Store or the AmpliTube Custom Shop for only $/€59.99*. You can also purchase the TERC or SSTE separately for only $/€34.99* each, and the OCD for just $/€24.99*.
For more information on the new Fulltone Collection Please vist:
https://www.ikmultimedia.com/fulltone
*All prices excluding taxes