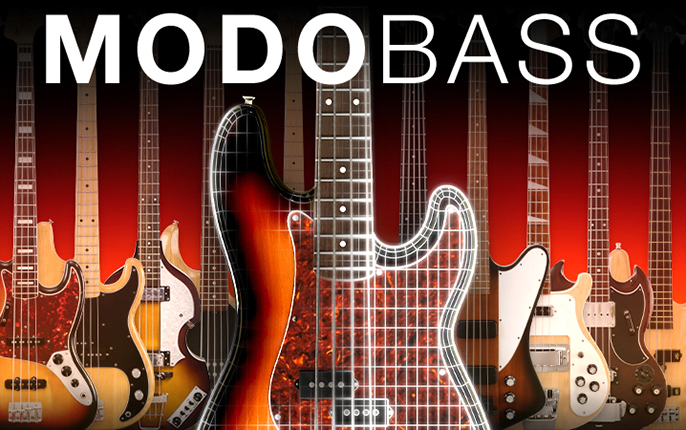 The breakthrough physically modeled electric bass virtual instrument for Mac/PC
29 November 2016
We are pleased to announce the release of MODO BASS®, the new breakthrough physical modeling technology virtual instrument that brings a completely new level of realism and playability to your recordings. MODO BASS is a customizable physically modeled virtual bass instrument that recreates the sound of the electric bass and how it's played in real time - from all of the physical instrument components, the human technique of how the instrument is played, to the entire sound signal chain with effects and amplifiers.
Every electric bass sound imaginable
MODO BASS contains a collection of 12 physically modeled iconic electric basses that span the history of bass sound in recorded music - more bass models than available in most other virtual instruments. Every detail of each bass has been meticulously analyzed and modeled to capture their true sonic character.
But the sounds available with MODO BASS extend far beyond the 12 modeled basses — with the available customization features, users can craft virtually every electric bass sound imaginable. MODO BASS is able to produce an unmatched and unlimited palette of bass sounds because everything can be customized.
Customize your playing experience
Once you've selected your bass, you can customize virtually everything that contributes to the tone profile. Choose from 3 different playing styles — pluck, slap or pick — and control each parameter influencing the tone of the instrument. MODO BASS also lets you customize your strings — choose the number, the construction type and material (round or flat wound), the gauge, action height and even the age. Next, you can choose from 20 available iconic bass pickups that you can swap out, and freely move their physical location under the strings for unlimited playing and tonal variations — a feature virtually impossible to achieve in the physical world.
FX and Amps
MODO BASS also comes with 7 bass stomp boxes and two classic bass amplifiers derived from our flagship software AmpliTube. You'll have full control over the signal path with a configurable 4-slot pedalboard and send that signal to a classic all-tube amplifier and 1x15 cab or the powerhouse solid-state model with a 4x10 cab.
Pricing and availability
MODO BASS is available now from the IK Online Store starting at $/€199.99** for crossgrade pricing to qualified users or $/€299.99* normal retail pricing.
*All prices excluding taxes.
**Any previous purchase of an IK Multimedia product with a value of $/€99.99 or more qualifies for crossgrade pricing.