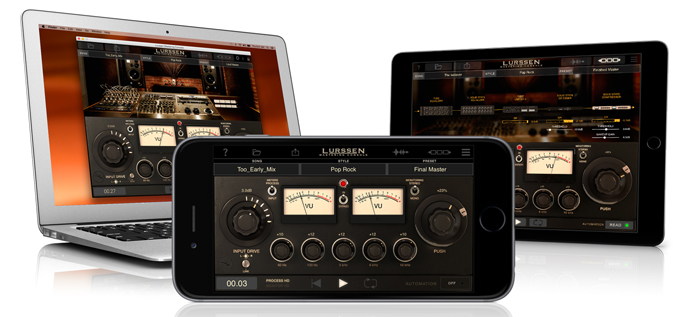 The first pro-audio mastering app for iPhone
9 June 2016
Lurssen Mastering Console, the mastering software/app that's greater than the sum of its parts, is now available for iPhone! Now you can master your music on your iPhone in real-world listening environments with the same processors, settings and secrets as the Grammy Award-winning Lurssen Mastering, Inc. in Los Angeles, CA.
Lurssen Mastering Console is a totally unique approach to audio mastering that incorporates the Lurssen "whole is great than the sum of its parts" philosophy in the mastering processes. It does this by recreating not only the gear chain used but the interactions and influence the processors have on other gear in the chain. The "Styles" presets found inside Lurssen Mastering Console were created by Gavin Lurssen, Reuben Cohen and the team at Lurssen Mastering Console define the gear chain and provide the settings for multiple genres including Rock, Country, Americana, Pop, EDM and more!
Get the full mastering experience when you pair Lurssen Mastering Console for Mac/PC with Lurssen Mastering Console for iPhone and iPad. Referencing a mastered product has never been so portable, easy or fun. Your projects can easily be transferred from Lurssen Mastering console for Mac/PC to the iPhone and iPad version, allowing you to reference your work in any environment, such as your car stereo to the hottest local club or venue. Projects can even be transferred from Lurssen Mastering Console on you iPhone and iPad back to the Mac/PC version.
Lurssen Mastering Console is a free app available on the App Store that operates in demo mode.You can unlock full functionality via in-app purchase:
Play / Process for $/€49.99 

Enables unrestricted playback, monitoring and processing, 48kHz maximum sample rate of the DSP processing and export of compressed formats such as AAC & OGG.


HD Engine for $/€99.99

Enables the HD Engine, allowing unrestricted playback, processing and monitoring at 88.2/96kHz sample rates for DSP and export, selectable dithering and export of uncompressed formats such as WAV & FLAC (requires Play/Process mode to be enabled).
Lurssen Mastering Console for Mac/PC is available for an introductory price of $/€199.99 from the IK online store and select authorized retailers.