AmpliTube® for iPhone Now Available!
15 June 2010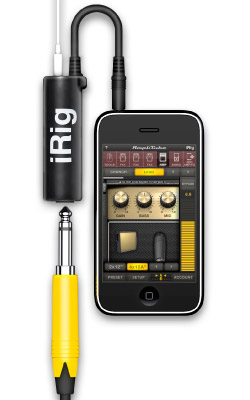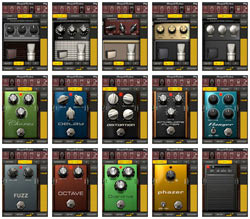 AmpliTube® for iPhone, the ultimate mobile guitar amp and effects system for iPhone/iPod Touch/iPad, is now available for download from the iTunes App Store.

Together with the iRig interface adapter, AmpliTube for iPhone represents the first complete solution for guitar and bass players to play, practice, and have fun anytime and everywhere rocking through their iPhone/iPod/iPad. The combination of AmpliTube mobile app and iRig accessory adapter is called AmpliTube® iRig™.
Real time guitar and bass mobile multi-FX app
Full rig made from 3 simultaneous stompboxes + amp + cabinet + mic
11 Stomps, 5 Amps, 5 Cabinets, 2 Mics available
Import and play along with songs and backing tracks
36 presets can be saved/recalled on the fly
Includes tuner/metronome
Free, LE and Full versions available
Free and LE versions expandable with a-la-carte downloadable gear
Ultra-Low-latency
iRig Plug Interface Adapter

The iRig interface adapter is the easiest way to get your instrument's signal into your mobile device with electrical impedance adapting. Simply plug iRig into your mobile device, plug your instrument into the iRig, plug headphones or an amplifier to the output and you are ready to rock with no further set-up needed. Plus, you can also use the iRig with line level signal sources such as synthesizers, keyboards or mixers. And not only does the iRig work perfectly with AmpliTube, but it is also the perfect companion to any other guitar or other instrument recording, processing or tuning app that uses an audio input.

Pricing and Availability

AmpliTube for iPhone is now available in 3 versions:
AmpliTube LE: 5 stompboxes, 1 amplifier + cabinet, 2 microphones $2.99/€2.39.
AmpliTube: 11 stompboxes, 5 amps + cabinets and 2 microphones $19.99/€15.99.

More gear can be added to FREE and LE versions through in-app purchase of a-la-carte models with stompboxes costing $2.99/€2.39 each and amplifiers + cabinets for $4.99/€3.99 each.

iRig pre-orders are already available through IK Selected Dealers and from the IK Online Store for $39.99/€29.99 MSRP (exc. VAT) with the accessory to start shipping the first week of July 2010 worldwide.