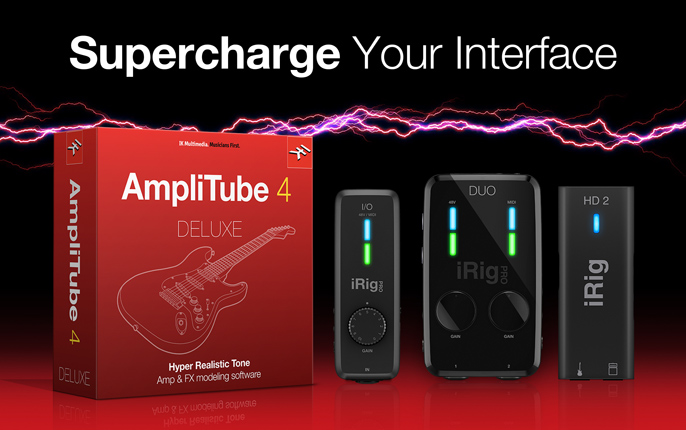 Buy a select iRig digital guitar interface and get AmpliTube 4 Deluxe free!
4 September 2018
From September 4 through September 30 2018, take advantage of this great offer to reach a totally new level of mobile playability with intuitive new features with our most popular guitar interfaces iRig HD 2, iRig Pro I/O, iRig Pro DUO, and iRig UA. Purchase one of these select iRig digital guitar interfaces and get AmpliTube 4 Deluxe free (worth $299.99)
Click here for redemption instructions

Select Guitar Interfaces:

iRig HD 2

iRig HD 2 gives you a totally new level of mobile playability with intuitive new player-centric features like high-quality 24-bit/96kHz audio, an integrated headphone out with level control, a new Amp out jack with switchable output, full versions of AmpliTube for Mac, PC & iOS, plus total mobility and connectivity for playing anywhere, any time.

iRig HD 2 will free your mind from the confines of tradition and inspire you to be your creative best. Break away from the past and enter a whole new world of mobile guitar playing — get the iRig HD 2 and take your playing to a higher level.
Buy iRig HD 2 now for $/€99.99
iRig Pro I/O
iRig Pro I/O is the next generation of the iRig Pro — the first mobile interface for connecting all of your studio gear to your iPhone, iPad, Mac, PC or Android device to play and record on the go.
iRig Pro I/O is a pocket-sized full-featured audio and MIDI interface that gives you 24-bit/96kHz recording studio quality sound everywhere you go with a few additional essential features for mobile recording. Bottom line: iRig Pro I/O is the most versatile and intuitive "all in one" mobile interface available.
Buy iRig Pro I/O now for $/€149.99
iRig Pro DUO
iRig Pro DUO is the smallest full-featured dual-channel interface on the market. iRig Pro DUO delivers true mobility in grand fashion. For true mobility iRig Pro DUO can be powered with two AA batteries and does not draw any power from a connected iPhone or iPad.
iRig Pro DUO delivers high-quality 24-bit audio on the go or in the studio with plug-and-play simplicity. It features 2 channels with XLR/TRS combo audio jacks and phantom power that can accommodate everything from high-end condenser microphones to guitars, basses, keyboards and more.
Buy iRig Pro DUO now for $/€199.99
iRig UA
iRig UA is the first digital effects processor and audio interface that lets you play your guitar, bass or other instrument on your Android device anytime and everywhere. It pairs with AmpliTube UA to deliver jawdropping and absolutely unmatched sonic performance with any smartphone or tablet with Android 4.2 or higher (and that supports host mode/USB OTG).
It features a built-in 32-bit digital signal processor, a 24-bit A/D converter, a crystal clear low-noise preamp and an ultra-compact enclosure. With its premium specifications, it's able to provide great sound, extreme portability and unprecedented cross-platform compatibility.
Purchase any of the qualifying products from any participating IK reseller or from the IK Online Store
Access "My Products" section for the User Area and download your free software and its sounds.
Launch your software and authorize it using the Authorization Manager
Act now, as this promotion only last until September 30, 2018
Click Here for more info on iRig HD 2
Click Here for more info on iRig Pro I/O
Click Here for more info on iRig Pro DUO
Click Here for more info on iRig UA