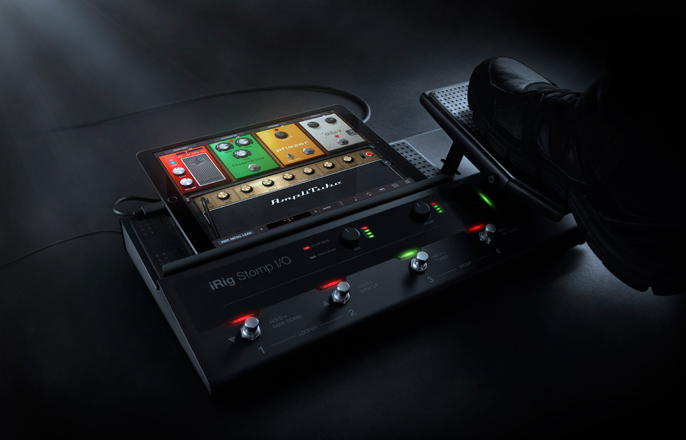 Get the next-generation pedalboard controller and audio interface today!
12 April 2018
IK Multimedia has released iRig Stomp I/O, an exciting new generation of pedalboard controller and audio interface for live and studio use. Guitarists, vocalists, bassists, synth players, songwriters and more can now enjoy supreme control while preserving the tone of their instrument all in one sturdy and portable pedalboard!
With iRig Stomp I/O and the $/€800 of included world-class guitar, vocal, and recording software you'll be at your best whether performing live on stage, in the recording studio - or anywhere you go.  You can even get free shipping through April 30th, 2018!
Highlighted Features:
Four on-board switches, expression pedal with optical switch
High-quality built-in 96kHz/24-bit audio interface with input gain and volume control
MIDI in/out with two additional 1/4" switch/pedal inputs
Integrated device bay for easy positioning of iPhone, iPad or Microsoft Surface
Seamless, plug and play integration with AmpliTube (iOS/Mac/PC) and VocaLive (iOS)
When used with iPhone and iPad it charges your device while you play
Housed in a sturdy metal chassis yet fully transportable, iRig Stomp I/O is built to meet the demands of today's musician.  Need a way to quickly switch effects or presets during a song?  Want quick access to an expression pedal to control wah, volume, or more?  Looking for high-quality audio so you can plug in and just PLAY, all with supreme control over your performance?  Do you want all of the software and apps to make this happen included free? iRig Stomp I/O is the answer.

Take Control
iRig Stomp I/O features four onboard metal stomp switches plus an expression pedal with a switch, all with LED indicators. You can feel and see what you need to, and be fully in control.  To further extend its control possibilities, you can connect up to 2 additional switches or pedals. The MIDI IN/OUT ports make it possible to seamlessly control external processors when iRig Stomp I/O is used as a stand-alone MIDI foot controller, without any device or computer connected to it.

Sound Your Best
It always comes down to the tone.  Preserve your tone by plugging into iRig Stomp I/O's high-quality 96kHz/24-bit audio interface. In no time, you'll easily record your guitar, bass or microphone - including studio condensers requiring 48VDC phantom power - with true studio quality on your iPhone/iPad, Mac and PC. The seamless integration with AmpliTube and VocaLive makes it as easy as plug-and-play to record on multiple devices using IK's powerful, state of the art, 64-bit software. iRig Stomp I/O features a Class A preamp that can rival, if not surpass, the sound quality of floor processors costing up to three times as much.

iRig Stomp I/O is not just for recording:  With an integrated headphone output that allows you to monitor the signal during tracking or when practicing and balanced stereo outputs that can send the signal to an amplifier, a mixer, a PA or powered speakers, you'll be rocking the stage (or your bedroom).

Pricing and Availability
You can buy iRig Stomp I/O now for just $/€299.99 from the IK Mulitimedia website or select musical instrument dealers.

Buy Now or learn more at http://www.irigstompio.com