"Performs well in a hostile environment"
29 January 2018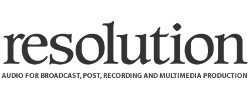 Resolution magazine's editor, Nigel Jopson, has taken a close look at iRig Mic HD 2 in their Feb 2018 issue and was impressed by its versatility. Here are some of his main comments:
"I found the iRig Mic HD 2 headphone output powerful enough to drive a selection of in-ears in fairly noisy environments."
"Providing gain is set sensibly, I think this mic is unlikely to overload in a speech/new gathering situation."
"This is the mic anyone with the misfortune to record an interview in a coffee shop dreams of!"

"The HD 2 played nicely with Report-IT, a remote broadcast app from Codec company Tieline."
"Filmic Pro - the de-facto standard for iPhone videography - recognised the HD 2 and offered both 96Khz and 48Khz options."
"I was struck by how mellow the HD2 sounded. Despite being a condenser, it sounds a little an SM57 with a warm proximity boost at the low end."
Nigel's final verdict was:
"This mic is one of the very few cost-effective models available for smartphones which will perform well for ENG in a hostile, cacophonous environment ... the similarity in performance to a traditional stage vocal mic will be extremely useful to those who need to collect usable audio in noisy surroundings."

Key Pros:
+ It behaves like a traditional stage vocal mic
+ Is resilient in hostile ENG environments
+ Has a 96Khz digital output
+ Decent headphone level
Visit Resolution Magazine
Learn more about iRig Mic HD 2