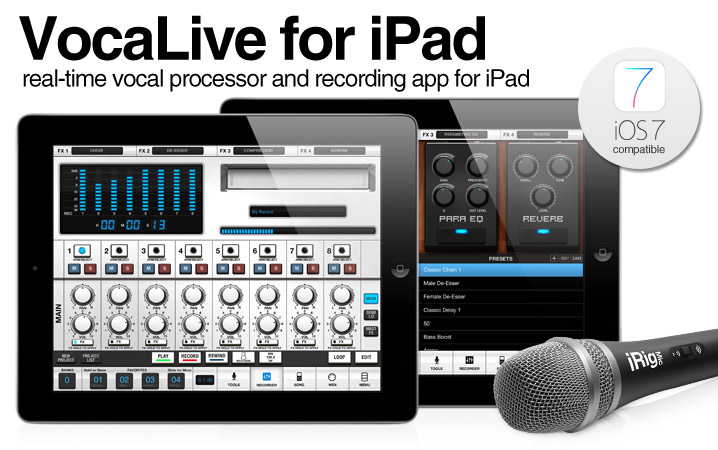 Your favorite vocal effects now on your iPad
The first professional iPad vocal processor for live performance and recording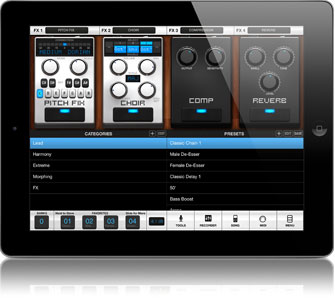 Singers and songwriters rejoice! Now there's a real-time mobile vocal effects processor just for you… VocaLive for iPad. VocaLive provides a suite of 5 dedicated real-time vocal effects (pitch correction, choir harmonizer, voice doubler, vocal morpher and de-esser) plus 7 effects tailored to vocal processing (reverb, EQ, compressor, delay, envelope filter, chorus, phazer) that can be combined on a 4-processor vocal rig chain. VocaLive also includes dozens of presets to help you get up and running in seconds.
With the VocaLive app you can record and mix your performances (single or multi-track), sing along with your iPod song library (with voice cancel included), and warm up with the included vocal tools giving you the most complete, portable vocal solution.
VocaLive can be used with the built-in iPad microphone, earbuds with built-in mic, or for the best results with IK's stellar lineup of microphone input devices and mics including the new iRig PRO universal audio/MIDI interface, iRig Mic, iRig MIC Cast or iRig PRE, the professional XLR microphone preamp. Plus, VocaLive supports digital audio input for compatibility with audio interfaces. VocaLive is the most portable and powerful vocal processing tool always available at your fingertips on your iPad.
But that's not all, VocaLive is now compatible with iOS 7, so you can upgrade to Apple's new operating system with confidence. It's also Audiobus compatible, which means it can be opened through the Audiobus app (a 3rd-party app that requires separate purchase), and used along with other compatible apps, such as AmpliTube, for real-time, multi-app audio routing.
---
Features

What's new

Real-time vocal processor + recording app
4-processor vocal rig chain
12 vocal effects
Single-track Recorder expandable to full 8 tracks recording studio with mixer and master effects section (available for in-app purchase)
Copy and paste audio between tracks in the recorder, or between compatible apps
Import and play songs to be used as backing tracks directly from your iPod library or computer
Voice Cancel feature lets you create sing-along backing tracks by removing the vocal track from existing recordings
Export high quality audio (WAV/m4A) via email, FTP, iTunes file sharing and direct to SoundCloud
50 factory Presets included with 40 Favorites for fast recall
Number of user Presets limited only by device memory
MIDI control feature for real-time "on the fly" parameter control and preset switching with a standard MIDI controller and MIDI interface for iPad (feature is free for iRig MIDI users, available as in-app purchase)
"Restore Purchases" feature restores your in-app purchases
Digital audio input support
Includes metronome and vocal warm-up scale tools
Low-latency for real-time vocal processing
Compatible with Audiobus
FREE version also available
---
IMPORTANT: AmpliTube for iPhone/iPad users are able to add the new effects processors from VocaLive to their AmpliTube app via purchase in the in-app Shop.
---
How it works
It's "Get Real"-Time
VocaLive for iPad is an ultra-low latency vocal effects processor designed for real-time vocal performances. This means it can be used on stage as a personal vocal effects unit or live in the studio.
Process your voice with powerful tools
VocaLive provides vocalists with a suite of 12 real-time professional vocal effects for studio quality sound in a portable package. Combine up to 4 simultaneous effects in a real-time signal chain.
VocaLive includes 5 "Vocal Effects" – Pitch Fix (for tuning correction or stylized quantization FX), Choir (a 3-part harmonizer), Morph (an X-Y pitch and formant shifter that changes the tonal quality of the voice from subtle deepening to radical gender bending), De-Esser (to remove sibilance from the voice), and Double (Double effect gets unlocked by registering) – along with 7 "Studio Effects" – Reverb, Delay, Parametric EQ, Compressor, Chorus, Phazer and Envelope Filter. Together these effects create the perfect vocal processing solution.
Save and recall presets
Each VocaLive effects processing chain can be saved as a preset. A collection of 50 factory presets is included to get you up and running immediately. User presets can be stored, and their number is limited only by the available memory of the iPad itself. The iPad version puts the preset browser in the main GUI window so that it is quickly available for loading and saving presets. The Favorites section includes 4 buttons with 10 banks (40 Favorites in total) in the iPad version utilizing a new bank button. Favorites put presets right in the bottom panel on large, accessible buttons for immediate loading of your most-used settings.
Take control
How cool would it be to switch vocal effects on the fly during a live performance just like instrumentalists do? Well, with the MIDI control feature and a standard MIDI controller and interface (like iRig MIDI), you can. Now you can control individual parameters of a single effect, or entire signal chains — it's totally possible and totally your call. And assigning control parameters is as simple as twisting a knob or stepping on a switch. Sweet!
Recorder anytime and everywhere
With VocaLive, you can turn your iPad into the ultimate mobile multi-effects processor and recording studio! Use iRig MIC to record vocals and instruments to your iPad wherever your mobile life takes you, or use the new iRig PRO universal audio/MIDI interface, or the iRig PRE mic preamp, to connect your own studio mic into VocaLive. The included single-track audio recorder of VocaLive for iPad can be expanded to an extremely flexible 8-track mobile studio with easy-to-use volume, pan, insert effects and two send levels for each track along with a full-featured master effects section with with Reverb, Chorus and Delay for track sends, and a global parametric EQ and compressor for final mastering. You can use the handy "Apply FX" feature to subtly or radically change the sound of your recorded vocals and instruments without having to re-record them.
Sharing is good
VocaLive for iPad allows you to share your creations with the world with a powerful collection of sharing tool. You can export your compositions directly to your SoundCloud account or an FTP server, email a compressed version, or use the iTunes file sharing feature. Whatever method you choose, getting heard is now easier than ever.
Hop on the bus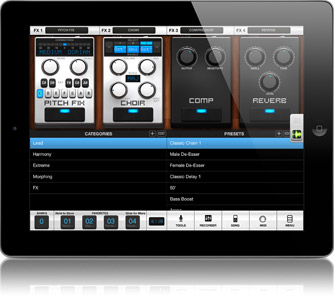 VocaLive is Audiobus compatible. Audiobus is a third-party app (not included) that allows for real-time audio routing between up to three apps. VocaLive can be used in any of the three Audiobus slots — Input, Effects, Output — in the Audiobus chain.
INPUT: Sing through VocaLive's effects, and then send that audio on to other apps in the chain.
EFFECTS: Use VocaLive's powerful effects to process audio from another instrument app.
OUTPUT: Use VocaLive to process and/or record the audio coming from the other two apps.
Apps