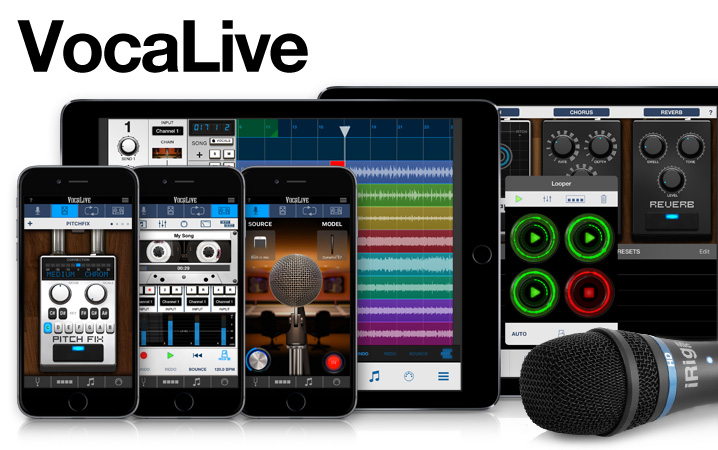 Loop in your creativity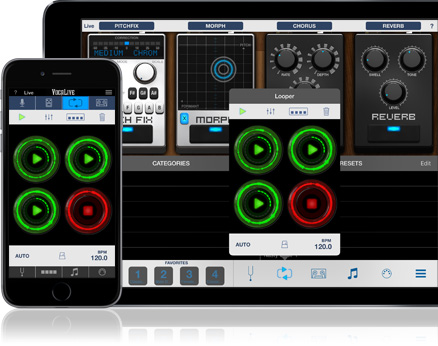 The Looper is one of the many useful tools available as an add-on for VocaLive — it gives you a quick and easy way to create up to 4 synced audio loops. Once you've created your looping masterpiece, you can easily export your work, and import it into the recorder or simply share your loops with the world. It's the perfect sketchpad for new ideas — it's intuitive interface is designed for easy experimentation and will inspire you to think in an entirely new (and loopy) musical way. Develop new vocal lead lines, harmonies, strange effected vocal layers, add rhythm elements with your voice, or simply record random interesting noise patterns, all at the touch of a button.
4…3…2…1…Go!
Using Looper is super easy and intuitive. Just set your preferred tempo and enable the metronome feature. Then tap the "rec" icon on the first loop button. From there it's 4, 3, 2, 1, go! Loop 1 will begin recording automatically, and it wont stop recording until you tap on the loop again.
Layer upon layer upon layer…
No matter when you tap to end your loop, your loops will always sound good because each loop is quantized to the nearest quarter note. Once closed, Loop 1 will continue to play, setting the stage for you layer more in loops 2 through 4. Just tap the "rec" icon on the second loop to start recording the next layer when the playhead comes around, and so on. The length of your first loop determines the length of all the loops the follow, and loop length is limited only by the storage available on your device. Once you've captured your audio, you can mute and un-mute individual loops by simply tapping on the loop you want to silence with your finger or stepping on a MIDI controller button. It's really that easy!
Tap dance
Want to get tricky while performing live with your loops? That's also a piece of cake!
The Looper feature integrates iRig Stomp I/O and iRig BlueBoard support and can also be controlled with any connected standard MIDI controller.
That means you can assign each of Looper's loop buttons to a corresponding physical button on a pedal board.
Now you can trigger loops from the floor, leaving your hands for more creative things, like waving at your adoring fans.