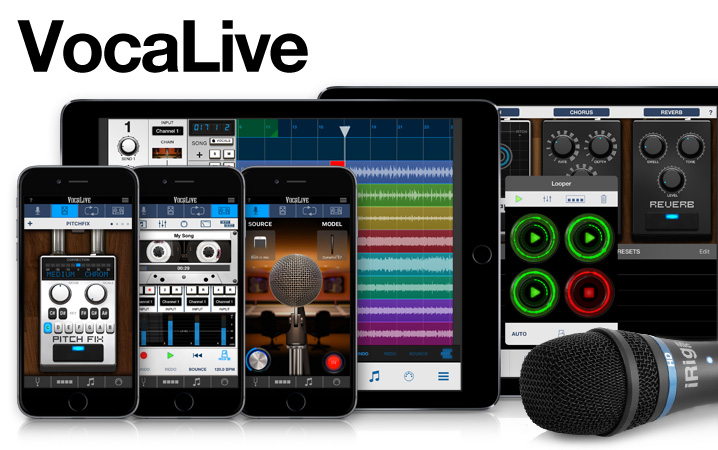 Your professional music production studio… always with you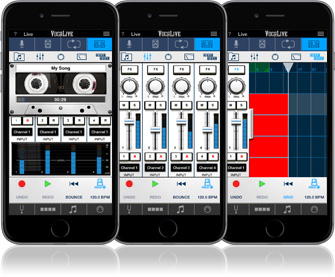 You're on the move and you've got an idea. Does it disappear like cash in Vegas? No! You want to get it down, but how? The answer is in VocaLive's built-in recording studio. VocaLive comes with a single-track recorder that can be expanded in two big ways with one little in-app purchase.
The first is 8-track simultaneous multi-track recording with master effects.
The second is the Studio DAW-style waveform-editing suite.
In an instant, VocaLive transforms your iPad or iPhone into a fully mobile professional recording studio that has everything you need to make complete music productions while on the go.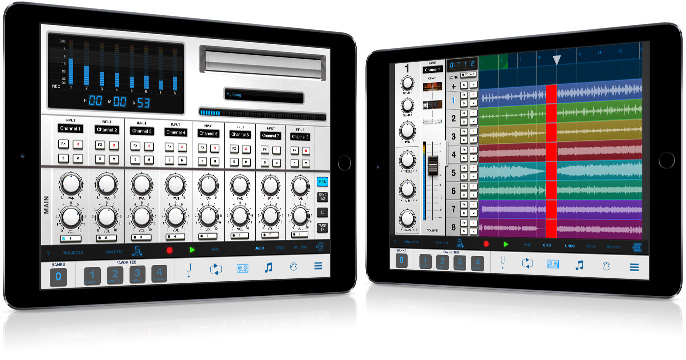 Hit record, make a record
First things first — get your idea recorded. Touching the tape recorder button in the control bar transports you to your new recording studio. This is where the magic happens. There's a preroll feature that lets you set two measures of count-in before you start recording so you can lock onto the tempo and nail your part right from the downbeat. Hit the red "record" button and start your masterpiece. The recorder offers 8 available tracks for simultaneous multi-track recording and a bounce feature for freeing up tracks as you need them. Grab your mic and go!
Freeze
VocaLive also has an AutoFreeze feature allows you to "freeze" or save the effects chain assigned to a track (in other words, write them to the track), freeing up VocaLive's effects for use on another track, which can then be frozen as well. This feature lets you go back and reapply or reconfigure effects based on how your individual audio tracks "sit" in the mix. So if you want to go back and tweak an effect's settings, no problem, you can "un-freeze" the effects on a track to make your adjustments.
Track controls
The recorder section gives you everything you need for professional audio production.
Each track has:
A level meter with a clipping light that monitors the input signal of the track
An "R" button for selecting the track to record (arm/select on iPhone)
Mute and Solo buttons
An FX button that enables the VocaLive signal chain on that track
Volume and Pan controls
Send 1 and Send 2 controls for sending the track signal to the master effects section
3 bands of EQ per channel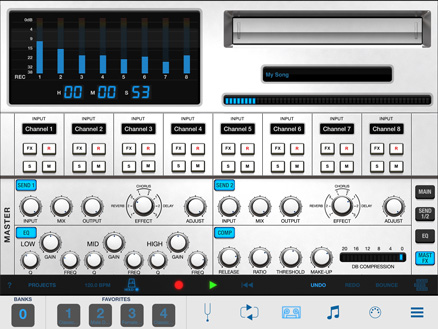 Master of effects
Want to add some polish and sparkle to your mix? The Master Effects section has been designed to give you everything you need to add that extra punch to your finished works. This section is accessed by touching the "Mast FX" button, or swiping the Track controls to the left. There you'll find the Send 1 and Send 2 effects processors.
Each of these allows you to choose from 3 levels of Reverb, 2 levels of Chorus and 3 levels of Delay. Use the "Adjust" button to fine tune the time and depth of the chosen effect's main parameter. You can also control just how much of the effect shows up in the mix by using the Input, Mix and Output knobs.
Finally, what would a master effects section be without an equalizer? VocaLive gives you a 3-band parametric EQ that's been specially made to help you bring out the sweetness of your overall mix. Take that, run it through the included compressor for tightness and gain control, and you'll have a finished product that's ready to be shared and sold to your fans.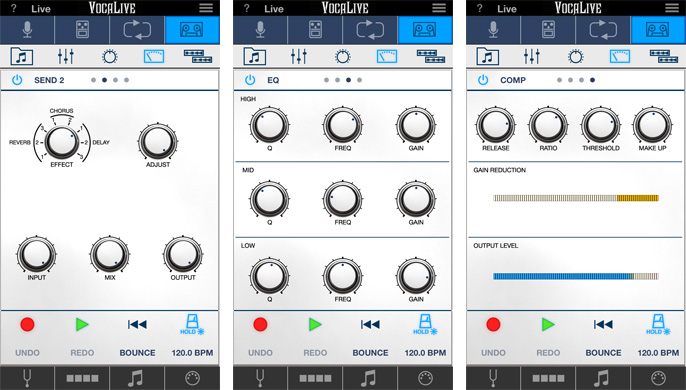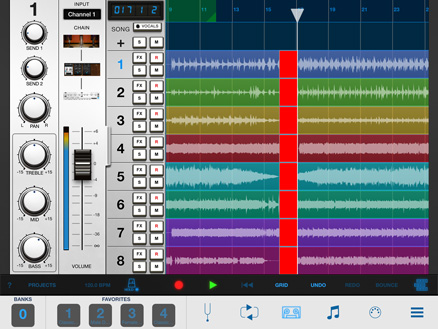 Edit like a Pro in the Studio
VocaLive also has a powerful and intuitive editing tool, the Studio. The Studio brings precise waveform editing and audio region manipulation to the mobile world. It's an easy, visual way of arranging while on the go that's remeniscent of some of the most powerful desktop music creation tools.
Touching the "STUDIO" button in the bottom control bar accesses the Studio section. It provides access to a range of features that have been designed to help you achieve sonic perfection. Using it is easy, it's split in two display regions on the screen: The Track Control section is on the left and the waveform timeline grid is on the right. With both in front of you, you also have access to the full signal chain plus effects, recording tools, mixing functions and more.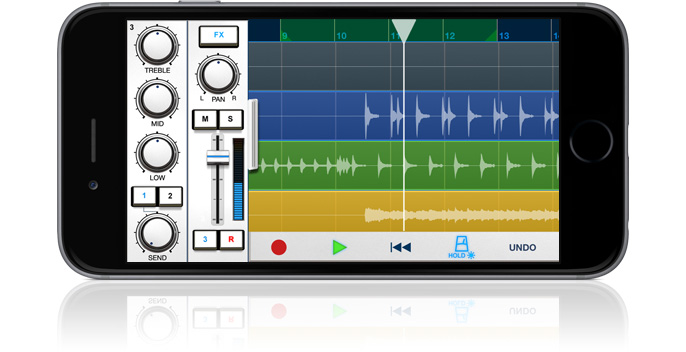 Tracking made simple
The Track Control section houses the controls you need to adjust and tweak the sound on individual tracks. Touch any waveform display on the right — or empty space or track number — to access the individual controls for that track on the left. Knowing where you are at any given time is simple: The number in the upper left hand corner indicates the currently selected track.
You can adjust how much of the track's signal goes to the master effects section by using the "SEND 1" and "SEND 2" knobs. In addition, we've also included a Track EQ section below the Master button that let lets you fine-tune the EQ on each individual track, just like on a professional mixing console.
In addition to these crucial features, you also get a level meter, a peak light, a quick FX Edit button, pan control and a console-style fader for fine volume adjustment on each track.
Catch a waveform
At the core of the Studio module is the waveform display section. This is where most of your audio editing will be done. From this section, you can select audio material by touching on the waveform display. This then lets you perform multiple types of edits with ease: cut, copy, copy track, paste, delete region, delete track, normalize volume or split at playhead.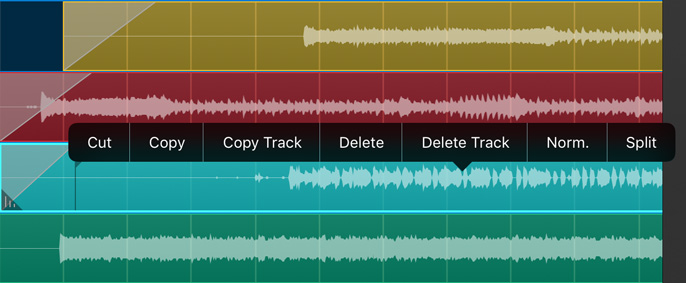 Tap the waveform you want to edit to gain access to the full range of editing commands. These functions provide all the basic tools you need for working with audio regions. You can even move audio forwards and backwards in the timeline by dragging the waveform around on the screen.
Get around much?
Navigation in VocaLive's Studio section is done with both multi-touch and simple gestures. You can zoom in and out of a region by pinching in or out with two fingers on the screen.
You can define loop start and end points by dragging a finger from left to right. You'll notice a green area shows up when you do this. Drag the left triangle to the beginning of your desired loop and the right triangle to the end. Once defined, double tap on the green area to activate it. Then hit play on the transport to begin playback of the loop.
You can also create a "punch in" recording area. Drag your finger from right to left in the navigation bar and you'll create a red "Punch in" section. Adjust the start and end points with the triangle handles, and then activate it with a double-tap. You can de-activate loop and punch in regions by double-tapping again.
Other individual track features include the ability to solo, mute, record enable and activate the VocaLive signal chain on a track. You can record audio material directly to a track in the Studio view by using the "PLAY", "RECORD", "REWIND" and metronome transport controls at the bottom of the screen. There's also a "GRID" button that turns "grid-snapping" on and off, plus "UNDO" and "REDO" commands for the human in us all.
Export Expert
VocaLive also features some handy export features once you're done with your creations. You can export complete works of art with ease in multiple file formats and share them via email, file sharing or SoundCloud.
No matter where inspiration strikes, you'll capture it in all its glory with the intuitive and easy to use VocaLive Recorder features. No thanks necessary… really!