Real-time vocal effects for the Stage or Studio
Now take and share your voice to new levels anywhere you go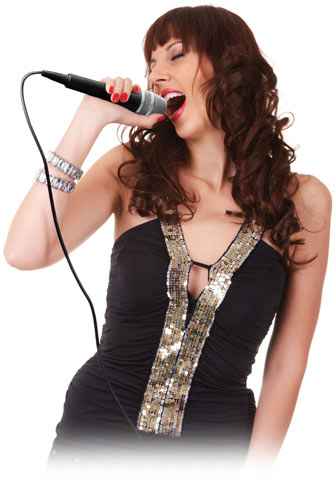 VocaLive is the professional practicing, performing and recording vocal processor for the iPhone®, iPod touch® (and iPad®).
Singers and songwriters will have a suite of 5 dedicated real-time vocal effects (pitch correction, choir harmonizer, voice doubler, vocal morpher and de-esser) plus 7 effects tailored to vocal processing (reverb, EQ, compressor, delay, envelope filter, chorus, phazer) that can be combined on a 3-processor vocal rig chain.
VocaLive also includes dozens of presets to help you get up and running in seconds.
With the VocaLive app you can record (single or multi-track), sing along with your favorites in your iPod song library (with voice cancel included), and warm up with the included vocal tools giving you the most complete, portable vocal solution. Plus, you can use you iOS device live on stage as your main vocal processor and take full control over your effects.
VocaLive can be used with the built-in iPhone microphone, earbuds with built-in mic, or for the best results, with IK's iRig Mic, iRig PRE or the new iRig MIC Cast. VocaLive is the most portable and powerful vocal processing tool and is always available at your fingertips on your iPhone.
---
Features:

What's New:

Real time vocal processor + recording app
3-processor vocal rig chain
12 vocal effects
Single track recorder expandable to full 4 tracks recording studio through in-app purchase
Import and play songs to be used as backing tracks directly from your iPod library or computer
Sing-along backing tracks with voice cancel feature
Dozens of presets included with favorites presets for fast recall
Includes metronome and vocal warm-up tools
Low-latency for real time vocal processing
FREE version also available

MIDI control feature for real-time "on the fly" parameter control and preset switching with a standard MIDI controller and MIDI interface for iPhone/iPod touch (feature is free for iRig MIDI users, available as in-app purchase)
Copy and Paste audio between tracks in the recorder, or between compatible apps
Digital audio input support
Completely redesigned recording and mixing section with intuitive controls
"Restore Purchases" feature restores your in-app purchases
Export high quality audio (WAV/m4A) via email, FTP, iTunes file sharing and direct to SoundCloud
---
How it works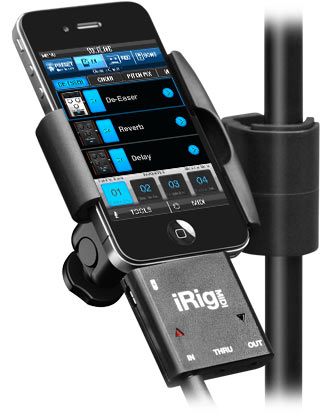 Get Real
VocaLive is just that… a live, "real time" vocal processing app. Due to its ultra-low latency design, you can use it on stage to truly take control of your vocal effects, or use it live in the studio. VocaLive provides high resolution audio processing, digital audio input support, plus stunning high resolution graphics through retina display support. You want real? You got real!
3 Daisy Chained Effects
VocaLive features 3 effects "slots" where you select the effects you want to use and chain them together. Similar to a guitar effects pedalboard, you can turn on or off each effect with just a touch of your finger. VocaLive also makes it easy to reconfigure your effects chain for creative experimentation and totally new sounds. Once you get your sound, you can save it into your preset bank for fast recall, or save it to one of the four "favorites" buttons for even faster access.
More Vocal Effects
Okay, so VocaLive gives you the basics you'll need to make your performance really stand out — delays, reverbs, de-essers… standard vocal fare. But also you get some pretty insane effects that will totally change your voice, giving you the opportunity to be a chimp, a chipmunk, a giant, a mosquito or a complete church choir. You'll get the "morph" X/Y formant and pitch adjustment effect that totally changes who you are, no matter who you are. The "choir" effect adds natural sounding scale-based harmonies (up to 3-part) with independent level controls. There's also a "pitch fix" effect for the "not so perfect" singer that can be used to gently pitch correct, or to create a completely different "hard jump" effect. Other effects include: Delay, Chorus, Compressor, Parametric EQ, Reverb, Envelope Filter, Phazer, "Doubler" and a De-Esser.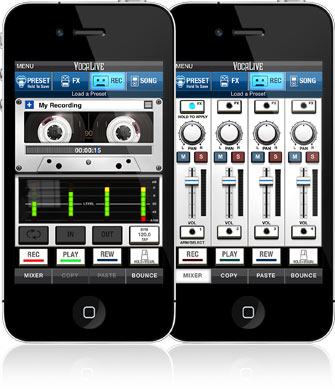 Hit Record
VocaLive comes with a single track recorder giving you the ability to, well, record. You can expand the single to a 4-track recorder which allows you to record multiple voices, instruments, etc., then mix and export. The Recorder section is actually divided into two intuitive sections: the "Record" section and the "Mixer" section. The "record" section is extremely easy to use and features a visual metronome with a tap-tempo button, quick-reference metering and a "loop" button for looping sections for playback and practice. The mixer section gives you access to all of the standard mixing functions: Pan, Mute, Solo, track Level and effects "application" buttons. The recorder is a fantastic "idea grabber" feature that lets you quickly experiment with different effects and capture your thoughts and share them with the world.
The Ultimate Sing Along
VocaLive also features a song import function with a "no voice" button. This feature lets you import your favorite songs, then "cancel" out the center pan section (where most vocals are placed in the mix) so you can sing along with your favorite band. It's also a great practice tool for performance. You can also import your songs/backing tracks directly to a track in the recorder section and capture your best performance as it happens.
A Voice Coach in your Pocket
VocaLive also comes with some pretty handy tools to help you warm up. The Vocal Trainer feature provides you with scale reference notes for warmup, plus there's a built-in metronome to help you make sure your timing is spot-on.
Share the Love
So let's say you've captured the true essence of the human spirit in a single performance. Now what? Let it sit dormant in your phone, never to be discovered by the modern civilized world? NO! VocaLive to the rescue! You can share the love instantly and directly to SoundCloud or via FTP to any server in addition to exporting to iTunes file sharing or sending it via email. Pretty cool, huh? No thanks necessary… just remember us when you hit the big time.
Apps