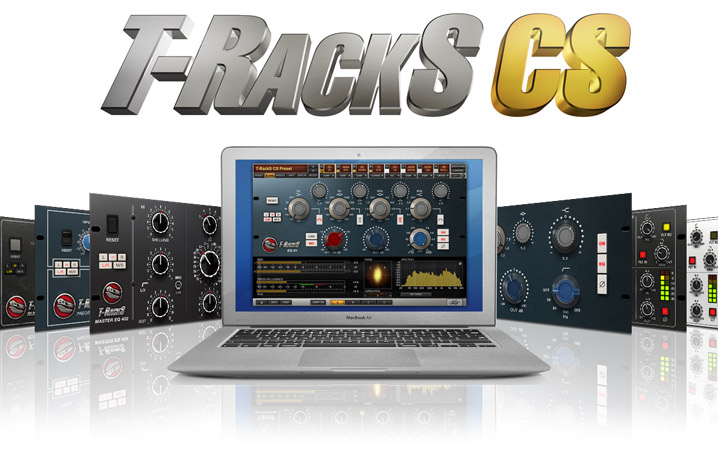 World-class mixing and mastering plug-ins — on demand
Gear, gear and free gear
Download and install the T-RackS CS application and once launched, you'll notice a couple of cool things.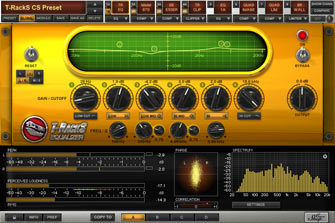 First, you'll find that you already get two pieces of free gear just for being you. You can't beat that deal! You get the Classic Equalizer module, a 6-band parametric mastering EQ that's part of the T-RackS Classic bundle, and we've also provided you with the T-RackS Metering Suite, which contains a host of useful and detailed displays including Peak, Perceived Loudness, Phase, and RMS meters, plus a Spectrum analyzer with Peak, RMS and Averaging indicators. Both the EQ and meters can be instantiated as separate plug-ins in your DAW, or as part of the integrated T-RackS shell, which features 8 plug-in slots, and allows you to chain up to 12 processors.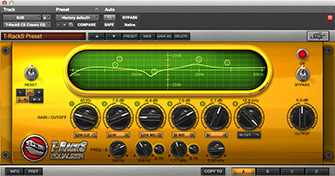 Second, if you're working in your DAW, you'll notice that ALL of the T-RackS processors have been installed. To use a processor not previously purchased or demo'd, simply select it as a plug-in on your channel strip. You'll be asked if you'd like to visit the custom shop to activate the demo period of 14 days — that's right, fully operational for 14 DAYS — or purchase the processor. If you choose neither option, you can still use the processor, but it makes intermittent noise during playback. Pretty slick. You can also now purchase T-RackS processors in Currency ($ or €) or Gear Credits for your convenience so you can get back to doing what you do best: making music.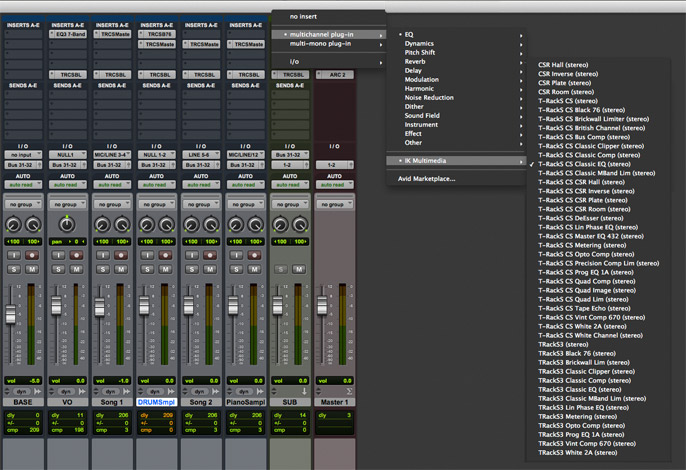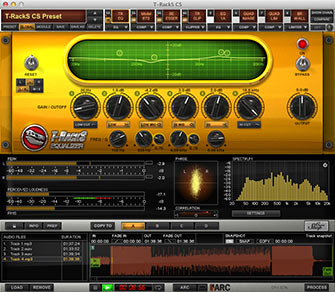 You can also run the T-RackS integrated module as a standalone program, from which you can master your mixes. Whether you're running standalone or as a plug-in, the Custom Shop can be accessed from inside of T-RackS simply by clicking on the "Custom Shop" button near the lower right corner of the window.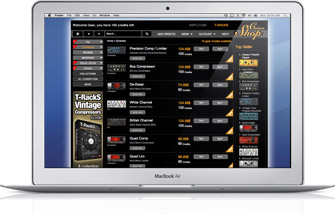 Once you start browsing the Custom Shop, you'll see that we're offering high-end processing software at amazingly low prices. By shopping for software this way, you can customize your processor collection to suit your production needs, and you can't beat the convenience: the T-RackS Custom Shop is open 24 hours a day, 7 days a week!
After you activate the Custom Shop, you'll see all the modules and collections that we have available. The gear lineup continues to grow, so make sure to check back regularly.
Available T-RackS processors: the gearaholic's closet
We're constantly adding gear to the T-RackS Custom Shop offering. To find out more about the individual processors available in T-RackS Custom Shop, click on the processor images below.
Our newest addition is the Mic Room, microphone modeling module.

Mic Room is a microphone-modeling tool for T-RackS that puts a world-class collection of over 20 classic and contemporary microphones at your fingertips. It gives you the power to process and "re-mike" your physical microphones to sound and perform like some of the most coveted mic models of all time.
Read more about the Mic Room.
Click the processor images below to read more about the individual processors inside of the T-RackS Custom Shop.
Click here to read more about the gear that we have available.
Try before you buy — 14-day demo period
Not sure if a particular module is right for you? No problem, we've got a "try before you buy" policy, which allows you to use fully functioning gear for 14 days — that's right, a full 14 DAY DEMO PERIOD — after which you can decide if that particular module is right for you.

One installation, all processors
When you install T-RackS Custom Shop on your Mac/PC, all of the processors are installed so you can easily audition, activate the trial period or purchase any processor with just a few clicks. And now you can purchase individual processors or bundles in either Currency ($ or €) or in Custom Shop Gear Credits.

For current T-RackS owners
If you already own a T-RackS bundle, you can still use your old version, but we urge you to update to the new version as soon as it's convenient so you can take advantage of the new easy operation and have immediate access to all the new gear.
If you'd rather buy everything all at once, rather than using the Custom Shop, that's fine too. Some people prefer getting their music software in big bundles. If that's your style we offer multiple bundle choices to suit you needs: T-RackS Grand, T-RackS Deluxe, T-RackS British Studio Series, T-RackS Vintage Compressors Bundle, T-RackS Multiband Series, and T-RackS Classic.
Click here to read more about each version.
AmpliTube is right next door
The virtual "next-door neighbor" to the T-RackS Custom Shop, is the AmpliTube Custom Shop. You can enter it from the T-RackS Custom Shop and move freely between the two, and your gear credits are good in either store. If you're looking for smokin' guitar or bass tone, there's nothing like AmpliTube. We've even got a free version of AmpliTube, which includes 24 pieces of gear. More great free stuff from IK!
In the AmpliTube Custom Shop, you can use your Gear Credits to add processors modeled from a huge range of amps and effects from key manufacturers like Fender®, Ampeg®, Orange®, Soldano®, Carvin®, T-Rex®, Seymour Duncan®, Groove Tubes® and more. We've even got Slash's officially certified amps and effects and the complete collection amps, stomps and rack gear used on tour and in the studio from the ultimate guitar god, the legendary Jimi Hendrix! Check it out!
---
---
How it works
The T-RackS Custom Shop is incredibly easy to use. Here's how you do it:
Step 1. Download, install and authorize
T-RackS Custom Shop works as both as a plug-in for your favorite sequencer/DAW and as a standalone application. Both are included when you install the package. To download the software, you must provide a valid email address. This address is used to create a "user account" for you in our system. Your user account is where you find product serial numbers, updates, copies of software you purchased, and is also where you manage your authorizations. You may install and authorize T-RackS Custom Shop on up to 5 computers (each serial number is given 5 authorization codes). Don't worry, the process may sound complicated, but we'll help you through it every step of the way. Once you authorize your software, you're "ready to rock," so to speak.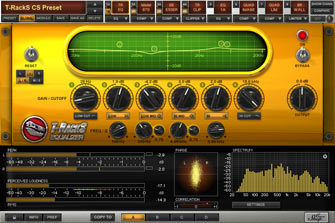 Step 2. Open your T-RackS software
Okay, now that the software is installed, it's time to take it out for a test. Open your DAW, or open T-RackS Custom Shop as a standalone application. If it's the former, open T-RackS Custom Shop on an insert slot of an existing project, either on a single track or on the master bus. Now open up the EQ, and start adjusting. You should hear the effect of the EQ it in real time.
Notice all those other slots? T-RackS installs ALL of the available processors during the installation process, so you can load any processor into any slot for easy auditioning. If you've not purchased the processor you'll have three options. T-RackS will give you the option of going to the Custom Shop to activate the processor in demo mode for 14 days, allow you to purchase the processor with credits or currency ($ or €), or you can cancel the dialog and audition the processor. When you cancel, the processor will emit random noise at various times for that track.
The same architecture is there for standalone mode, but the difference is that you're not running through your DAW, you're simply opening up a track (usually a stereo mix) to process with T-RackS.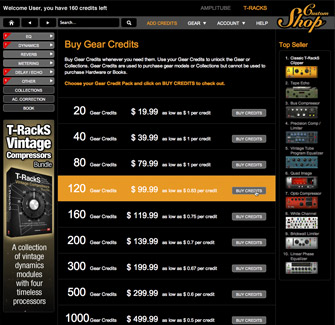 Step 3. Shop - give yourself some credit
T-Racks Custom Shop provides two ways to shop: from within the T-RackS program you can activate individual processors on a track, or if you click on the "Custom Shop" button in the bottom right corner of the screen, you're magically transported to one of the coolest music stores on the planet.
Either way, once you're in the Custom Shop, you can browse through literally hundreds of pieces of gear, sorted by type of hardware, manufacturer, etc. When you find what you need/want, purchasing is a breeze.
Gear is purchased through a "credits" system that's similar to the way gift cards work, or you can purchase directly with a credit card in your currency ($ or €). When you use Gear Credits, you purchase them in packages from the Custom Shop or from the IK online store. The larger the credit pack, the lower the cost per credit is (see chart below). Once you have credits in your account, simply click the "buy" button next to the gear or collection you want to purchase.
Once purchased, gear immediately shows up in your T-RackS software, fully activated and ready to go.
You can also purchase gear in currency on both the Custom Shop and the IK online store.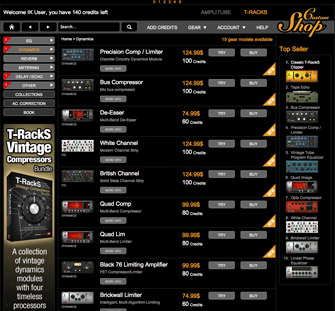 Go ahead…give it a try
Just like in your favorite music store, we let you try out T-RackS modules before you buy them. To demo a piece of gear, simply click the "Try" button instead of the "Buy" button. Once you do this, the module is unlocked in your copy of T-RackS and is available in the software for a period of 14 days for you to use however you see fit.
More info: what's in it
T-RackS Custom Shop has the same feature set that you get in other versions of T-RackS. You get the same user interface, routing options, overall performance, and functionality that you'd get with gear in a professional studio. T-RackS Custom Shop works as a standalone application or as a plug-in for your favorite Mac/PC DAW.
Gear