Mixing and Mastering
with IK Multimedia T-RackS
The Official Guide from

Mastering Engineer

and

Acclaimed Author Bobby Owsinski

Brought to you by Course Technology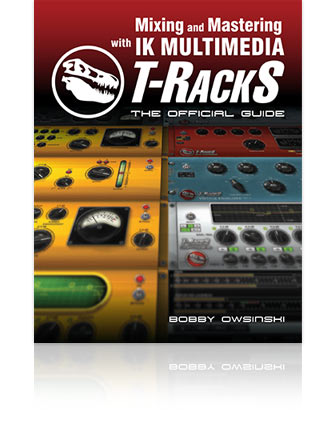 Now you can learn the secrets of the pros using the tools of the pros – T-RackS 3. In his newest release, 'Mixing and Mastering with IK Multimedia T-RackS – The Official Guide', mastering engineer and acclaimed author Bobby Owsinski will take you on a personal guided tour of T-RackS 3 and show you how to give your recordings the sounds and professional polish of a professionally mixed and mastered recording.
Whether you're new to mixing and mastering or a seasoned pro, there's something here for you. You'll get an insider's view into the world of professional mixing and mastering, learning tips and tricks along the way to help you produce your best recordings.
Prepare for mixing
You'll learn techniques such as how to prepare your environment and your mindset for mixing, how to set up your studio for optimal monitoring. Bobby takes you on a tour of the mixing modules of T-RackS 3 Deluxe while explaining in plain English how, why and when to use each type of processor. He demystifies compressors, limiters, gates and EQ, all while providing real world examples of their sonic effects.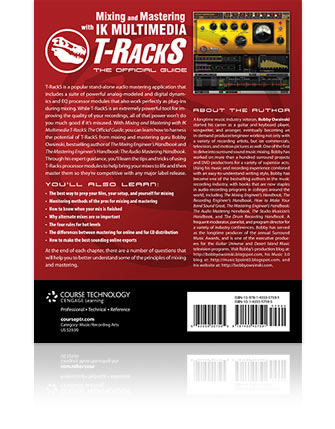 Get into the mastering world
Then he'll take you into the mastering world and provide solid advice on "gluing" your audio tracks together to create the feel and mood you want to hear from your recordings.
"T-RackS is a simple yet powerful app that has all of the features you need to do a great mastering job. One of the things that makes all T-RackS versions so popular is the warm analog sound that the processor modules provide since they closely emulate the circuitry of some of the vintage hardware devices that many pros have come to love. Modeling the sound of a piece of hardware is not a trivial process, but IK Multimedia gets better and better at what amounts to a new art form."
Bobby's new book 'Mixing and Mastering with IK Multimedia T-RackS – The Official Guide' can be purchased directly from the IK Multimedia web store, IK dealers and distributors, or through Amazon.com, Barnes & Noble.com and select music retailers around the world.
Content