What's inside
Total Studio MAX includes the following products:
To see the features for each product, click on the corresponding links below.
---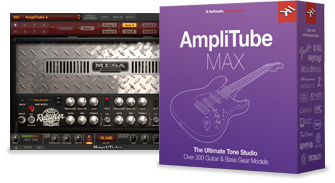 AmpliTube MAX
With AMpliTube MAX you get over 300 amplifiers, cabinets, stomp boxes, rack effects and mics models along with all the features of AmpliTube 4.
88 Stompbox models including: Acoustic Sim, Chorus, Flanger, Opto Tremolo, Delay, Wah Pedal, Diode Overdrive, Compressor, Graphic EQ and more
80 Amplifiers including: American Tube Clean 1, British Tube Lead 1, Solid State Bass Preamp, Jazz Amp 120 plus 5 all new classic British amps and more
92 Cabinets including: 4x12 Brit 8000, 4x12 Brit 9000, 4x12 Red Pig, 4x12 Brit Silver, 4x10 Open Vintage, 2x12 Closed Vintage, 4x12 Closed Vintage 1 and more
29 Vintage and modern individual speaker models
19 Microphones including: Double Dynamic 57, Dynamic 57, Condenser 414, Condenser 87 and more
24 Rack effects units including: Digital Delay, Parametric EQ, Rotary Speaker and more
2 Tuners: UltraTuner plus a fully chromatic rack tuner
Learn more about AmpliTube MAX
---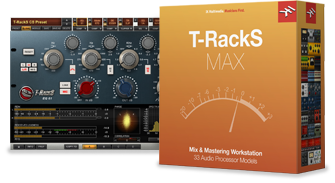 T-RackS 4 MAX
T-RackS 4 MAX is the ultimate mixing and mastering suite. You get 33 modules that cover everything from contemporary classics to timeless favorites.
Stealth Limiter
EQ PA
EQ PB
EQ PG
EQ 73
EQ 81
Master EQ 432
Precision Comp/Limiter
Bus Compressor
White Channel
British Channel
Black 76 Limiting Amplifier
White 2A Leveling Amplifier
Vintage Tube Compressor/Limiter Model 670
Tape Echo
Mic Room
Quad Comp
Quad Lim
Quad Image
De-Esser
Vintage Tube Program Equalizer
Opto Compressor
Brickwall Limiter
Linear Phase Equalizer
Classic T-RackS Compressor
Classic T-RackS Clipper
Classic T-RackS Multi-band Limiter
Classic T-RackS Equalizer
CSR Hall Reverb
CSR Plate Reverb
CSR Room Reverb
CSR Inverse Reverb
Metering
Learn more about T-RackS 4 MAX
---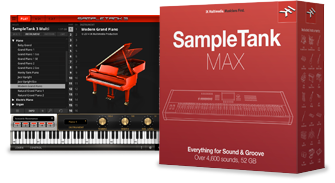 SampleTank MAX
SampleTank MAX includes the full version of SampleTank 3 plus 22 Instrument Collections.
Alan Parsons Imperial Grand
Art Deco Piano
Brandenburg Piano
American Acoustic
Billy Cobham Drums
Hugh Padgham Drums
Neil Peart Drums
Terry Bozzio Drums
Cinematic Percussion
Future Synths
Nanotube
NRG
Power Up
The Grid
Chillout
Deep House
Drum'n'Bass
Hardcore
Indie Dance
Minimal
Techno
Trance
Over 52 GB of samples
Over 4,600 instruments
Over 7,400 drum, percussion and full construction-kit loops
Over 3,500 MIDI patterns
Learn more about SampleTank MAX
---
Miroslav Philharmonik 2
Miroslav Philharmonik 2 is the new orchestra with legendary soul. It offers a massive range of instruments that have each been recorded with jaw dropping level of detail. Its solo and ensemble instruments come with a treasure chest full of useful articulations that go far beyond the standard sustained, staccato and pizzicato.
Over 58 GB of samples
Over 2,700 instruments
Included MIDI pattern library
Learn more about Miroslav Philharmonik 2