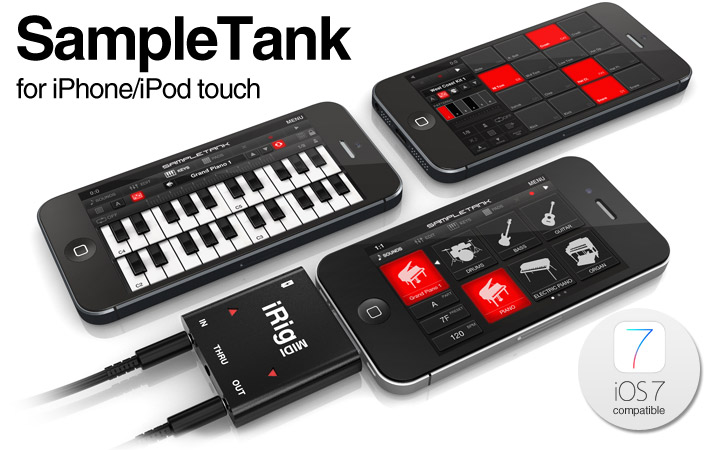 From grooves to orchestra sounds, everywhere
Make record-ready music on your iPhone/iPod touch with hundreds of pro-quality sounds and patterns
Downloadable Sound Collections
Available as in-app purchase.
SampleTank is the first professional-quality sound and groove module that puts hundreds of world-class instruments and patterns in your pocket. What's more, you can now expand your library with our new Downloadable Sound Collectionsvia in-app purchase. Our latest collection is SampleMoog™ - Mobile Edition, featuring classic synth sounds from Moog Music®. We also recently released the Miroslav Philharmonik - Mobile Edition, a downloadable collection of orchestral and choir sounds.
You can play SampleTank instruments on stage with the iRig PRO or iRig MIDI interfaces and a keyboard or pad controller just like you would any other sound or synthesizer module. Or pair it with iRig KEYS, our 3-octave, bus-powered mini-keyboard to create the ultimate portable MIDI studio.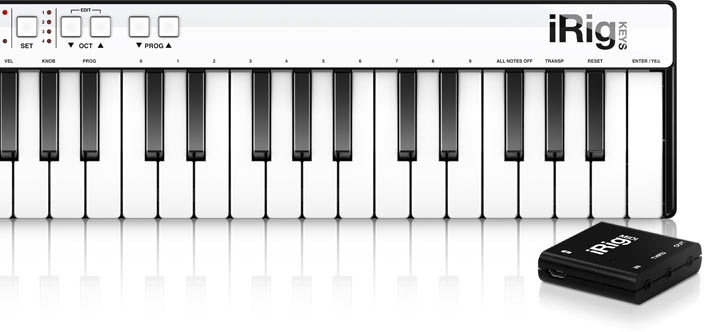 But that's not all: Sampletank is now compatible with iOS 7, so you can upgrade to Apple's new operating system with confidence. It's also Audiobus compatible, which means you can open it through the Audiobus app, and use it with other compatible apps, such as AmpliTube, for real-time, inter-app audio routing.
Looking good
If you have an iPhone 5 or new iPod touch, SampleTank's graphics are now optimized for your device, and use every bit of that extra large screen with dazzling results. We've also streamlined the user interface, adding a new global menu that makes getting around the app even easier!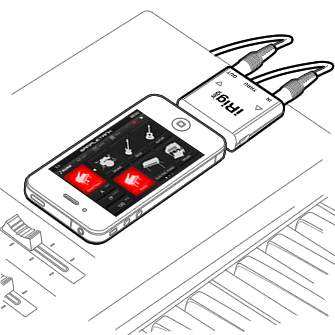 Be inspired: compose, record, play live — all with your iPhone or iPod touch
Got an idea? Grab your iPhone! SampleTank instruments give you unmatched realism, sound variety and audio performance. For the first time on this platform, hundreds of professional sample-based sounds and patterns can be easily accessed, layered and used for playing live. The built-in 4-track MIDI recorder lets you create beats, grooves, ideas and even complete songs. You can make music anytime and anywhere the inspiration hits you. SampleTank is the most compact sound and groove workstation ever made.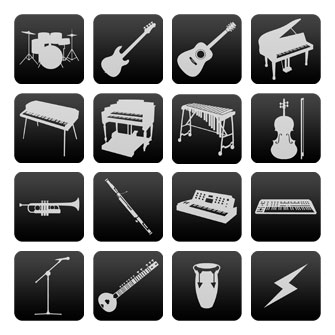 "MassiveTank" – Your iPhone is now a comprehensive instrument sound library
SampleTank gives you an astounding 16 instrument categories containing over 600 instruments that cover virtually every acoustic, electric and electronic sound you may need. Whether it's drums, pianos, bass, guitars, synthesizers, strings, or percussion, it's there. Plus, each category includes instrument patterns and grooves that you can immediately utilize and experiment with. All told, there are over 1,000 patterns and grooves.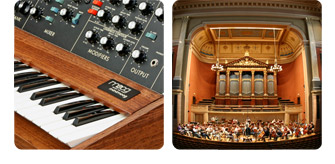 SampleTank's new Downloadable Sound Collections feature makes it easy to add high-quality sounds to your SampleTank library. The new SampleMoog™ - Mobile Edition, which can be easily purchased and downloaded from within the app, features over 100 sampled analog lead, pad, bass, sequence and effect sounds from classic Moog Music® instruments including the Minimoog® Model D, Memorymoog, Polymoog, Taurus®, Source, Rogue, Prodigy, Vocoder, Minimoog Voyager®, Little Phatty® and Etherwave® Theremin. These sounds are taken from the desktop version of SampleMoog™, IK Multimedia's leading MOOG® virtual instrument.
The recently released Miroslav Philharmonik - Mobile Edition, also available for download, provides you with a huge library of orchestral sounds taken from IK's highly regarded Miroslav Philharmonik instrument for Mac/PC. The sounds were recorded during legendary sampling sessions with the Czech Philharmonic Orchestra at Dvorak Hall in Prague.
You can also instantly unlock smaller, expansion sound packs, offered for a wide variety of instruments, via in-app purchase.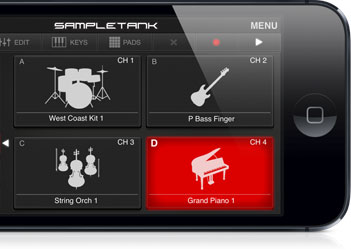 Quadriphonica
Okay, so we made that one up. But it means that you can have up to 4 simultaneous instrument parts, perfect for playing live or recording. Use them to build a full rhythmic groove or to creatively layer sounds together. Groovy.
With up to 4 parts going at once, it's possible to have a lot of notes playing at the same time, so you'll be glad to know that SampleTank now has increased polyphony (number of simultaneous voices) on the latest Apple devices. This means you have plenty of voices for playback, even with complext parts or layers that use all 4 tracks.
Studioiphonica
Again, yes… we made it up. It means that you get the same sound and performance quality from our mobile app that you'd expect from our high-end professional studio products. And you do. Lightning-fast sound loading and near-zero latency makes putting the groove in your pocket an easy thing to do. So get in the pocket and get SampleTank.
Hop on the bus
We're happy to report that SampleTank is now Audiobus compatible. That means you can launch it from inside the Audiobus app (a third-party app that requires separate purchase), and send its output through other audio apps, like AmpliTube, GarageBand, and many others, to be filtered, recorded, looped, and more. The ability to share audio between apps opens up incredible creative possibilities.
We've also added full support for background audio, which means SampleTank can now play in the background when other audio apps are playing in the foreground. That means you can now layer SampleTank's output with that of other audio apps, giving you even more creative options.
| | |
| --- | --- |
| | |
---
Features:

What's New:

128 User Presets
Virtual MIDI support
4-part multi-timbral professional quality sound and groove workstation
Expandable sound library with more than 600 instruments in 16 categories
Over 1,000 melodic and rhythmic patterns for groove creation or accompaniment
Included 4-track MIDI recorder with audio export
Built-in insert effects and master reverb
Easy-to-use, intuitive interface
Sound and effects editing with multiple parameters
Play interface with piano keyboard, scale-based keyboard and drum pads
Universal app compatible with iPhone, iPod touch and iPad
Designed to work in tandem with iRig PRO, universal audio MIDI interface for iOS and Mac; iRig MIDI, interface for iOS; or iRig KEYS, the mini keyboard controller for iOS and Mac/PC
Support for MIDI Program Change
Edit Strip now responds to MIDI Continuous Controllers
Export WAV files via File Sharing
Copy option in Export options
Support for Audiobus
Supports background audio with other audio apps
Polyphony: up to 64 voices on new Apple devices
Optimized for iPhone 5 and new iPod touch graphics
Free version also available
---
How it works
Quickly browse, pick, and load sounds and patterns
The core of SampleTank is its sound library. As soon as you launch the app, you will be presented with the SOUND BROWSER, where you can audition all the included sounds and patterns. Choose an instrument category, and then select the voicing you want to hear. Move quickly between the 16 available categories and their sounds and patterns by tapping the instrument category icon. Sounds purchased from the Downloadable Sound Collections and Expansion Packs show up in the same menu as the included sound set.
A sound and a pattern are loaded into one of the four available parts (A, B, C, D) by simply tapping on them. To move between parts, simply tap the PART button in the SOUNDS browser.
Save your work…
A set of sounds and patterns loaded into the 4 available parts can be saved into one of the 96 available user presets by accessing the PRESET pages from the SOUND BROWSER, and pressing and holding one of the 96 available slots. You can recall a preset simply by tapping its number or sending MIDI Program Changes from an external controller. 120 presets are available (24 factory and 96 user).
The BPM button in the SOUNDS browser pulls up the tempo slider so you can change the tempo of the patterns as well as display the large global play button to control all of the loaded patterns. There is also a small global play button at the top of every page of the app to instantly play the included patterns or your own MIDI recordings.
EDIT: Go ahead, get crazy
The EDIT button will bring up the EDIT strip where you'll find all kinds of knobs to fine-tune your sound by adjusting various sound parameters — volume, pan, transpose, attack, filter, etc, — and you can control the lush effects as well. Edit instruments and effects remotely using MIDI Continuous Controllers. Want total control over your sound? You've got it!
Above the edit knobs, several buttons allow you to activate the patterns (and the keyboard will show the keys that trigger patterns by changing to dimmed red), switch between pattern and instrument and change either one using the up/down arrows. A latch button allows a pattern to repeat on its own or only while you hold down a note. Finally, the Parts button quickly switches between parts right from the edit page.
KEYS: Perform on your iOS device
Once you've created the perfect sound, it's time to play. The SampleTank KEYS page is where you can use your device's touch screen to play SampleTank sounds. Here you have the same controls at the top for navigating sounds, patterns and parts, but you also get a dual-row keyboard that can be customized as a "scale keyboard" — showing only the notes of a specific key/scale.
PADS: Build beats and grooves anywhere
SampleTank provides a drum-machine-style PADS interface for easy beat creation. Drums and MIDI notes are assigned to each key in a familiar pad layout. You can reassign each pad to trigger exactly the drum or note you want — to create your own customized beat machine. And the PADS interface isn't just for drums. Load any instrument on the PADS page and start building your own groove-making powerhouse!
RECORDER: Capture inspiration when it strikes
A 4-track MIDI recorder is included with SampleTank to capture your ideas the moment you create them. Put a drum kit on one track, a bass on another, piano on a third and a synth lead on the fourth, and you can quickly build up a complete MIDI arrangement with handy quantize and loop controls. Then export your tracks as stereo audio files to continue working on them in other apps like AmpliTube or VocaLive or computer DAWs like Logic and Pro Tools.
Three ways to play
You can use the the onboard keyboard or drum pads to play your sounds. For additional control, use our iRig KEYS, 3-octave mini-key keyboard, or connect another MIDI keyboard through our iRig PRO or iRig MIDI interfaces.

---
How we did it
You've heard it before…
SampleTank for the iPhone/iPod touch is based on the same SampleTank Mac/PC audio engine you'll find being used in professional recording studios around the world. It offers a "greatest hits" selection of sounds from our flagship products such as SampleTank XL, Miroslav Philharmonik, SampleMoog™ and SampleTron. Plus you get brand new sounds specifically designed for the next generation of our virtual instruments and optimized for the best performance from your iPhone or iPod touch.
You have heard these sounds on countless records and productions by world-class artists and producers, and now you can have them in your pocket on your iOS device.
Photos from "The Making of SampleTank" More images on Facebook
All of the SampleTank sounds have been sampled, edited, programmed and optimized in-house by IK's team of audio engineers and sound designers. With 15 years of pioneering experience in sound design, combined with our classic Italian craftsmanship heritage, you're assured of getting the highest quality professional sound products.
We tracked down and hand-picked the best sounding pianos, classic vintage guitars, hard-to-find basses, must-have synthesizers and classic organs for a top-quality collection of sounds that has no equal on the iOS platform.
Apps