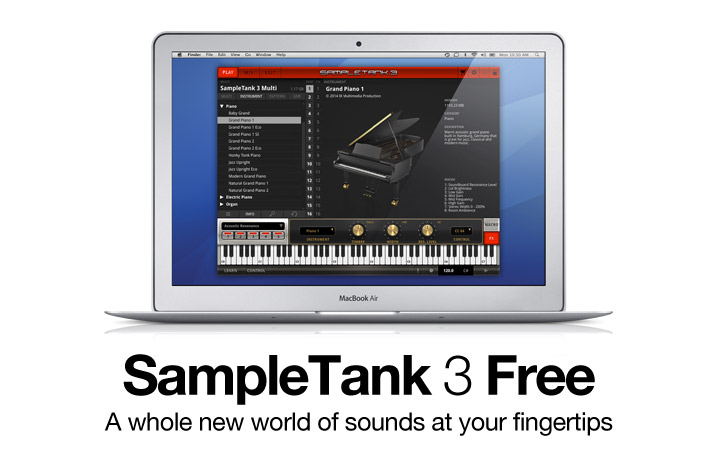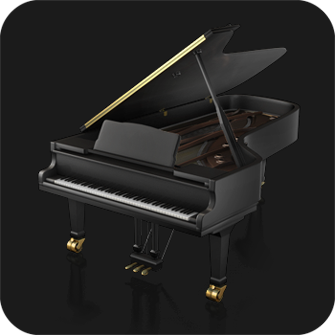 Free Sound of the week:

Grand Piano 1 SE
One of the best German-made
concert grand pianos of all time!
Your free entry into
a whole new world
of sounds
Experience the full creative power and processing flexibility of IK's ultimate sound and groove workstation with SampleTank 3 Free. It gives you the freedom to experiment with a fully functional and expanding library of high-quality instruments that illustrate SampleTank 3's broad sonic versatility.
Each week, IK will release a new set of instruments that can be downloaded and added to SampleTank 3 Free's instrument library for a total of 22 fully functional and high quality free instruments. The first instrument included is a pitch-perfect representation of one of the best German-made concert grand pianos of all time.
Though you can import and use only these instruments, SampleTank 3 Free lets you access a virtually unlimited world of sound options via its 3 sample engines, 55 high-quality effects, 16-channel mixer and other advanced features. Download it today and discover why SampleTank 3 is considered the new industry standard.
---
This week's sound: Grand Piano 1 SE
A beautifully rendered representation of a Hamburg-made concert grand piano that's been meticulously sampled down to the finest detail. It provides you with an extremely musical, dynamic and naturally versatile instrument that fits perfectly in any style of music from classical to rock and from jazz to soul. Its state-of-the-art programming and included high-end effects — like its virtual piano lid and true-to-life string and soundboard harmonic resonance — make for a fantastic playing experience that will make you believe you're in the room with one of the richest and most beautiful concert grand pianos of all time. And you'll also have infinite sound sculpting possibilities thanks to SampleTank 3's immense studio FX collection: Now you're covered for literally all the acoustic piano sounds your productions could ever call for.
---