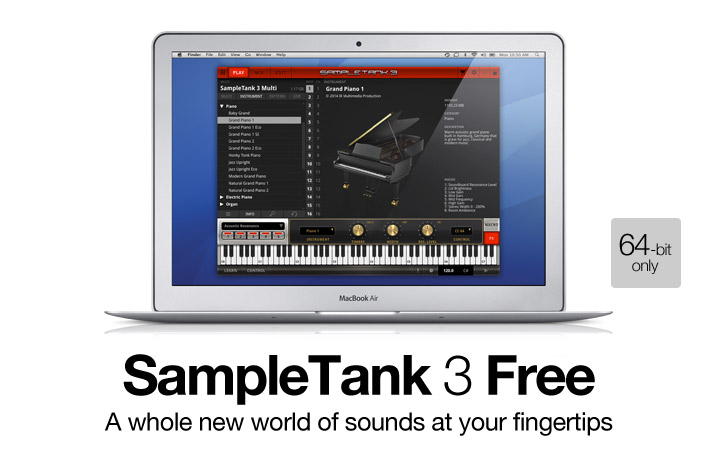 Free Sounds Just Released!

Electric Piano, Chromatic and Organ
Your free entry into
a whole new world
of sounds
Experience the full creative power and processing flexibility of IK's ultimate sound and groove workstation with SampleTank 3 Free. It gives you the freedom to experiment with a fully functional and expanding library of high-quality instruments that illustrate SampleTank 3's broad sonic versatility.
SampleTank 3 Free includes the Grand Piano 1 SE, a pitch-perfect representation of one of the best German-made concert grand pianos of all time.
Each week, IK will release a new set of instruments that can be downloaded and added to SampleTank 3 Free's instrument library for a total of 22 fully functional and high quality free instruments.
Though you can import and use only these instruments, SampleTank 3 Free lets you access a virtually unlimited world of sound options via its 3 sample engines, 55 high-quality effects, 16-channel mixer and other advanced features. Download it today and discover why SampleTank 3 is considered the new industry standard.
Free Sounds Just Released: Electric Piano, Chromatic and Organ
Keys take center stage in this week's sound release for SampleTank 3 Free. From mellow jazz to groovy funk, it showcases the next generation sound workstation's impressive range of high-quality keyboard sounds. Inside you'll find a classic electric piano, a versatile tonewheel organ and a plucky vintage clavinet. Each instrument comes with its own set of MIDI patterns that you can use to experiment with SampleTank 3's powerful new MIDI player section. In addition, with each sound you will enjoy the endless potential for fine-tuning and sound design afforded by the full version's battery of macro controls, effects processors, sample engines and other advanced features. Download it today for your free peek into SampleTank 3's whole new world of sounds.
---
Available sounds
Electric Piano
NEW!

Stage EP
This classic electric piano with a bell-like tine attack and warm, full sustain is the perfect choice for simple chord pads, kinetic comping or full-tilt jazz and R&B jams. The autopan stereo tremolo and plate reverb effect adds to the richness of this iconic instrument.
MIDI Patterns
7 MIDI Patterns included.
---
Organ
NEW!

3-5 Drawbars Organ
There is nothing like the sound of a Hammond® tonewheel organ through a rotating speaker with a valve preamp and amplifier. Whether you're playing rock, jazz, R&B, blues or gospel, this instrument will give you everything from pure clean organ tone to the gritty overdrive provided by our top effects imported from AmpliTube.
MIDI Patterns
3 MIDI Patterns included.
---
Chromatic
NEW!

Clavinet 1 Phaser
Funky is a word you cannot avoid when discussing the sound of a classic Hohner® D6 clavinet. Groovy riffs and comping will flow from your fingers when you hear this vintage beauty and pair it with all the incredible effects that SampleTank 3 has to offer.
MIDI Patterns
2 MIDI Patterns included.
---
Acoustic Guitar

Steel String 2 Picked Multi-Articulation Acoustic Guitar with Key Switching
The timeless sound of a 6-string Martin® D35 acoustic guitar played with a pick. Key switching changes between standard picked, fret slide and harmonic articulations.
MIDI Patterns
3 MIDI Patterns included.
---
Electric Guitar

Single Coil 1 Slight Mod Clean Electric Guitar
The clean, glassy tone of a Fender® Stratocaster® played through a Roland® Jazz Chorus amplifier with a smooth flanger and echo effect to let you play hi-fi arpeggios and chords with a guitar sound that never goes out of style.
MIDI Patterns
5 MIDI Patterns included.
---
Ethnic

Gu Zheng Multi-Articulation with Key Switching
A top-quality Chinese zither played with 6 different articulations available via key switching for startlingly realistic real-time performance. Bring a bit of old world Asia to your productions!
MIDI Patterns
3 MIDI Patterns included.
---
Synth Lead

Rawsaw Lead
A timeless sawtooth wave analog synth lead with delayed vibrato and a rich echoed reverb effect, perfect for everything from cutting-edge EDM to vintage rock and R&B tracks. It also works great as a bass in the low register. Try different FX and filters on this one for endless variations.
MIDI Patterns
3 MIDI Patterns included.
---
Synth Pad

4-Osc Analog Velo Pad
Ultra-warm filtered sawtooth wave strings with a perfectly dialed-in envelope attack. 4 oscillators gives a lush detuning to the pad that you can't get with just a simple chorus effect. Both the mod wheel and aftertouch modulate the filter for extra expression.
MIDI Patterns
3 MIDI Patterns included.
---
Synth FX

Jazz Funk Orch Stabs
40 different dynamic brass, orchestra and percussion hits mapped chromatically up the keyboard for use in any musical production that needs punctuation with character and style. We've also included a brass MIDI pattern that works well with this instrument. Transpose the pattern for different timbres!
MIDI Patterns
1 MIDI Pattern included.
---
Loops

Hip Hop 9 109 bpm
17 expertly-recorded acoustic drum loops with some serious swing and groove to use as the foundation for your Hip Hop, R&B, funk, fusion or even classic rock track! Includes subtle performance articulations that only a top pro drummer can deliver.

EDM 4 128 bpm
63 individual loops mapped chromatically up the keyboard to use as a "construction kit" for building the perfect high-energy modern EDM track. Loops include separate kick drum, snares, claps, percussion, synth effects, bass, pads, comping, etc. so you can choose the exact combination you want for each section of your song.
---
Acoustic Drums

Alt Rock Kit
A 9-piece maple alternative rock drum kit in the style of the Foo Fighters recorded in a large, warm room with two 24" kick drums, wood snare, six toms from 10" to 18" and General MIDI percussion. There are additional tom articulations (flams and rimshots) in the top octave and additional snare and hat articulations in the bottom octave. There are multiple velocities and "round robin" alternating samples for added realism. The SampleTank 3 ConvoRoom effect includes samples of the actual studio space where the drums were recorded, so you can dial in the ambience exactly as you want it.
MIDI Patterns
8 MIDI Patterns included.
---
Electronic Drums

EDM Kit 1
A hard-hitting full electronic drum kit ready to drive the groove in many different EDM subgenres. Two sharp kick drums will cut through any mix, and the aggressive snare drums, pre-processed with top-quality studio compression, will lay down an electronic backbeat sure to get everyone moving. Lively toms, crisp hi-hats, cymbals and assorted electronic percussion fills out the full General MIDI mapping for compatibility and interchangeability with all SampleTank 3 drum kits.
MIDI Patterns
6 MIDI Patterns included.
---
Bass

P Bass Finger
The timeless, classic sound of a Fender® Precision Bass® played with fingers using roundwound strings. This is the undisputed king of bass guitars in pop music from the 1950s through present day. Our SampleTank 3 instrument is a player's dream bass, perfectly set up and maintained with plenty of vintage mojo. Our instruments provides "round robin" alternating samples, random performance noises, automatic legato and Direct / Amp mixing.
MIDI Patterns
5 MIDI Patterns included.
---
Synth Bass

Hard Alpha Bass
A delightfully distorted sawtooth wave bass with "Reese"-style detuning and keyed portamento ready to rule the groove of your next electronic track. An aggressive tone with tons of presence and a mighty low end punch. Whether alone with just a kick drum or deep inside a dense production, this bass will never get lost in a crowd.

Pulse Sub Bass
This square wave bass is filtered down to nearly a sine wave shape to get the whole house moving with its powerful, earth-shaking lows. Put this bass under a snappy, percussive arrangements to fill out the bottom end with the fullness and tonal purity that only a clear, low synth tone like this can deliver.
MIDI Patterns
9 MIDI Patterns included.
---
Percussion

Dumbeks
Two middle eastern dumbek "goblet drums," one Turkish with the edge of the drum head exposed and the other Egyptian style with a rounded edge. The word dumbek comes from the Arabic word, "darba," meaning "to strike." The dumbek is played with the hands, usually holding the drum under one arm. It is a bright, percussive drum that changes its tone with different dynamic hits, and our SampleTank 3 collection provides numerous hits with "round robin" alternate samples for added realism.
MIDI Patterns
3 MIDI Patterns included.
---
Piano

Grand Piano 1 SE
A beautifully rendered representation of a Hamburg-made concert grand piano that's been meticulously sampled down to the finest detail. It provides you with an extremely musical, dynamic and naturally versatile instrument that fits perfectly in any style of music from classical to rock and from jazz to soul. Its state-of-the-art programming and included high-end effects — like its virtual piano lid and true-to-life string and soundboard harmonic resonance — make for a fantastic playing experience that will make you believe you're in the room with one of the richest and most beautiful concert grand pianos of all time. And you'll also have infinite sound sculpting possibilities thanks to SampleTank 3's immense studio FX collection: Now you're covered for literally all the acoustic piano sounds your productions could ever call for.
MIDI Patterns
6 MIDI Patterns included.
---

Versions