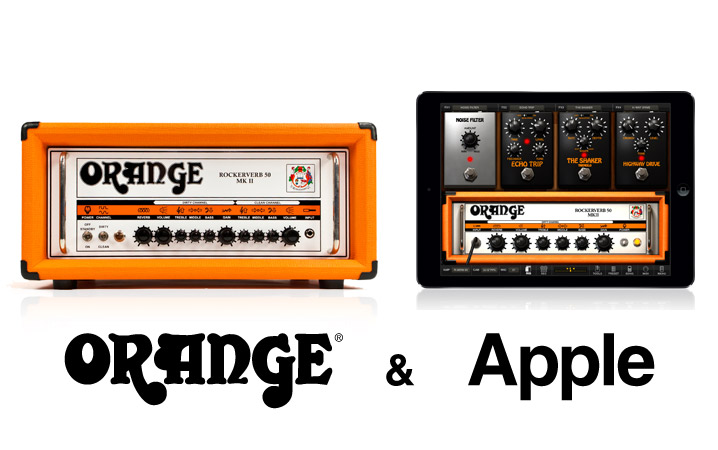 AmpliTube Orange for iPad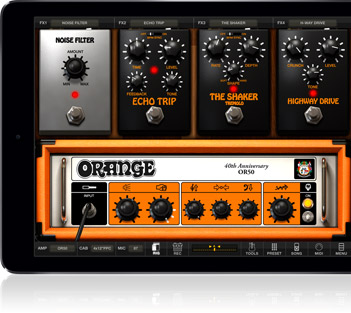 Real-time mobile Orange amps and effects
Now, no matter where you go, you can take your Orange rig with you! With AmpliTube Orange® for iPad, you'll never be without the unmistakable classic British tone that only Orange amps deliver. From sparklingly clean to huge overdriven power tones, AmpliTube Orange will delight even the most discerning guitar player.
AmpliTube Orange is a complete, full-featured guitar/bass amp and effects rig for your iPad that includes a single track (expandable to 8 tracks) recorder for capturing your performances on the go. It features intuitive tools, tones and controls that will inspire you beyond your wildest expectations.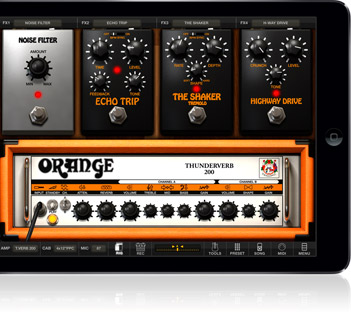 Based upon the extremely successful desktop computer version, AmpliTube Orange is designed to be familiar for guitar and bass players. It features a "pedal board" section containing 4 slots for daisy chaining effects pedals, an Amp section for amp and cabinet selection, plus a recording section with up to 8 tracks of layering.
AmpliTube Orange is compatible with all IK Multimedia mobile interfaces like iRig 2, iRig PRO, iRig HD or iRig Stomp as well as IK's iRig BlueBoard Bluetooth MIDI pedal board controller.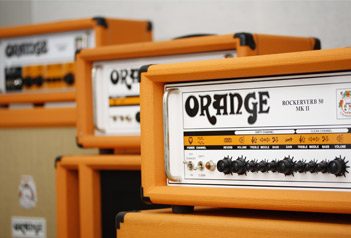 Orange Legacy
Legendary guitarists and bass players the caliber of Led Zeppelin's Jimmy Page and Rush's Geddy Lee have been proud users of Orange amps on timeless classic albums.
Now the Orange heritage is carried on by younger artists and bands like Mastodon or Slipknot lending testimony to the vast array of sounds these models are able to reproduce, from classic and vintage tones to extreme and modern.
---
Features
Real-time Orange amp and effects guitar/bass suite
6 Classic and modern officially certified Orange guitar amps: OR50, Rockerverb 50, Thunderverb 200, Tiny Terror, AD 30 and the AD 200 MK 3 Bass Amp
Speaker cabinet models can be mixed & matched
Selectable speaker mic choices: passive & condenser
4 Stomps: Echo Trip delay, Highway Drive overdrive, Shaker tremolo, Noise filter
Built-in tuner, metronome
4 slots for daisy chained stompbox effects
Single track recorder included (expandable to 8 tracks with bounce feature, master effects via in-app purchase)
Song section for importing device library music and play-along
Works with iRig BlueBoard Bluetooth MIDI pedalboard controller
Create and save presets
Works with all IK Multimedia mobile interfaces like iRig 2, iRig PRO, iRig HD or iRig Stomp
Standalone app or available as in-app bundle in AmpliTube for iPad
Full production music suite for your iPad
Designed and engineered in Italy
What's new
Native support for iRig BlueBoard
Project sharing between versions and different devices
Improved MIDI control
New multi-language dynamic tooltips
Use iCloud to transfer in-app purchases between all AmpliTube versions
Now compatible with Audiobus on iOS 8
---
Orange Amps
AmpliTube Orange is loaded with Orange Amplifiers — 5 Guitar Amps and 1 bass amp. The amps are perfectly matched with component speaker cabinets, but you can also mix and match heads and cabinets for new, unheard sounds and textures.
The Tone Orchard — Amps included in AmpliTube Orange
If you love the sound of Orange Amps (and who doesn't?), you'll love the sound of AmpliTube Orange on your iPad. AmpliTube Orange includes 6 amps — 5 guitar heads, 1 bass head and matching cabinets. Included are the OR50, Rockerverb 50, Thunderverb 200, the Tiny Terror, the AD 30 and AD 200 Bass MK 3. Speaker cabinets include the 4x12" PPC, 1x12" PPC, 2x12" PPC, 2x12" AD30 and the 1x15" OBC.
The Stomps
In the stompbox section, you'll find some extremely cool and useful effects. These stomps are not Orange effects, but are derived from some of our best effects in AmpliTube.
Echo Trip — an analog delay with all the features you'd expect — feedback control (repeat), delay time, effect level and an effect tone control.
Highway Drive — vintage influenced overdrive pedal with crunch, level and tone controls.
The Shaker — a beat syncable tremolo with controllable envelope shape, rate and depth control.
Noise Filter — gets rid of the hiss when the gain gets cranked.
Take control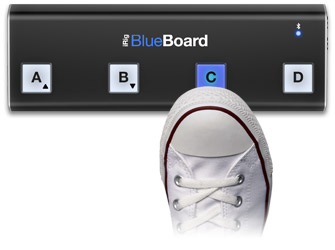 AmpliTube Orange features MIDI control capabilities that allow you to use a standard MIDI controller to adjust the knobs, settings and parameters of Orange® gear. With a mobile MIDI interface like our iRig MIDI or our iRig PRO universal audio/MIDI interface, you can hook your controller to your iPad and use AmpliTube Orange "handsfree" live in the studio or on stage.
Another way to control AmpliTube Orange® is through IK's iRig BlueBoard Bluetooth foot pedal controller. iRig BlueBoard gives users a stompbox-like experience with four assignable MIDI-buttons that can be used to trigger effects, cycle through patches and swap presets from the floor. The latest version of AmpliTube Orange makes the pairing even more seamless and powerful by adding built-in support and a new mode that allows for global control of AmpliTube's robust built-in recorder.
Record
Once you get your tone dialed in, the signal goes into a recording section where you can capture your ideas and performances. The recording section features a single track recorder that's expandable to 8 tracks with a bounce feature and a master effects section for final production mastering. In essence, you can record and produce a full composition all inside of AmpliTube Orange for iPad. The recorder in AmpliTube Orange supports audio import, copy and audio paste.
AmpliTube Orange for iPad also now supports project sharing. It lets you use iTunes File Sharing to copy and paste project folders between AmpliTube's different device versions.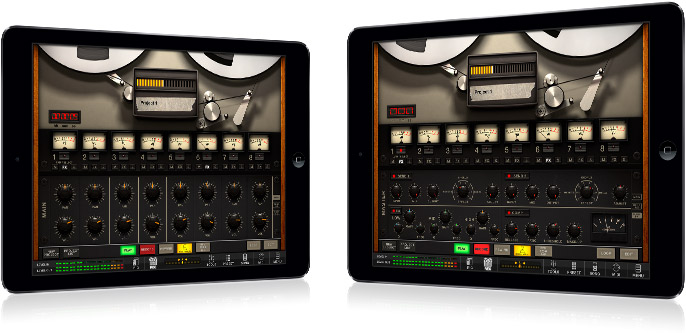 AmpliTube Orange is also Inter-App Audio and Audiobus compatible, so you can use it to get that famous British tone with your other music apps like GarageBand.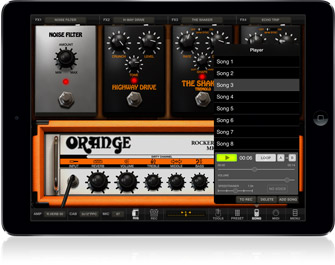 Practice
AmpliTube Orange features a "song" section with some fantastic practice features. In the "song" section, you can import any music from your device library and play along in real time. Since many guitar leads are placed in the center of the mix, you can mute it by pressing the NO VOICE center cancel button and riff over the top of your favorite rhythm. You can also slow down audio material (like blazing fast leads) to learn them without changing the pitch. You can set "loop" points in the audio so you can practice passages over and over.
---
IMPORTANT: if you own AmpliTube for iPad and you want to add all of the components of AmpliTube Orange® into it, we advise you NOT to purchase the AmpliTube Orange® app but instead add the AmpliTube Orange® amps and effects all together or single a-la-carte gear directly in AmpliTube through in-app purchase.
You can also use iCloud to transfer your in-app gear purchases between the 5 main versions of AmpliTube.
Use iRig 2, iRig PRO, iRig HD or iRig STOMP to connect your guitar to your iPhone, iPod touch and iPad and iRig BlueBoard to control AmpliTube.

Apps