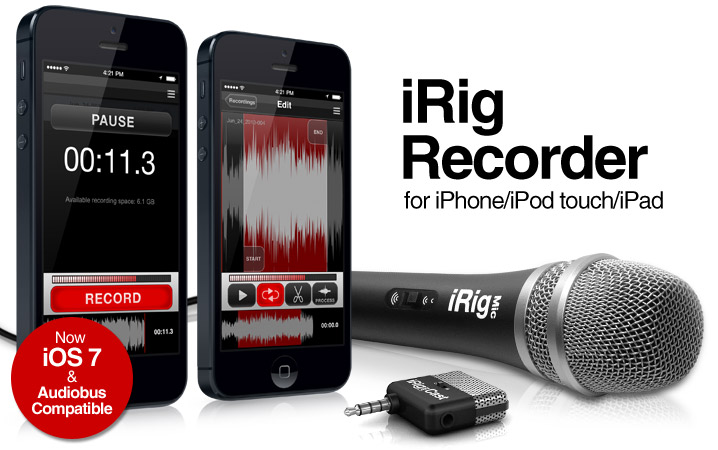 The easiest way to make quality recordings
on your iPhone, iPod, iPad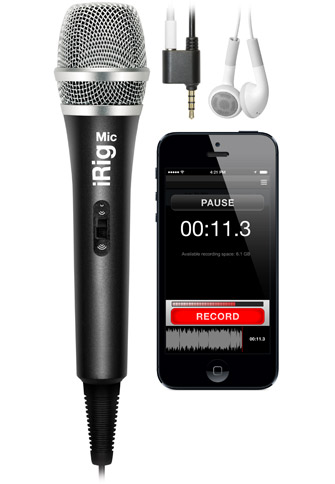 One-touch recording
for your iOS device
iRig Recorder is a powerful audio recording app for your iOS device that is convenient and easy to use. Now you can have a professional recording tool at your fingertips anytime and anywhere, with intuitive and practical editing and export functions. Capture that great sound bite, inspiring speech, entire lecture or first words easily with your iOS device, wherever life takes you.
iRig Recorder is the perfect companion to iRig Mic. Take iRig Mic and iRig Recorder anywhere to capture podcasts, interviews, concerts — any sound out in the field or at home. Or you might want to pair iRig Recorder with iRig MIC Cast, our low-profile mic designed for capturing high-quality spoken word recordings, or use your own mic through our iRig PRO Universal Audio/MIDI interface or the iRig PRE mobile mic preamp.
Once you have audio recorded into iRig Recorder, you can use its intuitive editing tools to cut, crop or loop your audio. With its powerful effects processors, you can optimize tone for speech or music, clean up or eliminate background noise, brighten voice for clarity and presence or smooth it in harsh or overly bright recordings, change the speed of your tracks without affecting their pitch, and, if desired, change the pitch of your recordings.
Export your files via E-mail, Wi-Fi, FTP, SoundCloud or iTunes File Sharing, in a variety of sizes and formats (including 16-bit 44.1 kHz uncompressed). Record your world with iRig Recorder!
iRig Recorder is available as a free version (where you can add editing, processing and exporting features) or the complete version with all the functions and processors immediately available, each as à la carte purchases in the in-app Shop.
---
Features

What's new

Convenient, easy-to-use mobile recording and editing app: just launch the app and press record!
The perfect companion to iRig Mic and iRig MIC Cast for your podcasts, interviews, concert and field recordings, or use your own mic with iRig PRO or iRig PRE
One-touch recording with real-time monitoring
Intuitive, non-destructive editing tools to cut, crop and loop your recordings

8 intelligent effects processors automatically optimize your recordings

Optimize Volume: automatically adjusts for optimal volume
Optimize Tone: automatically adjusts for optimal equalization
Cleanup: automatically cleans up the background noise in recordings
Brighten Voice: automatically increases clarity of speech and vocals
Smooth Voice: automatically smooths harsh or overly bright vocals
Speed Up: decreases the duration of the recording without altering its pitch
Slow Down: increases the duration the speed of the recording without altering its pitch
Pitch Shift: raises or lowers the pitch of the recording without changing duration
Pitch- and time-based effects: Change the speed of your recordings, without affecting pitch, to adapt your audio content to other media such as video. Change the pitch of your recordings without changing the duration

Organizes your recordings by creation date and tags with geo location
Transfer files via E-mail, Wi-Fi or iTunes File Sharing with easy upload to FTP or SoundCloud
Export files as compressed .m4a or uncompressed .wav
Recording time is only limited by the storage space on your iOS device
FREE version also available with in-app shop to add individual features or upgrade to full functionality

iOS 7 compatibility lets you open the app in Apple's latest mobile OS
Audiobus compatibiity allows you to open iRig Recorder in the Output slot of the Audiobus app (a third party app that requires separate purchase), and use it to record and processs the output from other apps
Full graphics support for iPhone 5 and new iPod touch displays
Full support of Apple Retina Displays
Audio Copy feature lets you copy and paste audio to other apps
Support for digital audio input from Lightning and 30-pin sources
Redesigned interface features IK's signature "Global Menu"
---
How it works
The best field recorder is the one you always have with you
With your iPhone/iPod touch and iRig Recorder, you'll be able to capture any audio, anytime and anywhere, with just the push of a button. It's really that easy and simple.
| Just hit record | Edit like a pro |
| --- | --- |
| Using iRig Recorder is as simple as opening an app on your iOS device and clicking the record button. Any audio input device, such as iRig Mic or iRig PRE is automatically selected as your input. (iRig Recorder will automatically use the "built-in" microphones if an external device is not present.) Click the "record" button and you're on your way to instant audio capture. It's that simple. | Here's where iRig Recorder really stands out — its editing tools. Now with just the touch of a finger you can quickly and easily set in and out points, crop recordings, cut sections to create new snippets, loop sections and apply 8 different effects. |
| The "process" process | Exportation exploitation |
| --- | --- |
| Click on the "process" button to access the effects section. Here you'll be able to audition and fine-tune effects to your liking, and then save them as new "recordings" for export. The effects include optimization tools for volume and overall tone, a "cleanup" effect for minimizing background noises, a "brighten" and "smooth" voice option for making vocals stand out, plus a speed control and pitch shifting effect for total file manipulation. | iRig recorder lets you export your recordings in either .m4a format or an uncompressed .wav file, and provides functions for sharing via email, iTunes file sharing, Wi-Fi or FTP or SoundCloud upload. So now you can capture, trim, process and share all within seconds of each other. And recording size is limited only by the device you are using. |
Apps