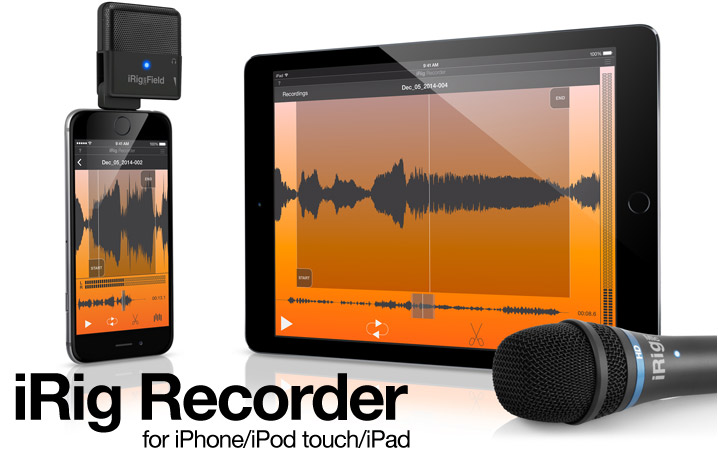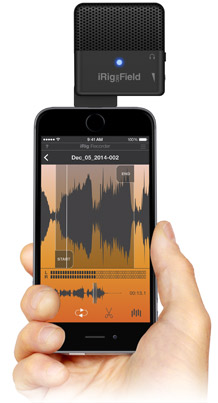 Effortless stereo recording on your iOS device
Capture and edit stereo audio
on your iPhone, iPad or iPod touch
iRig Recorder is IK's popular, powerful and easy to use field recording app for iOS. Now you can have a professional stereo recording tool with intuitive and practical editing and exporting functions that you can carry in your pocket. It's streamlined to work with your iOS device as effortlessly as possible — With iRig Recorder , you can capture, edit and share great sounding stereo audio anywhere your mobile life takes you.
iRig Recorder is the companion app to iRig Mic Field, IK's new high-quality digital stereo microphone. iRig Recorder supports the new microphone's high-fidelity digital stereo sound capturing abilities. Stereo recording and processing is activated anytime a stereo recording interface is connected or a stereo audio file is selected. The latest version of iRig Recorder also accommodates iRig Mic Field's 90 degrees of rotation, with an enhanced universal GUI that lets you use iRig Recorder in either landscape or portrait mode.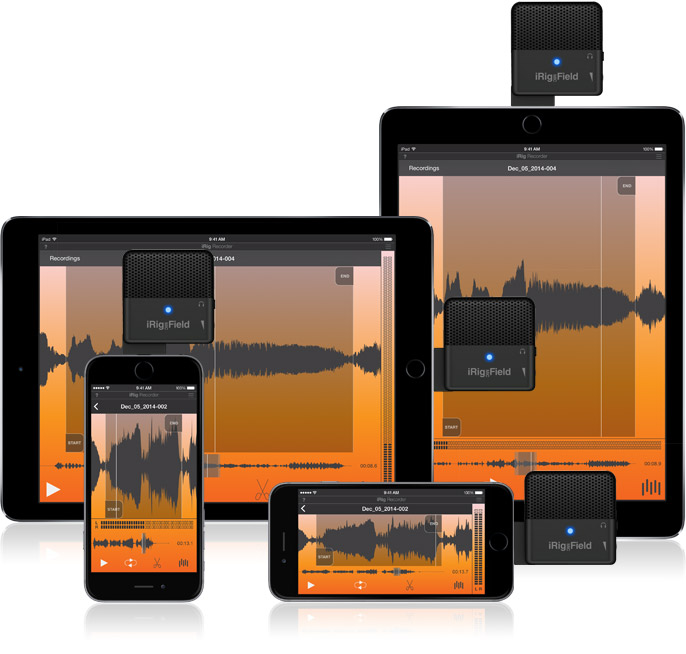 Once you've captured your audio with iRig Recorder, you can manipulate and process your recordings via its full suite of intuitive audio editing tools. Cut, crop, loop and apply powerful effect processors: Optimize volume and tone for speech or music, clean up or eliminate background noise, brighten for clarity and presence or smooth for harsh or overly bright recordings, change the speed of your tracks without affecting pitch or shift the pitch of your recordings.
After recording, use iRig Recorder's export button to share files via E-mail, Wi-Fi, FTP upload, SoundCloud, iTunes File Sharing or Audio Copy in a variety of sizes and formats.
---
Features
Convenient, easy-to-use mobile stereo audio recording and editing app
Companion app for iRig Mic Field
Can also be used with iRig Mic HD, iRig Mic Cast, iRig Mic, iRig PRO and other quality IK Multimedia microphones and audio interfaces
One-touch recording with real-time monitoring
Intuitive, non-destructive editing tools to cut, crop and loop your recordings

8 intelligent effects processors automatically optimize your recordings

Optimize Volume: automatically adjusts for optimal volume
Optimize Tone: automatically adjusts for optimal equalization
Cleanup: automatically cleans up the background noise in recordings
Brighten Voice: automatically increases clarity of speech and vocals
Smooth Voice: automatically smooths harsh or overly bright vocals
Speed Up: decreases the duration of the recording without altering its pitch
Slow Down: increases the duration the speed of the recording without altering its pitch
Pitch Shift: raises or lowers the pitch of the recording without changing duration
Pitch- and time-based effects: Change the speed of your recordings, without affecting pitch, to adapt your audio content to other media such as video. Change the pitch of your recordings without changing the duration

Organizes your recordings by creation date and tags with geo location
Transfer files via E-mail, Wi-Fi or iTunes File Sharing with easy upload to FTP or SoundCloud
Export files as compressed .m4a or uncompressed .wav
Recording time is only limited by the storage space on your iOS device
FREE version also available with in-app shop to add individual features or upgrade to full functionality
What's new
Stereo file recording feature
Supports portrait and landscape orientations
Customizable interface in four different colors: orange, green, blue and white
Universal app for iPhone, iPod touch and iPad
Native iPad interface
---
iRig Recorder is available as either a free version (with editing, processing and export features available via in-app purchase) or as a full version with everything enabled.
Apps