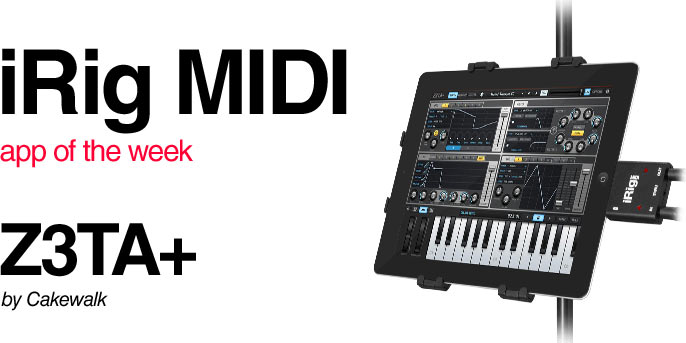 The legendary Z3TA+ synthesizer has been used on countless records, and it's distinctive sound has been a staple of electronic artists the world over. And now Z3TA+ iOS puts the full power of Z3TA+2 on your iPad. Packed with hundreds of presets, modulatable waveshaping, dual mode filters, and flexible effects, Z3TA+ iOS is the perfect creative synth for making music anywhere, anytime.

Feature Highlights:
Includes over 500 presets
User-friendly on-screen Keyboard and external MIDI control
Waveshaping synthesis with 6 Oscillators, 6 LFOs, and more
Modulation Matrix including 16 Sources, Curves, Controls, and Destinations
Advanced modular effects including Distortion, Mod, Compression and more
Performance section with Tap Tempo, assignable XY Pad, Mod Wheels, and Adaptive Pitch Bend
Inter-App Audio, Background Audio, and Audiobus support
Z3TA+iOS will be there to quench your thirst for sound design when you're
working behind your studio rig, or on the road. It embodies every characteristic of the original synthesizer with a brand new performance section full of parameters to twist and turn your programs on the fly. Z3TA+iOS is perfect for both experienced and new users especially when connecting to other audio applications using Audiobus and Inter-App Audio. Plugin in any iPad compatible MIDI controller and take your performance to the stage.
More iRig MIDI apps

50in1 Piano HD
Learn to play the piano, create your own songs and even sing to your compositions
Learn to play the piano, create your own songs and even sing to your compositions! 50in1 Piano HD lets you do all that with one single app!
It combines a piano keyboard, 50 studio-quality instruments, 120 piano lessons, real-time effects, 100 beat loops and much more in a user-friendly interface.
Here's a video of 50in1 Piano HD in action with iRig MIDI:
Features:
Photorealistic 85-key keyboard
Instant positioning and resizing with gestures
2 keyboard row mode
Key labels (Cs only, all keys, all keys colored)
50 studio-recorded instruments (sampled from real instruments)
120 piano lessons (from Mozart to Jingle Bells)
100 drum beats
18 demo songs
Microphone recording
4 real-time effects: 6 reverb styles • Delay with adjustable timing and feedback • 3-band equalizer • Pitch bend controlled via device tilt
External hardware support: iRig MIDI • Line 6 MIDI Mobilizer • Core MIDI
iTunes file transfer: exchange your saved song with your Mac/PC via USB
Detailed in-app user manual
Low-latency, high-polyphony, battery saving audio engine

AMOS: Another MIDI OSC Source
Multi-touch physics-driven MIDI-sending chaos machine
Amos is a reactive MIDI instrument. It sends MIDI notes to your software synths, outboard gear and desktop DAWs like GarageBand, ProTools and Live. Amos supports CoreMIDI (USB and WiFi), DSMI, and the IK Multimedia's iRig MIDI.
Here's a video of Amos in action: http://www.youtube.com/watch?v=RqYj3NCQ1gQ
In Amos's physics-simulated room, collisions between objects trigger MIDI notes. Up to five duration discs (whole note, half note, quarter note, eighth note, sixteenth note) can be grabbed and thrown around the room. There are two 6-octave keyboards that can be configured via the Settings menu. When a disc strikes a keyboard key, it takes on that key's note value and emits that value for each collision until a new key is struck. Tilting the device controls the gravity in the room.

Anaphobia Mini
A virtual analog synthesizer for iOS
Anaphobia Mini (short: AnaMini) is a monophonic virtual analog synthesizer for iOS 5.0. It features a classical analog synthesizer setup using a VCO, LFO, VCA and VCF. Of course, none of it is really controlled by voltage, but rather by a 32-bit digital synthesis engine.

Features
One oscillator with two wave types and scalable within the range of -1 and +1 octave.
Two LFO's with fixed wave type (saw) and selectable frequency/rate and depth. One LFO modulates VCO frequency, the other VCF cutoff.
One VCA with fixed ADSR envelope.
One 24dB/octave VCF with three filter types and selectable cutoff frequency and resonance.
A one-octave keyboard with support for portamento and legato play.
14 factory presets.
20 custom presets.

Arctic Keys
Virtual analog synthesizer.
Arctic Keys is a virtual analog synthesizer. With a classic dual-oscillator subtractive synthesis design that gives you the sound creation flexibility we all know and love. With an easy to use user interface that just wants to be tweaked. The result is a truly professional instrument with an audio quality that rivals that of hardware synthesizers.

ARGON – Synth
Monophonic virtual analog synthesizer
Highly Tweakable Monophonic Virtual Analog Synthesizer
128 Factory Presets
3 x Oscillator: Sawtooth, Square(PWM), Sine, Noise, Formant
FM(Frequency Modulation)
Ring Modulation
Oscillator Sync
FILTER: LP24, LP18, LP12, LP6, BP, HP
AMP
Overdrive
3 Band EQ
3 x LFO
3 x ENV (ADSR)
Step Sequencer (Arpeggiator)
Modulatable Delay
Loop Recorder: copy to clipboard (compatible with Intua Beatmaker, GarageBand) export as a wav file via WIFI
SynthStation25 Support
CoreMIDI Support

BassLine - Analog Modeling Synthesizer
Bass synthesizer.
BassLine is a virtual analog bass synthesizer with built-in step sequencer and on-board effects. Its unique low-pass filter allows to produce the well known high-resonance filter sweeps, that are typical for vintage synths like the legendary TB-303.
Features:
Monophonic synthesis engine including a never self-oscillating, cascaded low-pass filter
Four oscillator waveforms (sawtooth, square, pulse, and saw/triangle)
Low frequency oscillator (LFO) for cutoff modulation
Overdrive with tube-like distortion characteristic
Tape delay effect with tempo-synchronous delay times
Individual pattern lengths & downbeat-aligned switches
Pattern randomizer
Tap tempo
MIDI Clock sync support via CoreMIDI: Receive timing clock, start and stop events via local MIDI, Wi-Fi, and USB Camera Connection Kit (iPad only)
Accelerometer-driven cutoff frequency control
Audio Export via General Pasteboard, AudioCopy by Sonoma Wire Works, or E-Mail
Support for playing along iPod Music
Universal App for iPad, iPhone, and iPod touch
Runs on Original iPhone and iPod Touch 1st generation (Compatible with iPhone OS 3)
Including twenty patterns by Myagi (www.popandlockrecords.com)

bs-16i
Multi-timbral playback sampler.
bs-16i is a 16 multi-timbral playback sampler. It supports SoundFont, and can be used for keyboard instrument, MIDI sound module, and MIDI player.
The sampler engine is ported from bs-1 / bs-16, which is developed as professional plug-in for Logic (Audio Units) and Cubase (VST instrument).
Using SoundFont libraries, you can play with your great number of Instruments.
It supports all standard MIDI messages, so it also can be used as a GM (General MIDI) sound module.
As a keyboard instrument, you can play with scalable keyboard, pitch bend wheel, and many control change controllers.

CMP Grand Piano
A high quality virtual piano for your iPad, iPhone and iPod Touch.
By Christian Schoenebeck d/b/a Crudebyte
CMP Grand Piano is a high quality virtual piano for your iPad, iPhone and iPod Touch. It is designed for professional usage on stage by connecting an external MIDI keyboard to the iPad / iPhone by using the Apple USB camera adapter or another adapter supported by Apple.¹

CMP Grand Piano provides a very realistic sound by using a very large collection of audio samples of more than 1 GB (uncompressed) in size. Various articulations of each key of a real piano were sampled in full length and high quality to assemble this realistic sound. Real-time disk streaming is utilized to playback the respective audio samples with zero latency.

Cubasis
A portable music production system for iPad
By Steinberg Media Technologies GmbH
Cubasis is Steinberg's streamlined, multitouch sequencer for the iPad. Specially designed for quick and easy operation, Cubasis makes recording, editing and mixing a breeze. Record tracks in CD audio quality, and edit your music with the Key and Sample Editors, while the included mixer and audio effects polish your song to perfection. Cubasis comes loaded with dozens of virtual instrument sounds which can be played in real time using the virtual keyboard and drum pads. Cubasis' projects can be even opened in Cubase under Windows and OS X! Cubasis places touch-intuitive production tools in your hands, opening up a new world of possibilities for your creativity.

Key features
• Unlimited audio and MIDI tracks (depends on the device used)
• Over 70 virtual instrument sounds based on HALion Sonic
• MixConsole with over 10 effect processors
• Over 300 MIDI and audio loops
• Virtual keyboard and virtual drum pads
• Sample Editor and Key Editor
• Export projects to Cubase, Dropbox, SoundCloud, AudioCopy and email
• Core Audio and Core MIDI compatible hardware supported
• Sequence other CoreMIDI apps (MIDI recording only) and run Cubasis simultaneously via background audio
• Audio import from iTunes music library, AudioPaste, Wi-Fi server and iTunes file sharing
• Audio mixdown and MIDI export

DrumsLive
The most realistic drumset on iPhone.
DrumsLive™ fully supports CoreMIDI™ interface, meaning that you can attach your digital drumset to your iPhone® or iPod touch® using iRig® MIDI by IK Multimedia or an equivalent interface and start playing!

DrumsLive™ automatically learns midi notes from your digital drumset, no matter which one you have, so you don't have to wander aimlessly through pages of hard-to-understand settings! Easily set the note once for each piece and they'll be kept saved for good!

You need to play live in places in which you can't bring your acoustic drumset, or you just don't have one? Now, even with the cheapest digital drumset with MIDI support out there, you can play live smoothly and flawlessly, thanks to DrumsLive's ultra-low latency and the ultra-realistic sounds!

DrumsLive™ features 3 different drum kits (pop, jazz, rock), over 200 drum samples and a deep and smart dynamic system, based on the velocity of the note received. The pitch is also automatically corrected to make sure that what you hear is the most realistic drumset ever had on an iPhone® or iPod touch®!
Video