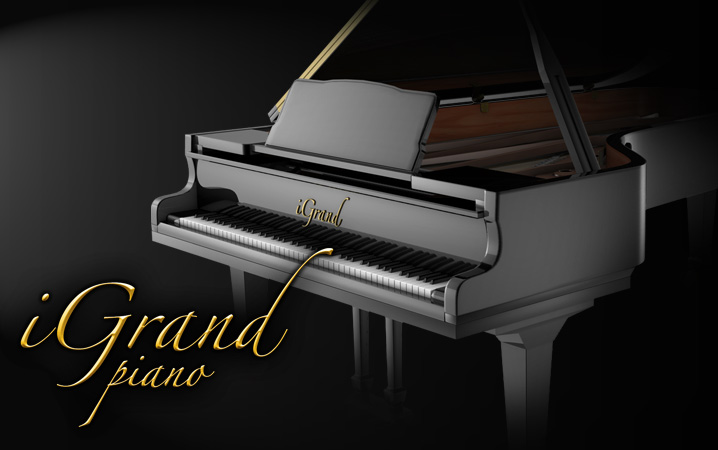 The Concert Quality Piano App for iPad
A gallery of world-class pianos, literally at your fingertips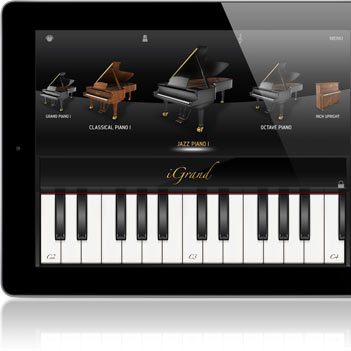 There are countless piano apps on the App Store, but none that can compare to iGrand Piano for quality, variety, and professional features. iGrand Piano is the first concert-quality piano app, offering up to 18 gorgeous sounding, true-stereo, multisampled pianos, with fidelity that rivals the best professional piano instruments for Mac and PC, and a low-latency response that makes it feel like you're playing a real piano.
But that's only part of the story. iGrand Piano also provides you with a full suite of MIDI-controllable adjustable parameters, allowing you to tailor the sound of a particular piano to just the way you want it. And if that's not enough, you also get a built-in recorder that features an audio/visual metronome, and can export your recordings as WAV or M4a files.
Because it's Core MIDI compatible, you can play iGrand Piano from a MIDI controller, such as iRig KEYS, or use your own keyboard connected to your iPad via iRig PRO or iRig MIDI. Either way, you get a piano rig you can take anywhere and play anytime.
iGrand Piano is compatible with iOS 7, so you can upgrade to Apple's new operating system with confidence. It's also Audiobus compatible, which means it can be opened through the Audiobus app (a 3rd-party app that requires separate purchase), and used along with other compatible apps, such as AmpliTube, for real-time, inter-app audio routing.
Pianos, and lots of 'em
The collection of sampled pianos in iGrand Piano provides a huge range of sonic choices. They include Grand Piano 1, Classical Piano 1, Jazz Piano 1, Rock Piano 1, Octave Piano, Rich Upright, Rock Upright, Soft Upright, Baby Grand, Bright Baby Grand, Pop Baby Grand, Classical Baby Grand, Grand Piano 2, Mellow Grand 2, Rock Piano 2, Saloon Piano, Grammophone Upright, and Jazz Upright.
The instruments in iGrand Piano were meticulously sampled via high-definition sampling across multiple velocities. Play a low note on iGrand Piano and you'll hear its fullness and natural decay. Play a note in the middle of the keyboard and listen to its warmth and richness. Play a high note and notice the realistic change in timber as you get into the highest octave. No other piano app offers this level of sonic detail.
Seven pianos are included with the purchase of iGrand Piano, and an eighth can be unlocked when you register your app. Another bonus piano is made available when you register either iRig PRO, iRig KEYS or iRig MIDI hardware. The other nine pianos can be purchased through the in-app Piano Expansion Pack.
A free version of iGrand Piano is also available. It gives you one piano (another one can be unlocked when you register your app), limited to 49 notes, but you can upgrade it to the full version, and even to include the complete collection.
Freedom to tweak
As great as the instruments in iGrand Piano sound, there will be times that you want to adjust them to suit a particular song or situation. Tap the control-knob icon in the upper left-hand corner, and you'll see seven virtual knobs running across the top of the keyboard.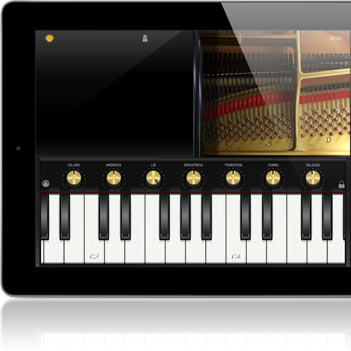 Volume: Controls the master output level
Ambience: Lets you change the amount of ambience, from dry to very "roomy"
Lid: Adjusts the virtual positioning of the piano's lid —from fully open to fully closed— and impacts the tone accordingly
Brightness: Lets you tailor the high-end response
Transpose: Increments in semi-tones, up to full octave up or down
Tuning: Offers a range of plus or minus 50 cents
Release: Adjust the release of the amplitude envelope, changing whether the note cuts off sharply (staccato) or sustains (legato)
All the knobs can be assigned to MIDI controllers for external adjustments. It's as easy as pressing the MIDI icon to the right of the parameter knobs, holding the parameter you want to assign until it highlights, and then moving the external MIDI knob that you want to control it with. iGrand Piano also supports MIDI Program Change commands and Virtual MIDI.
Take 1, we're rolling
The recorder built into iGrand Piano lets you capture your rehearsals or performances with ease. Select a tempo on the metronome, which has a large visual display along with its audio click, or use the Tap Tempo feature. Hit the record button, and play your part. Use the Overdub button to layer as many parts as you'd like on top of it. You can even quantize your recording to even out rhythmic inconsistencies.
Once you're happy with your recording, iGrand Piano lets you export it as a WAV or M4a file using a variety of methods. You can email it, share it with iTunes File Sharing, or use the copy feature.
Feels just right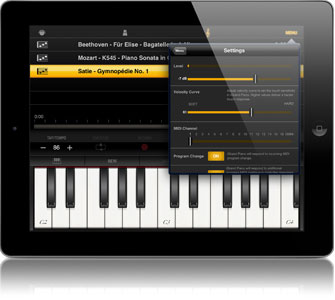 iGrand Piano offers a very natural playing experience thanks to its realistic sounds, which respond like the notes on an actual piano. The realism is aided by the app's extremely low latency, when set to the Ultra Low latency setting, which makes the delay between when you hit the note and when hear it virtually unnoticeable.
If you want to save processor resources, you can change to the Low latency setting, via the drop-down Settings menu. From that menu you can also adjust the playing feel by altering the Velocity Curve from hard to soft (100 steps). Within settings you can also set the MIDI channel and turn on and off features like Program Change, MIDI Controllers and Key Labels, among others.
On screen or off
You'll have the best playing experience with iGrand Piano using an external MIDI controller plugged into iRig PRO or iRig MIDI, or with iRig KEYS. But you also can play iGrand Piano onscreen from one of two keyboard views: one zoomed out, showing the entire 88-keys; and one zoomed-in, showing a 2-octave keyboard with larger keys, which slides to cover different ranges.
Hop on the bus
We're happy to report that iGrand Piano is now Audiobus compatible. That means you can launch it from inside the Audiobus app (a third-party app that requires separate purchase), and send its output through other audio apps, like AmpliTube, GarageBand, and many others, to be filtered, recorded, looped, and more. The ability to share audio between apps opens up incredible creative possibilities.
We've also added full support for background audio, which means iGrand Piano can now play in the background when other audio apps are playing in the foreground. That means you can now layer iGrand Piano's output with that of other audio apps, giving you even more creative options.
---
---
Apps