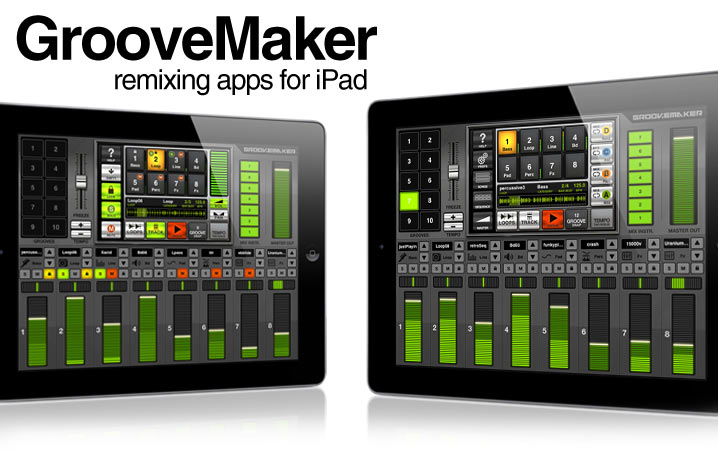 Groove and beat making taken to the next level
Smart functionality, streamlined workflow and even more control
GrooveMaker for the new iPad offers the exact same smart functionality and streamlined workflow as the iPhone/iPod touch version, for making music with loops, extending it to a whole new level thanks to the larger multi-touch surface – which is like using GrooveMaker with an advanced integrated controller.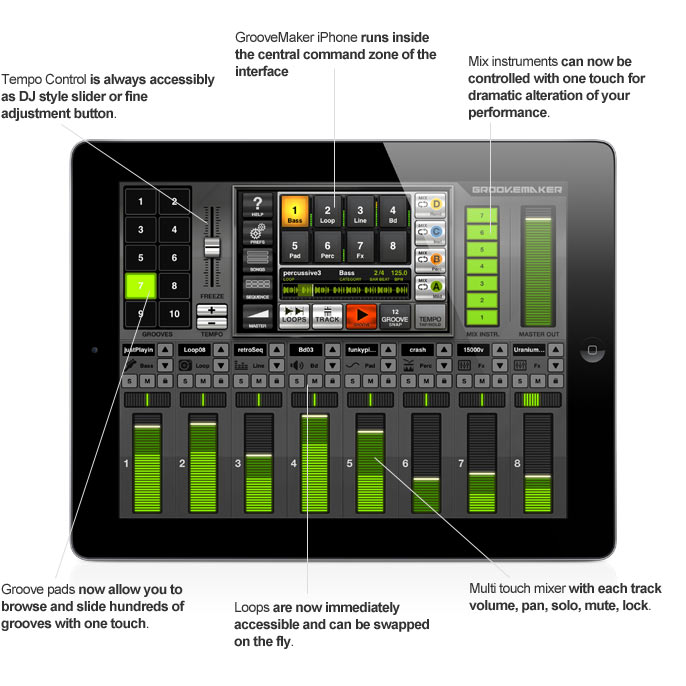 In GrooveMaker for the iPad the user will find a convenient mixer-like environment with large slider controls for volume, pan and master level of the 8 controllable loop tracks as well as more immediate track controls such as tempo, solo, mute, etc… all available from the same screen.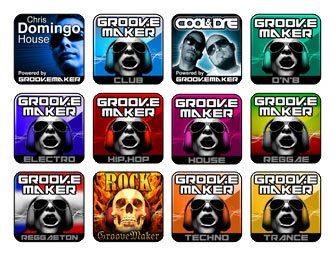 There are new functions available such as the ability to switch the snapped grooves with a simple touch or control the number of loops that are automatically combined during a random mix. These push the limits of what you will be able to do with GrooveMaker in a live situation such as, for example, integrating the iPad into traditional DJ setups.
There are more GrooveMaker for iPad packs for every dance music style, including a fully functional FREE version that you can download to start making music right away!
---
How it works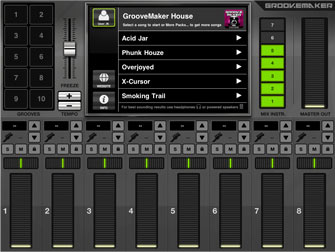 Select a song
As soon as you launch any GrooveMaker for iPad pack you are presented with a list of songs. "Songs" in GrooveMaker are groups of audio loops, organized into categories (loops, bass, bass drum, percussion, effects, lines), ready to be remixed in millions of different combinations, in real time, without stopping the music flow. Choose one and you are ready to start groovin'…
IMPORTANT NOTICE: THE FIRST TIME A SONG IS LAUNCHED GROOVEMAKER WILL UNPACK ITS SAMPLES. THIS MIGHT TAKE UP TO 2 MINUTES. DO NOT INTERRUPT THIS PROCESS!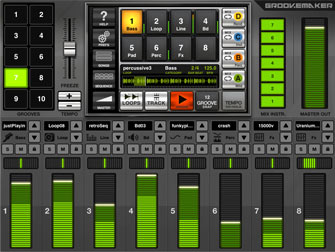 Start groovin'
You are presented with 8 groove track pads and all the necessary controls for real time, live remixing in the central control zone of GrooveMaker for iPad (that works exactly like its iPhone/iPod counterpart). To start making music right away just touch on any of the Random Mix buttons (A to D). A random combination of loops will be instantly loaded into the tracks and will start playing. The groove length is of 8 bars and the loaded tracks will display the category of the loop associated with an animated VU-Meter.
The Random Mix buttons generate random combinations of loops according to 4 different flavors: mild, percussive, instrumental and random. The Mix Instruments controls (1-7) allow you to select the number of tracks that are filled with each random mix. The number of tracks filled by default can also be selected with the Pref button.
Every time you touch one of the Random Mix buttons a new combination is loaded into the tracks always producing millions of inspiring, new grooves. When you like a groove combination, touch on the Groove Snap button to save it so you can later build your full-length mix from all your saved grooves. The saved grooves are also available from the new Grooves pads that allow you to recall them immediately just with one touch. Grooves pads can also be slided so that it's a breeze to navigate between a large number of grooves.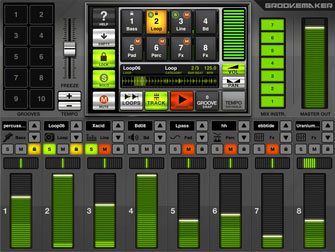 Control your mix
All you need to control your mix is immediately available on the large multi-touch surface of GrooveMaker for iPad. Volume sliders - with VU-metering - and pan sliders allow you to quickly adjust mixing levels and panning. Thanks to multi-touch, you can work on several tracks at once exactly like you would do on a regular mixing console. Mute, Solo and Lock buttons are available for each track as well as a display that shows the loop name inserted in the track.
You can access each of these controls also by touching the Track button in the central control zone of GrooveMaker in order to display them for each selected track together with additional controls such as Empty track. You can apply these changes on the selected track or multiple tracks that you can group simply by touching and dragging.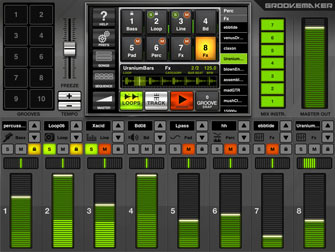 Remix from scratch
You can change the loops associated to a track by simply using the up/down buttons next to the loop name display.
Additionally, touching on the Loops button in the central control zone presents you with the complete list of loops available for the song you have loaded, with the loop associated to the current track highlighted. You can scroll the list and freely associate any of the loops to each of the 8 groove tracks to build your own groove and remix from scratch.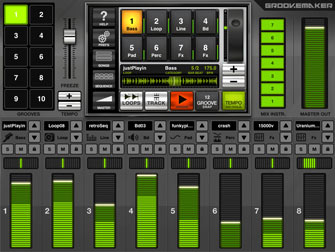 Control tempo
The Tempo slider and buttons allow you to quickly control the tempo of your mix for dramatic speed-up/slow-down effects while the +/- buttons enable a more precise adjustment.
You can also tap 3 times on the Tempo button in the central control zone in order to control the speed (BPM: Beat Per Minute) of your groove and synchronize it with other sources like a DJ does on stage. By holding the Tempo button a Tempo wheel and a +/- tempo button will also be displayed in the central control zone.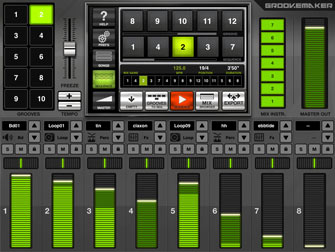 Build your mix
When you are ready to build your final mix touch on the Sequence button in the central control zone. You will be presented with 2 sequences: the top one with the Groove you have saved with the Groove snap button (the Groove list) and an empty sequence at the bottom (the Sequence list).
To build your full length mix simply touch on your preferred Grooves and drag them to the Sequence to fill it. You can sequence up to 15 grooves to build your own mix. When you are done you can save your mix by touching on the Mix browser or Export it as a full quality 44kHz/16-bit WAV file to your computer when you are within a Wi-Fi network. All the remixes produced with GrooveMaker are royalty-free so you can use these soundtracks in your musical compositions to make your own remixes compilations or use them as soundtracks for your videos.
Apps