iLoud - Speakers
The first portable stereo speakers designed for musicians. Featuring both Bluetooth and wired operation, these ultra-loud mobile speakers offer sonic accuracy on par with studio monitors. Small enough to fit in your backpack or laptop bag, iLoud speakers give you the freedom to compose, record, mix, and master anytime and anywhere, knowing that what you hear is what you get.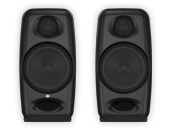 NEW!
iLoud The first studio-quality portable speaker designed for musicians and audiophiles
iLoud Travel Bag A gig bag for iLoud with adjustable straps and a zippered pouch for carrying your power supplies, cables and other items. Color: Black.