VocaLive
For iPhone/iPod touch/iPad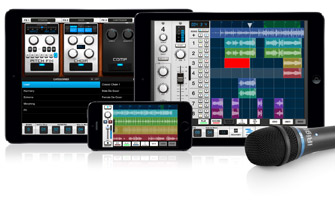 Real-time vocal-processing and recording apps
VocaLive and VocaLive for iPad are the professional practicing, performing and recording vocal processors for the iPhone®, iPod touch® and iPad®.
Singers and songwriters will have a suite of 5 dedicated real-time vocal effects plus 7 effects tailored to vocal processing that can be combined on a 4-processor (3 on iPhone) vocal rig chain. VocaLive also includes dozens of presets to help you get up and running in seconds.
With the VocaLive app you can record (single or multi-track), sing along with your iPod song library (using the included voice-canceling feature) and warm up with the included vocal tools giving you the most complete, portable vocal solution.
VocaLive also features a powerful Studio section, that lets you record and edit audio with the advanced flexibility and precision of a DAW-style interface.
VocaLive can be used with the built-in iPhone/iPod touch/iPad microphone, earbuds with built-in mic, or for the best results with IK's stellar lineup of microphone input devices: iRig Mic HD, iRig Mic, iRig MIC Cast or the new iRig PRE professional XLR microphone preamp. VocaLive is the most portable and powerful vocal processing tool, and is always available at your fingertips on your iPhone/iPod touch/iPad.