Android
Accessories & Apps
Join the Mobile Music Revolution — IK Multimedia gives you the most complete range of smart combinations of Android accessories and apps. Whether you're a guitar player, bassist, keyboard player, vocalist, DJ and/or producer, we have an app for you. With a wide range of accessories and apps, making music anytime and everywhere is intuitive, easy and most of all, fun.
iRig HD-A High-quality digital guitar interface for Android and PC
iRig Voice Handheld microphone for iPhone, iPod touch, iPad and Android
iLoud The first studio-quality portable speaker designed for musicians and audiophiles
iKlip Xpand Universal mic stand support for iPad and tablets
iKlip Xpand Mini Universal mic stand support for iPhone, iPod touch and smartphones
iLoud Travel Bag A gig bag for iLoud with adjustable straps and a zippered pouch for carrying your power supplies, cables and other items. Color: Black.
AmpliTube for Android Real time guitar and bass mobile app for Android on Samsung Professional Audio devices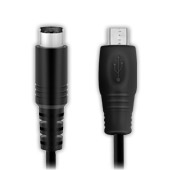 NEW!
Micro-USB-OTG to Mini-DIN cable Android Micro-USB-OTG to Mini-DIN cable for iRig HD-A, iRig HD, iRig PRO, iRig MIDI 2
NEW!
Micro-USB-OTG to Micro-USB cable Android Micro-USB-OTG to Micro-USB cable for iRig Mic HD-A, iRig Mic HD, iRig KEYS, iRig KEYS PRO, iRig Pads
TRRS audio cable TRRS audio cable for iLoud, iRig MIX and iRig STOMP