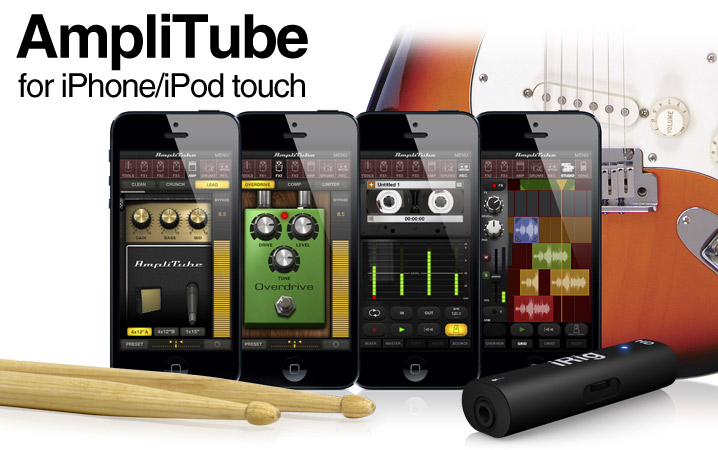 Your expandable guitar rig and recording studio... always with you
Latest Gear

Available as in-app purchase.
AmpliTube — A complete professional guitar & bass multi-effects processor, recording and editing studio and riff-learning tool for iPhone and iPod touch.
AmpliTube 3 turns your iPhone and iPod touch into the ultimate mobile guitar/bass multi-effects processor and recording studio/editing suite, offering up digital versions of your favorite analog amps, effects and recording gear. AmpliTube gives you incredibly realistic amp tones and effects, full recording processing and editing capabilities, a powerful programmable drummer for easy creation of drum parts and a timeline-audio editor and sequencer — all in a mobile app from the leaders in analog gear modeling software for professional recording studios. Now you can jam anywhere and capture your ideas right as they happen.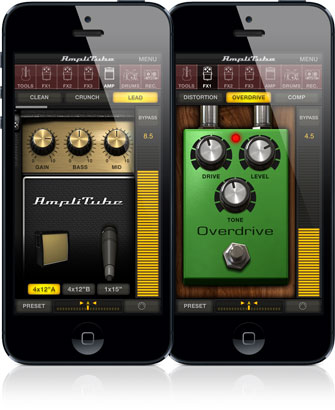 The signal chain
To take advantage of all AmpliTube has to offer, you first need to get your guitar, bass, vocal or other instrument sound into it. We've got some fabulous ways for you to do that, including the new iRig PRO universal audio/MIDI interface, the iRig HD digital audio interface, the iRig 2 guitar interface, the iRig STOMP "stompbox"-style interface and the iRig Mic, iRig PRE and iRig MIC Cast compact microphone. Once you get your signal into your iPhone or iPod touch you'll be ready to rock!
Your new favorite guitar rig - always with you
At its most basic level, AmpliTube is an incredibly fun and intuitive guitar-and-bass rig that allows you to jam anywhere with world-class tone. Just like a traditional live setup, you get a tuner (with an option to upgrade to UltraTuner, the most accurate tuner on iOS via in-app purchase), three daisy-chained stompbox effects running into an amp-head plus a speaker cabinet and a microphone.

In itself, that's a pretty amazing thing, and you'll be completely blown away by the huge range of tones you can dial in, but AmpliTube also offers you a full-featured, expandable recording studio with a built-in drum module, a mastering suite and a timeline-audio editing studio plus some nifty tools to help you learn and practice your licks anywhere you go.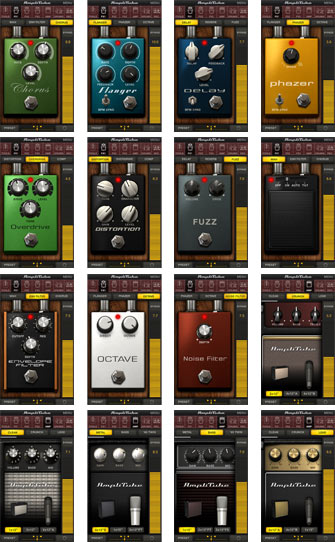 The gear
AmpliTube comes with 11 stompbox effects (delay, fuzz, overdrive, wah, envelope filter, chorus, flanger, phaser, octave and noise filter plus distortion, once registered), 5 amps (clean, crunch, lead, metal and bass) with full controls, 5 speaker cabinets and 2 microphones (dynamic and condenser). If you plug in the new iRig PRO or iRig HD, you instantly get an additional 4 pieces of gear: the Metal 150, the Metal W, the Wharmonator pitch bend and harmonizer "whammy" pedal and the X-Flanger.
So basically AmpliTube includes everything you need to cover virtually any style of music. You can spend hours and hours creating guitar and bass tones with all the killer effects and amps that are included. But we couldn't stop there…
And more gear
Here's (yet another) cool part: You can also add more gear to AmpliTube via the in-app purchase system. You can add all the AmpliTube Orange® gear, the AmpliTube Fender® gear, the VocaLive vocal effects processors, the AmpliTube Slash and the AmpliTube Jimi Hendrix™ gear models. With AmpliTube you'll have an amazing array of tones and effects on your iPhone or iPod touch. You can get entire collections or individual models like the ENGL® Powerball, the classic Ampeg® B15R Portaflex "Flip Top," the T Rex Engineering® "Moller" Classic overdrive and more.
And once you've purchased a piece of gear, it's yours. You can now use iCloud to transfer your purchased gear between versions and devices, such as from AmpliTube FREE to AmpliTube LE or from AmpliTube for iPad to AmpliTube for iPhone/iPod touch (limited to 10 device transfers per user).
For a complete list of available gear, check here.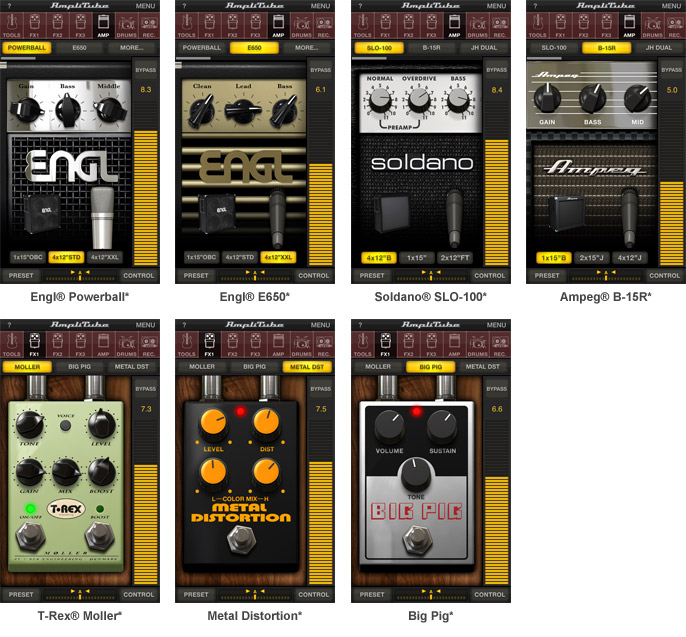 * available as in-app purchase
UltraTuner
Add the most precise iOS tuner ever to AmpliTube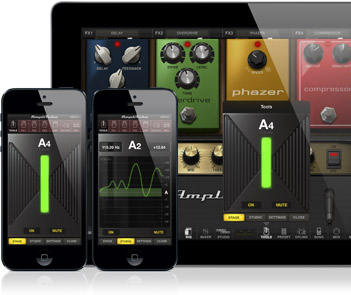 UltraTuner is the most precise iOS tuner ever. It's accurate down to 1/100th of a cent (10 times more accurate than a mechanical strobe tuner), and you can get a version that integrates into AmpliTube's user interface via a simple in-app purchase.
UltraTuner features two modes: Stage and Studio. In Stage mode, the display is big and easy to see, even from a distance in low-light conditions. The large center bar turns green when a note is in tune, and graduated flat and sharp indicators light up for out-of-tune notes.
Studio mode offers either a pitch-over-time display as each note plays and decays or an oscilloscope-like green wave that moves left for flat, right for sharp and stops when you're in tune. It's great for tuning, for instrument setups (guitar techs will love UltraTuner) and even for vocal and instrument pitch training and practice.
You can get UltraTuner from the in-app store in your AmpliTube app. First make sure you have the latest version of AmpliTube (updates are free), then open AmpliTube, open the Menu and choose Store.
Read more about UltraTuner here.
AmpliTube Studio
A recording and editing studio — always ready and at your fingertips
AmpliTube has always been about putting your favorite amps and effects in your pocket so you can jam anywhere. But now you can capture your ideas quickly by recording your performances with the built-in recorder, edit to perfection with the new AmpliTube Studio timeline-audio editing suite and then share your compositions by exporting high quality WAV or m4A files.
No setup required
AmpliTube comes with a built-in single-track mixer/recorder that you can expand to a full-fledged professional multi-track studio by adding the new 8-track recorder plus master effects section (available as in-app purchase) which is all housed in an ultra-cool vintage-style "cassette tape" recording interface. In AmpliTube, the recording mixer gives you full track control including mute, solo, pan, level and a send into the master effects section, providing you with a powerful yet incredibly intuitive way to record. And it's always "on" and available with no additional setup, crabby studio engineers or temperamental producers. You're free to record anytime, anywhere.
The AutoFreeze feature allows you to "freeze" the effects on a track (in other words, write them to the track), freeing up AmpliTube's effects engine to use on another track, which can then be frozen and so forth. As a result, you can have full effects on every track. And if you want to go back and tweak an effects setting, no problem, you can "un-freeze" the effects on a track to make your adjustments.
And now that AmpliTube for iPhone features an 8-track recorder, it also supports project sharing. It lets you use iTunes File Sharing to copy and paste project folders between AmpliTube's different device versions.

AmpliTube Studio "DAW-style" editing
The new AmpliTube Studio feature (available via in-app purchase) gives you a full professional editing suite with DAW-style, timeline-audio region editing and production tools plus full track controls, looping and punch-in recording. This means that you can now compose, arrange, remix, edit and produce complete songs from start to finish on the go, anytime and everywhere, with the same level of high-end studio quality found in your desktop/laptop recording, sequencing and editing programs. Just another handy dramatic turn in the mobile music-making revolution! Feel free to thank us with royalty checks.
Read more about the new AmpliTube Studio feature here.
Groove man!
AmpliTube now has a secret weapon called Loop Drummer that's like a real live drummer who always shows up, is always in the pocket and doesn't hit on your girlfriend. It's a loop-based drum module that gives you smokin' drum tracks to record, jam and practice with. It's like having your own session drummer inside AmpliTube who's ready to rock out 24/7. Loop Drummer automatically syncs to the transport of AmpliTube's recorder, allowing you to record your parts with a solid drum track anchoring the rhythm. In Studio mode, the first track you see at the top of the screen is the "Loop Drummer" track. Here, all your drum parts can be rearranged, deleted or duplicated with simple gestures. And don't worry — the Loop Drummer track doesn't take up one of the 8 tracks available for recording. We wouldn't do that to you.
Read more about Loop Drummer here.
Get Connected
AmpliTube is now fully compatible with Apple's new iOS 8, including the Inter-App Audio feature, which allows you to connect the output from one app to the input of another. AmpliTube functions as an "Effects" app in an Inter-App Audio setup, processing audio from other apps in realtime with its powerful amp models and effects. For example, it works great in tandem with Apple GarageBand.
AmpliTube is also Audiobus compatible. Audiobus is a third-party app (not included) that allows for realtime audio routing between up to three apps. Starting with version 2.9.5, AmpliTube can be used in any of the three Audiobus slots — Input, Effects, Output — in the Audiobus chain.
INPUT: Play guitar or bass through AmpliTube's amp models and effects, and then send that audio on to other apps in the chain. You could even send a Loop Drummer track into the other apps.
EFFECTS: Use AmpliTube's powerful models and effects to process audio from another compatible instrument app, such as SampleTank, iLectric Piano or iGrand Piano, before sending to its final destination.
OUTPUT: Use AmpliTube to process and/or record the audio coming from the other apps in the chain. If you have the AmpliTube Studio option installed, AmpliTube will function like a computer-based DAW.
A guitar teacher always with you
AmpliTube also has an extremely cool song player section that lets you import songs or backing tracks and adjust the tempo (slow it down/speed it up) without changing pitch. It's perfect for learning licks or just practicing your chops. The new NO VOICE vocal-canceling feature allows you to turn off the lead vocal or guitar solo from an existing mix so that you can play along with the track yourself. A chromatic tuner and a metronome are also included, so you always play in tune and in time.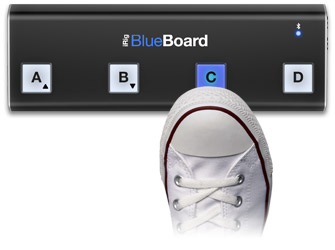 Control yourself
AmpliTube is MIDI compatible, which means you can use your existing MIDI floor controller to "wah", control volume, add gain, swap presets, adjust delay times and change anything else you can tweak on the screen — only without touching a thing. And it couldn't be easier to use: simply connect your MIDI interface (like our iRig MIDI interface for iOS devices) to your iPhone or iPod touch, then connect your MIDI controller to the interface and you'll be ready to control.
Another way to control AmpliTube is through IK's iRig BlueBoard Bluetooth foot pedal controller. iRig BlueBoard gives users a stompbox-like experience with four assignable MIDI-buttons that can be used to trigger effects, cycle through patches and swap presets from the floor. The latest version of AmpliTube makes the pairing even more seamless and powerful by adding built-in support and a new mode that allows for global control of AmpliTube's robust built-in recorder.
Preset mania
AmpliTube includes a powerful preset system for managing all of your sounds. Presets are sound settings created with various combinations of gear and saved for quick recall. They're organized in a folder panel system to make storing, finding and recalling your library of sounds even easier. There are also 4 dedicated "favorites" buttons with 10 available banks that store your 40 most used presets for instant recall. And when the entire AmpliTube Fender® gear bundle, AmpliTube Slash gear bundle, AmpliTube Jimi Hendrix™ gear bundle or the entire VocaLive effects bundles are purchased, the new preset system shows their related presets.
---
Features
AmpliTube Studio feature adds DAW-style professional studio timeline-editing features
AutoFreeze feature allows for multiple effects chains to be used on a recording
When used with iRig PRO or iRig HD, you get 4 additional gear models: the Metal 150, the Metal W, the Wharmonator "whammy" pedal and the X-Flanger
Real-time guitar and bass mobile multiFX + recording studio app
Ultra-low latency for live performance
Full rig with 3 simultaneous stomp boxes + amp with effects + cabinet + mic
11 stomp boxes, 5 amps, 5 cabinets, 2 mics
Expandable with gear from Orange®, Fender®, AmpliTube SLASH, AmpliTube Jimi Hendrix™, ENGL®, Soldano®, Ampeg®, T-Rex® and more
Expandable with 5 vocal effects from VocaLive
Single-track recorder expandable to full 8-track recording studio with master effects section via in-app purchase
Loop Drummer, a loop-based programmable drum module. Expandable via in-app purchase
UltraTuner, the most precise iOS tuner ever, can be installed into AmpliTube via convenient in-app purchase.
Compatible with Audiobus
MIDI Control feature for parameter modification and preset changes (requires a MIDI adapter like the iRig MIDI) — available as in-app purchase — free if you already use iRig MIDI or iRig PRO
Works with all your device inputs — analog as well as the 30-pin and Lightning digital inputs
Export high quality audio (WAV/m4A) via email, FTP, iTunes or direct to SoundCloud
Import and play songs for use as backing tracks directly from your iTunes library library or computer
Change the tempo (-50% to +200%) of imported songs without affecting pitch
NO VOICE feature allows you to effectively remove the lead vocal or guitar solo from existing tracks
Powerful preset system for managing presets and favorites
Included tuner and metronome
Compatible with Apple's iOS 8 including the Inter-App Audio feature. (Note: iOS 8 does not support iPad 1, iPhone 4 or earlier, or iPod touch older than 5th generation.)
FREE version also available
What's new
New ENGL Amps for in-app purchase
Native support for iRig BlueBoard
New Loop Drummer 2 loop collections for in-app purchase
Project sharing between versions and different devices
AmpliTube recorder now expandable to 8 tracks
Improved MIDI control
New multi-language dynamic tooltips
Use iCloud to transfer in-app purchases between the 5 main AmpliTube versions
Now compatible with Audiobus on iOS 8
---
Use iRig 2, iRig Pro, iRig HD or iRig Stomp to connect your guitar to your iPhone, iPod touch and iPad and iRig BlueBoard to control AmpliTube.


Apps