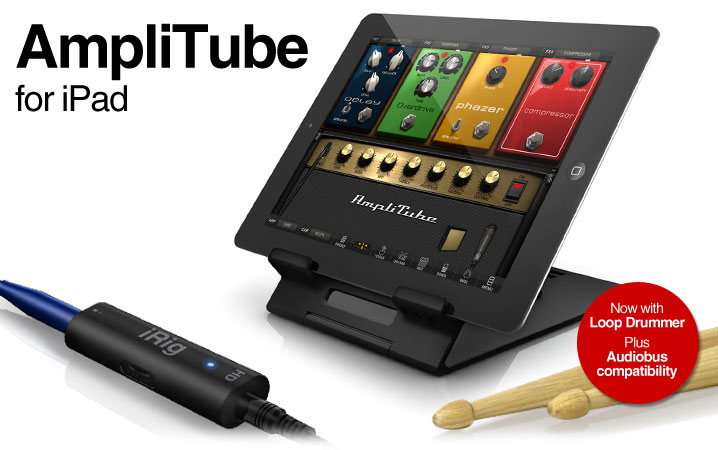 Your Expandable Guitar Rig and Recording Studio... Always with You.
A Complete Multi-Effects Processor, Recording Studio and Learning Tool for iPad
Turn your iPad into the ultimate mobile guitar, bass, multi-effect processor and recording studio! Use the iRig, iRig HD, iRig STOMP mobile interfaces or StealthPlug USB interface adapter to connect your guitar, bass or keyboard to your mobile device and you are ready to rock! You can also use the iRig Mic to process and record vocals and acoustic instruments with this powerful mobile suite.
AmpliTube for iPad gives you incredibly realistic tones and effects, full recording and processing capabilities – plus the Loop Drummer module for easy creation of drum parts – all in a powerful mobile app from the leaders in analog gear modeling software for professional recording studios.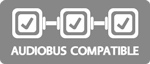 But that's not all: AmpliTube is now Audiobus compatible, which means you can open it through the Audiobus app, and use it with other compatible apps, for real-time, inter-app audio routing.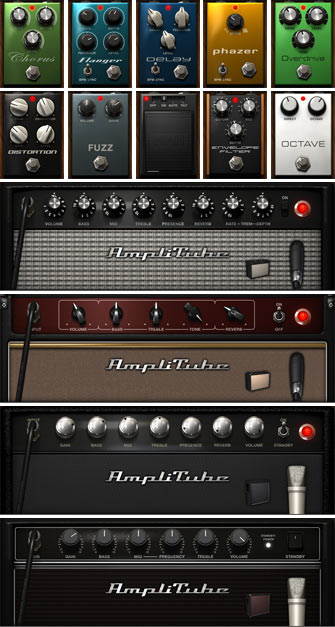 A Guitar Rig - Always with You
At its most basic level, AmpliTube for iPad is an incredibly fun, intuitive guitar and bass rig that allows you to jam anywhere with world class tone.
Just like a traditional live setup, you get four stompbox effects running into an amp-head with effects, plus a cabinet and a microphone. But it doesn't stop there. AmpliTube also gives you a full featured expandable recording studio with a built-in drum module, and mastering suite, plus some nifty tools to help you learn and practice your licks anywhere you go.
The Gear
AmpliTube comes with 11 stompbox effects (delay, fuzz, overdrive, wah, envelope filter, chorus, flanger, phaser, octave, noise filter + distortion, once registered), 5 amps (clean, crunch, lead, metal, bass) with full controls, 5 speaker cabinets and 2 microphones (dynamic and condenser).
So basically AmpliTube includes everything you need to cover virtually any style of music. You can spend hours and hours creating guitar and bass tones with all the killer effects and amps that are included. Now, here's (yet another) cool part: You can also add more gear to your AmpliTube version via the in-app purchase system. Now you can add all the AmpliTube Fender® gear, the VocaLive vocal effects processors, the AmpliTube Slash and the AmpliTube Jimi Hendrix™ gear models for an amazing array of tones and effects, all on your iPad.
But Wait…There's More
AmpliTube offers up the incredibly powerful and solid voicing of the Soldano® "Super Lead Overdrive" SLO-100 Watt head, one of the most celebrated boutique guitar heads of all time, and the heart and soul of many rock, metal and electric blues player sounds since 1987. For that big round sound of Motown, AmpliTube now offers to bass players the Ampeg® B15R Portaflex "Flip Top" model, with a whole new level of portability.
For pedal junkies, satisfaction comes from three new offerings: the T-Rex® Engineering "Moller" Classic Overdrive, the AmpliTube Metal Distortion pedal for extreme gain and sustain, and the AmpliTube "Big Pig" Distortion pedal featuring tones from smooth sustain and compression to heavy "buzzsaw" distortion, modeled on classic vintage must-have pedals.
A Recording Studio - Always with You
Capture your ideas quickly by recording your performances with the built-in recorder, then share your track by exporting high-quality audio files or m4as. The recorder features "re-amping" functionality that allows you to change the sound and tone of your original recording by applying a different set of effects settings. AmpliTube records your original signal "dry", which allows you to go back and completely change the sound of it without having to re-record your performance. Once your sound is tweaked to perfection, you can "apply" the effects and the sound is written to the track.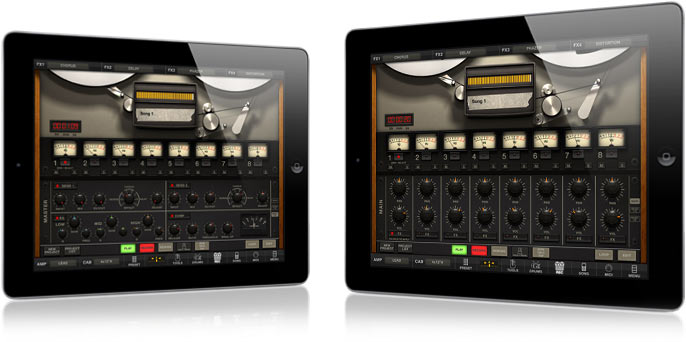 AmpliTube for iPad comes with a built-in single-track recorder that you can expand to a full-fledged professional multi-track studio by adding the 8-track recorder plus master effects section (available as in-app purchase) which is all housed in an ultra-cool vintage style "reel-to-reel" recording interface. The new pre-roll feature lets you set two measures of count-in before you start recording, allowing you to lock into the tempo and nail the part right from the downbeat. The master effects section is rounded out with a global 3-band parametric equalizer and compressor for final sound tweaking and polishing.
AmpliTube for iPad allows you to record your band, or produce complete multi-track songs and compositions complete with drum tracks from Loop Drummer directly in AmpliTube. You also have the ability to import audio directly into each track and the Bounce feature lets you bounce all tracks down to one, thus freeing up track space to record additional material, giving you unlimited recording ability. Audio copy/paste is also supported, allowing you to copy audio material to/from individual tracks within the recorder, or copy/paste entire compositions to and from other apps like Apple GarageBand.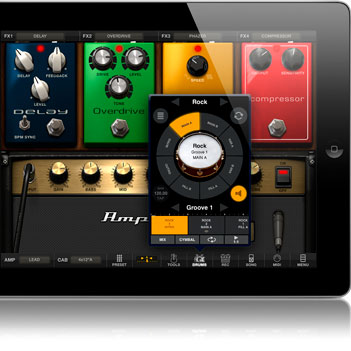 And Drum Tracks, Too!
AmpliTube now has a secret weapon called Loop Drummer, a loop-based drum module that gives you smokin' drum tracks to record, jam, and practice with. It's like having your own session drummer inside AmpliTube — ready to rock out 24/7.
Loop Drummer automatically syncs to the transport of AmpliTube's recorder, allowing you to record your parts with a solid drum track anchoring the rhythm.
Loop Drummer comes with a selection of rock loops, and you can easily expand your collection with low-cost in-app purchases from our library of Style Packs. Each pack comes with 64 heavily grooving drum loops, organized in eight different song-­sets called Grooves. You can get Style Packs for Rock, Blues, Country, Pop, Funk, Punk, Metal, and Electro. All in all, the Loop Drummer library has over 500 loops in it!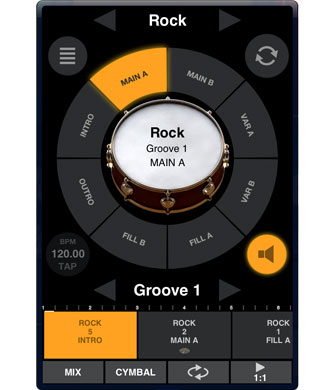 With Loop Drummer, you can easily put together everything from short looping parts to full-length drum tracks. The loops consist of audio recordings of a grooving drum beat or fill — typically 2 measures long.
The easiest way to construct a drum track is with the unique Remix feature, which intelligently builds a drum track for you at the push of a button, and structures it just like a producer would. Each time you press the Remix button, you get a different variation, offering you an endless supply of inspiring drum parts for jamming, practicing or composing.
If you want to build the drum track yourself, you can audition loops in Loop Drummer's browser, and drag and drop them into the Timeline. You can even add crashes, fills, intros and more, to give it more realism. Not only that, Loop Drummer's mix features let you adjust the drum volume and solo the drums, too.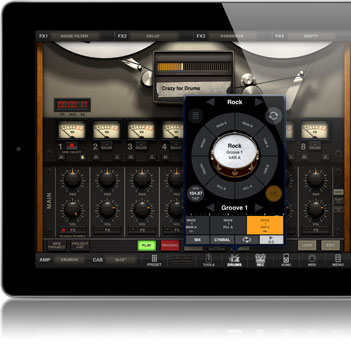 There are so many ways to use Loop Drummer. Plug your guitar into AmpliTube (we suggest using iRig HD, iRig, or iRig STOMP as your interface) turn on a grooving drumbeat and start jamming out using AmpliTube's killer guitar tones. You can also use Loop Drummer to lay down a cool beat for keeping time when you're practicing, which is a lot more fun than using a metronome; or you could use Loop Drummer's loops to inspire ideas when you're songwriting.
Using Loop Drummer with AmpliTube's recorder couldn't be easier. Every time you hit play or record, Loop Drummer follows along perfectly in time. The drums don't use up any of your recorder tracks; instead they're routed into your mix through an extra audio channel. Now you can record full songs with drum tracks, from within AmpliTube. What other guitar/bass multiFX app can offer that kind of power?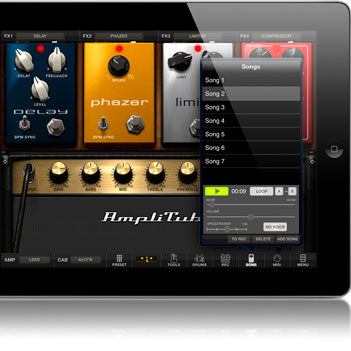 A Guitar Teacher
Always with you
AmpliTube iPad also has an extremely cool song player section that lets you import songs or backing tracks, then adjust the tempo (slow it down/speed it up), without changing pitch, to learn licks or just practice your chops. The new NO VOICE vocal-canceling feature allows you to turn off the lead vocal or guitar solo from an existing mix so that you play along with the track yourself.
A chromatic tuner and a metronome are also included so you always play in tune and in time.
Control Yourself
AmpliTube for iPad is also MIDI compatible, which means you can use your existing MIDI floor controller to change gear parameters and presets hands-free. What does this really mean? Well, now you can use your existing MIDI controller to "wah", control volume, add gain, change presets, adjust delay times, and anything else you can tweak on the screen — only without touching a thing. And it couldn't be easier to use: simply connect your MIDI interface (like our iRig MIDI interface for iOS devices) to your iPad, then connect your MIDI controller to the interface and you are ready to rock.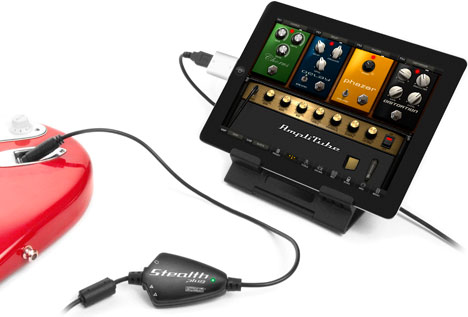 Get "Stealthy"
AmpliTube for iPad is also compatible with 30-pin audio devices, so if you currently own the IK Multimedia StealthPlug, guitar/bass USB Audio Interface cable, and an Apple® Camera Connection kit, you can use it with your iPad for stunning pristine audio quality.
Hop on the Bus
Audiobus is a third-party app (not included) that allows for real-time audio routing between up to three apps. Starting with version 2.9.5, AmpliTube is Audiobus compatible, and because of its diverse feature set, can be used in any of the three slots — Input, Effects, Output — in the Audiobus chain.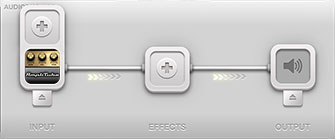 INPUT: Play guitar or bass through AmpliTube's amp models and effects, and then send that audio on to other apps in the chain. You could even send a Loop Drummer track into the other apps.
| | |
| --- | --- |
| | |
| EFFECTS: Use AmpliTube's powerful models and effects to process audio from another instrument app. | OUTPUT: Use AmpliTube to process and/or record the audio coming from the other two apps. |
A Gear Shop Right Inside the App – Always Open
In AmpliTube for iPad you can also add to your virtual gear collection via the "in-app" purchase system. Now you can add entire collections of gear, like the AmpliTube Fender®, the AmpliTube Slash, the AmpliTube Jimi Hendrix™ or the VocaLive collection, or simply add stuff as you need or want it. It's totally your call, and extremely easy to do. There's a huge selection of additional gear models that you can add to your AmpliTube collection, ranging from guitar and bass amps and effects, to recording effects and vocal effects.
Choir*
Morph*
Pitch Fix*
Double*
De-Esser*
Vocal Effects Processors from VocaLive
* available as in-app purchase
Soldano®, Ampeg® & T-Rex® and more!
We're not talking boring, weak-sounding digital approximations of gear, we're talking the real, officially certified tone monsters of the industry's leading gear manufacturers. Now you can add the incredibly versatile and legendary tones of the Soldano SLO-100 (Super Lead Overdrive 100 watt head), the "round sound" of the Ampeg B15 Portaflex "Flip Top", and the "tear your head off" overdrive and distortion sounds of the T-Rex® Moller, the AmpliTube "Big Pig" and the AmpliTube Metal Distortion Pedals.
* available as in-app purchase
Preset Mania
AmpliTube also includes a newly enhanced preset system for managing all of your sounds. Presets are sound settings created with various combinations of gear and saved for quick recall. They're organized in a folder-panel system to make storing, finding and recalling your library of sounds even easier. There are also 4 dedicated "favorites" buttons with ten available banks store your 40 most used presets for instant recall. And when the entire AmpliTube Fender® gear bundle, AmpliTube Slash gear bundle, AmpliTube Jimi Hendrix™ gear bundle or the entire VocaLive effects bundles are purchased, the new preset system will also show their related presets.
---
Features:

What's New:

Real-time guitar and bass mobile multiFX + recording app
Ultra-low latency for live performance
Full rig with 4 simultaneous stomp boxes + amp with effects + cabinet + mic
11 stomp boxes, 5 amps, 5 cabinets, 2 mics
Expandable with 5 stomp boxes suitable for other instruments and vocals, available via in-app purchase (compressor, reverb, parametric EQ, graphic EQ and limiter)
Expandable with 5 official Fender® amps and 5 stomp box models via in-app purchase
Expandable with 5 Vocal effects from VocaLive
Single track recorder, with re-amping, expandable to full 8-track recording studio with master effects section, via in-app purchase
Import and play songs for use as backing tracks directly from your iPod library or computer
Change the tempo (-50% to +200%) of imported songs without affecting their pitch
NO VOICE feature allows you to effectively remove the lead vocal or guitar solo from existing tracks
Powerful preset system for managing presets and favorites
Included tuner and metronome
FREE version also available

Compatible with Audiobus
Loop Drummer, a loop-based programmable drum module. Expandable with additional Style packs via in-app purchase
New pre-roll feature enables two measures before recording starts for count-in
Expandable with AmpliTube Jimi Hendrix™ 2 amps, 2 cabinets and 5 pedals, via in-app purchase
Expandable with Soldano®, Ampeg®, T-Rex® and new AmpliTube Metal Distortion and "Big Pig" pedals
Expandable with AmpliTube Slash: 2 Marshall® amps and 6 signature pedals, via in-app purchase
MIDI Control feature for parameter modification and preset changes (requires a MIDI adapter like the iRig MIDI) - available as in-app purchase - free if you already use iRig MIDI
30-pin and Lightning digital audio compatibility
Completely redesigned recording and mixing section with intuitive controls
Audio copy/paste between tracks in the recorder, or between compatible apps
"Restore Purchases" feature restores your in-app purchases
Export high quality audio (WAV/m4A) via email, FTP, iTunes and direct to SoundCloud
---
Use iRig, iRig HD or iRig STOMP to connect your guitar to your iPhone, iPod touch and iPad.

Apps