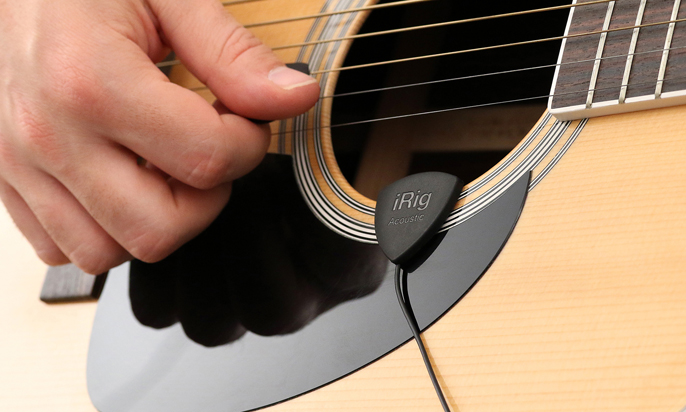 IK has teamed up with Voyage-Air Guitar to bring you a great opportunity to win the perfect mobile acoustic guitar package
1 August 2017
For the traveling musician it can be hard toting around all your gear. From the bulky guitar case to accessories, cables and more, space and mobility become a big factor in getting around. Well IK has teamed up with Voyage-Air Guitar to bring you the perfect mobile solution to this struggle musicians have faced for many years, iRig Acoustic and Voyage-Air Guitar. To celebrate our collaboration we are giving you the opportunity to win a FREE Voyage-Air Guitar (with case) including an iRig Acoustic interface ($878 retail value). To enter for a chance to win, simply click here to fill out the submission form before September 30th, 2017. One lucky winner will be selected and announced on October 1st, 2017.
iRig® Acoustic is the first mobile interface that's been specifically designed to capture the depth and richness of acoustic guitars. It features advanced miniature microphone technology, which allows it to capture audio with a level of quality and detail that easily beats piezo and magnetic pickups. In fact, it's so good that iRig Acoustic even rivals professional-grade studio microphone setups — and it's way more portable. Combine this with the powerful companion app, AmpliTube® Acoustic, and you can enjoy professional-grade acoustic guitar processing and recording anytime and everywhere.

Voyage-Air Guitar is the ultimate travel guitar that folds in half. The Patented Voyage-Air Folding Neck-Hinge System is the key to how the instruments fold in half and fit into a backpack-style case for easy stowage and traveling! This unique patented hinge design features self lubricating parts and includes a lifetime warranty.

If you would like to get your hands on this amazing setup and get a Voyage-Air Guitar and iRig Acoustic interface, fill out the form on the Voyage-Air Guitar site and enter for your chance to win.

Learn more about iRig Acoustic.

Learn more about Voyage-Air Guitar

Enter for your chance to win before September 30th, 2017 @ Voyage-Air Guitar
*Note - Free shipping to the winner in the continental US only. International winner will have to pay shipping fees.