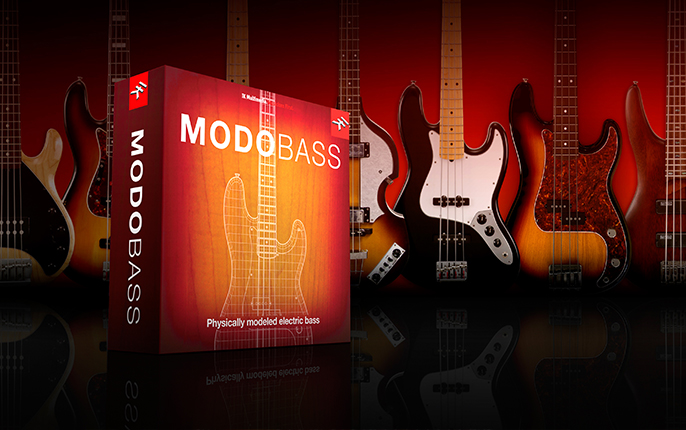 Save up to $100 off the breakthrough physically modeled electric bass virtual instrument for Mac/PC
11 August 2017
IK is excited to bring you a special Krazy Deal on MODO BASS®, the breakthrough physical modeling technology virtual instrument that brings a completely new level of realism and playability to your recordings. From August 11th through August 24th, 2017 you can get MODO BASS for just $/€199.99, plus get the AmpliTube Bass Players Bundle for free. That's $/€100 off the normal price of $/€299.99, and the Bass Players Bundle (a $80 value) free. Eligible crossgrade users can save an additional $/€50 and get the crossgrade version for only $/€149.99 during this special promotion.

MODO BASS is a customizable physically modeled virtual bass instrument that recreates the sound of the electric bass and how it's played in real time - from all of the physical instrument components, the human technique of how the instrument is played, to the entire sound signal chain with effects and amplifiers. It comes with a collection of 12 physically modeled iconic electric basses that span the history of bass sound in recorded music - more bass models than available in most other virtual instruments. Every detail of each bass has been meticulously analyzed and modeled to capture their true sonic character. But the sounds available with MODO BASS extend far beyond the 12 modeled basses — with the available customization features, users can craft virtually every electric bass sound imaginable. MODO BASS is able to produce an unmatched and unlimited palette of bass sounds because everything can be customized.
MODO BASS also comes with 7 bass stomp boxes and two classic bass amplifiers derived from our flagship software AmpliTube, and during this special promotion we'll give you the AmpliTube Bass Players bundle free as a special gift. You can use the Bass Player bundle gear in conjunction with MODO BASS running as a plugin in your favorite DAW.

The AmpliTube Bass Player Bundle unlocks a full spectrum of bass tonality via a pitch-perfect assortment of virtual equipment that will give you deep lows, overdriven mids and clean acoustic sounds. You get one solid-state preamp, one ultra-loud tube amp, four cabinets and the extremely versatile Nu-Tron III automatic wah pedal.

MODO BASS Promotional Pricing:
MODO BASS (full version) - $299.99 —> $199.99
MODO BASS (full boxed/ USB version) - $329.99 —> $219.99
MODO BASS (crossgrade version) - $199.99 —> $149.99
MODO BASS (crossgrade boxed/ USB version) - $229.99 —> $169.99
Don't miss out on this great opportunity. Get MODO BASS today from the IK Online Store for just $/€199.99* or $/€149.99** for crossgrade qualified users and get the AmpliTube Bass Players Bundle ($80 value) absolutely free.
*All prices excluding taxes.
**Any previous purchase of an IK Multimedia product with a value of $/€99.99 or more qualifies for crossgrade pricing.