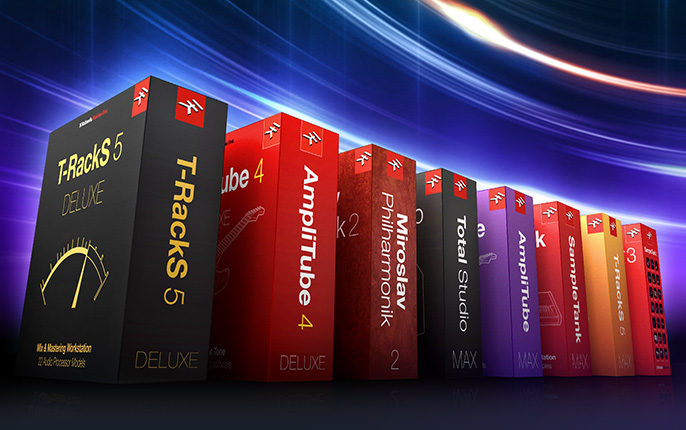 Pay the upgrade price for everything - limited time only!
8 February 2018
We are pleased to announce our special Upgrade for All promotion, which gives everyone the unique opportunity to get the upgrade pricing on our range of IK software titles for limited time. From February 8th through February 25th, 2018 you can get AmpliTube 4 Deluxe, Miroslav Philharmonik 2, SampleTank 3, T-RackS 5 Deluxe and the AmpliTube, SampleTank, T-RackS 5 & Total Studio MAX bundles all at the upgrade pricing. That's up to 50% off the normal pricing, but only for a limited time.

AmpliTube 4 Deluxe takes the standard version of AmpliTube 4 and kicks it up a notch with over 100 pieces of additional gear that includes amplifiers, stompboxes, cabinets and more. It's perfect for jumpstarting your inspiration with a massive spread of creative processing options to choose from.

SampleTank 3 gives you a massive 33 GB sound library (containing over 4,000 instruments), 64-bit compatibility, 55 high-quality effects, new loop and groove management and enhanced sample engine. Powerful, functional and effortless, SampleTank 3 puts a whole new world of sound at your fingertips.

Miroslav Philharmonik 2 will bring out the best of your creative side with over 58GB sound library with over 2,700 instruments sampled in glorious high-definition audio. It's based on SampleTank 3's 64-bit technology and comes with an intuitive instrument browser, a 16-part DAW-style mixer and a powerful synthesizer section with 3 sample playback engines and 10 high-quality filters.

T-RackS 5 Deluxe gives you our top-of-the-line processing bundle featuring 22 powerful pieces of gear, giving you a vast arsenal of high-quality, precision EQ and dynamics tools for mixing and mastering.

If you're looking to go for it all, then our line of MAX bundles are the way to go.  AmpliTube MAX is the ultimate guitar and bass tone studio with over 300 pieces of gear. T-RackS 5 MAX is a comprehensive professional mixing and mastering suite featuring 38 of the most sought after audio processors. SampleTank MAX is the most powerful version of the ultimate sound and groove workstation with over 4,600 instruments and 50GB of sound content.  And Total Studio MAX offers AmpliTube MAX, T-RackS 4 MAX, SampleTank MAX and Miroslav Philharmonik 2 for one amazingly low price.

Now is the perfect time to crank up your studio and take it to the next level with IK Multimedia's range of music software. Get your favorite IK software titles today!

Products On Sale:
AmpliTube 4 Deluxe - $/€299.99 —> $/€199.99 or 200 Gear Credits
AmpliTube MAX - $/€499.99 —> $/€299.99
AmpliTube MAX USB/ Boxed - $/€529.99 —> $/€329.99

Miroslav Philharmonik 2 - $/€499.99 —> $/€299.99 or 300 Gear Credits
Miroslav Philhamonik 2 USB/ Boxed - $/€529.99 —> $/€329.99

SampleTank 3 - $/€349.99 —> $/€199.99 or 200 Gear Credits
SampleTank 3 Boxed - $/€349.99 —> $/€199.99
SampleTank MAX - $/€499.99 —> $/€299.99
SampleTank MAX USB/ Boxed - $/€529.99 —> $/€329.99

T-RackS 5 Deluxe - $/€299.99 —> $/€199.99 or 200 Gear Credits
T-Racks 5 MAX - $/€499.99 —> $/€299.99
T-RackS 5 MAX USB / Boxed - $/€529.99 —> $/€329.99

Total Studio MAX - $/€999.99 —> $/€499.99
Total Studio MAX USB/ Boxed - $/€1,029.99 —> $/€529.99

* All prices excluding taxes/VAT.