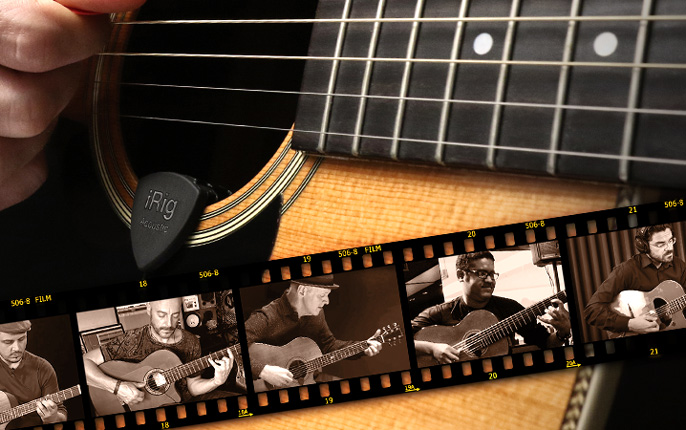 Hear how virtuoso guitarists capture the true tone of their instruments
29 September 2017
iRig Acoustic Stage accurately reproduces the full sound of acoustic guitars and other instruments with studio-quality sound live on stage and in the studio. The combination of its advanced MEMS microphone and hi-quality preamp and DSP processing gives you the best of both worlds — the beautiful, rich sound of your acoustic guitar as if it were mic'd up in the studio AND the freedom to move around without compromising your sound. In this roundup of virtuoso guitarists hear how iRig Acoustic Stage faithfully captures the true tone of any acoustic guitar whether it is a nylon string or steel string.
Talented guitarist, Willy Porter has been working professionally since 1990 and has collaborated with world famous artists including Sting, Paul Simon, and Jeff Beck. In this video, Willy plays a beautiful Martin M36, a Taylor Grand Concert Custom, and two custom made guitars hand-crafted by luthier Gordon Bischoff, one of which has 9 strings. Thanks to the accuracy of iRig Acoustic Stage you can hear all the tonal differences down to the finest details.
Chema Vilchez is one of Spain's most accomplished guitar experts. His talent for fusing jazz and flamenco into a unique experience is truly superb. He has already collaborated with many great names, such as Orquesta Nacional de Jazz de España, Placido Domingo, Vinnie Colaiuta, Damian Erskine, Curro Piñana, John Patitucci, Jeff Ballard, Dominique di Piazza, Eric Marienthal and many more. In the video, Chema demonstrates iRig Acoustic Stage using a nylon string acoustic guitar.
Watch as Daniele Gregolin uses the iRig Acoustic Stage to play Montagne Sainte-Geneviève by Django Reinhardt on a dreadnought acoustic guitar. Daniele has collaborated with Bryan Beller (Steve Vai, Guthrie Govan) musicians Marco Minnemann (Paul Gilbert) Ludum Beier (Angelo Debarre) and Eumir Deodato (Frank Sinatra, Wes Montgomery, Bjork).
Having played alongside acclaimed artists such as Tommy Emmanuel, Olli Soikkeli, Frank Vignola and Adam Rafferty, Joscho Stephan is rapidly strengthening his position as one of the leading exponents and inheritors of the crown of the all-time great gypsy jazz guitarist Django Reinhardt. In this video, Joscho plays an upbeat pick style piece.
Félix Santos Jr. has played with many of the biggest names of brazilian music like Altamiro Carrilho, Joel Nascimento, Osvaldinho do Acordeom, Turíbio Santos, Jorge Cardoso, Gabriel Grossi, Bebe Kramer, Hamilton de Holanda, Rick Trolsen, Dirceu Leite, Dominguinhos, Daniela Spielman, Os Cariocas, Yamandú Costa and others. In this video, Félix Santos Jr. plays a 7-string Brazilian guitar, used mainly for chorus and samba.