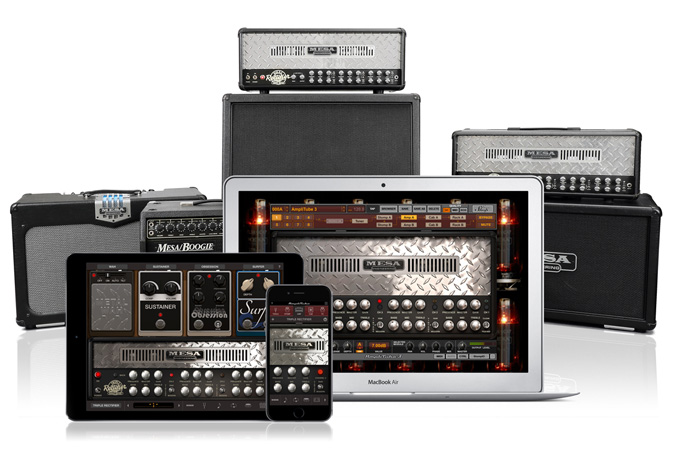 Save up to 40% off AmpliTube MESA/ Boogie for Mac/PC and iOS for limited time
13 June 2017
Want some Boogie magic? Turn up your summer with our special sale on AmpliTube MESA/ Boogie for Mac/PC and iOS. From June 13th through June 30th, 2017 you can get AmpliTube MESA/ Boogie for Mac/PC for only $/€99.99 (normally $/€149.99), and AmpliTube MESA/ Boogie for iOS for only $/€14.99 (normally $/€24.99). That's up to 40% off the regular retail price, but you'll have to hurry 'cause this deal won't last forever.

Working in close collaboration with the R&D Team at Mesa Engineering, AmpliTube MESA/Boogie lets musicians play guitar through models of some of MESA/Boogie's most famous genre-defining amplifiers and cabinets on their Mac, PC, iPhone, iPad or iPod touch. And like all AmpliTube virtual gear, these models have been carefully crafted to sound, look and perform as close to their hardware counterparts as possible. In addition to the MESA/Boogie gear, AmpliTube MESA/Boogie for iOS also comes with 6 versatile stompboxes that let guitar and bass players build and play with their dream MESA/Boogie tone rig anytime and anywhere.

The amplifiers and cabinets available in AmpliTube MESA/Boogie include:

MESA/Boogie Dual and Triple Rectifier: The standard for modern high-gain heavy guitar tone. The Rectifier amps are aggressive amplifiers for aggressive players. Both have played a major role in defining the sound of grunge, metal and countless other forms of hard and heavy music. Each amp offers 3-channel, 8-mode operation and varying levels of tube saturation, plus a switchable virtual tube/solid-state rectifier section. The Rectifiers provide a tremendous range of sounds that can be everything from crushingly percussive to liquid and elastic.

MESA/Boogie Mark III: This amp from 1984 is the first original 3-channel "Tri-Modal Amplifier" design. It features an amazing set of sonic sculpting tools via its original three-channel setup: Rhythm, a distinct midrange "Crunch" Rhythm and a Lead channel with independent gain and master volume controls.

MESA/Boogie Mark IV: An improvement on a classic, this amp from 1989 takes everything that made the Mark III the standard for Boogie tone in that era and makes it even better. Its three channels allow it to deliver an incredibly wide sonic array that stretches from sparkling clean tones to ultra-high-gain lead sounds that are rich with harmonics and sustain.

MESA/Boogie TransAtlantic TA-30: A decidedly British MESA/Boogie tribute. This model captures the essence of what, for MESA, was an exercise in simplicity of operation and comprehensive tonal control. It features two-channel operation and 5 distinct "Mode" voicing choices that reference several classic British and American circuits. Throw in the Gain Boost feature and two high-gain options (HI 1 and HI 2 in Channel 2), and this model covers everything from classic 60's to crushing contemporary. Each channel also features the flexibility of 3 levels of output power. This allows for a full range of power response and character that adds yet another level of accuracy and authenticity to its preamp sounds! This amp may have been the most versatile yet simple-to-use MESA amplifier ever made, and it covers anything and everything the other models might miss due to their higher power ranges and gain structures.

Now guitarists, producers, engineers and anyone needing the power of "in-the-box" professional amplifier software can enjoy modeled versions of several of MESA/Boogie's most famous high-gain sounds via 5 inspiring amplifiers and cabinets. These exciting new co-developed models deliver everything from gorgeous sparkling clean sounds to the percussive aggression and tight crunch of the Rectifier series to the violin-like sustain of the Mark series to the ultra-flexible mid-gain British leanings of the TransAtlantic TA-30, and everything in between.
AmpliTube MESA/Boogie for Mac/PC is available now for the special promotional price of just $/€99.99* from the IK online store or just 100 Custom Shop Gear Credits from the AmpliTube Custom Shop. You can get the AmpliTube MESA/ Boogie iOS app for just $/€14.99 on the App Store, or get the Complete MESA Pack inside AmpliTube iOS for only $/€14.99 through in-app purchase during this special sale.

*Pricing excludes taxes.