Review of IK's new voice recording mic for iPhone, iPod touch and iPad
17 June 2012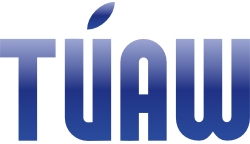 Here are some quotes from the review of the iRig Mic Cast from TUAW:
"IK Multimedia has just released the new iRig MIC Cast (US$39.99), a tiny plug-in microphone for iOS devices that promises to make recording podcasts anywhere a reality."
"IK Multimedia, the manufacturer of the iRig MIC Cast, offers free versions of two apps to anyone who buys the microphone -- iRig Recorder FREE and VocaLive FREE -- but the mic also works well with my favorite recording app, GarageBand."
"The iRig MIC Cast comes with a small folding stand for your iPhone or iPod touch, perfect for doing hands-off recordings. Once you've started the recording, that's where the magic of this device is really apparent. It's an extremely unidirectional mic, so background noises tend to be masked by the voice being recorded. IK Multimedia notes that the iRig MIC Cast provides "an incredibly flat frequency response with zero tonal coloration", a fancy way of saying that it does a really good job of capturing voice recordings."
"I can easily see recording and editing podcasts from my iPhone or iPad using this microphone. IK Multimedia has created the perfect pocket mic for making podcasts or other voice recordings on your iOS devices"
"I found the iRig MIC Cast to be much better for making voice recordings:"
Pros:
Tiny and lightweight, easily pocketable
Gain is adjustable for nearby and far away sources
Earphone jack for monitoring your recording sessions
Comes with free voice recording apps and a tabletop stand
Affordably priced
Read the full review of the iRig Mic Cast from Steven Sande on TUAW.com.
Learn more about making voice recordings on your iPhone, iPod touch and iPad with iRig Mic Cast.