Led Zeppelin producer Alan Moulder talks about how he uses CSR, T-RackS and AmpliTube
10 January 2013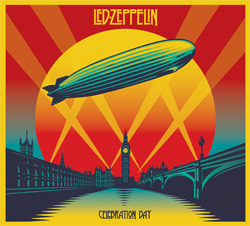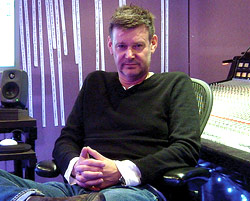 Alan Moulder - Producer
Grammy and Mercury Prize winning producer and engineer, Alan Moulder, was given the job of mixing the audio from Led Zeppelin's reunion concert, Celebration Day, for CD, DVD and Blu-Ray in only 3 weeks.
UK based Alan has produced many first division bands such as the Foo Fighters, Nine Inch Nails, Arctic Monkeys, The Killers and many more. He was handpicked to remix the 2007 concert of Led Zeppelin, which is reputed to have received over 20 million ticket requests, although only a lucky 19,000 managed to get tickets for the day.
Alan, who has been an IK user since 2003, runs CSR Classik Reverb, Ampeg SVX, AmpliTube 3, T-RackS 3 Deluxe and SampleTank 2 XL on his system.

He chose CSR to help beef up Jason Bonham's drum tracks to make them sound more "grandiose". He said that CSR reverbs "sound a bit like the old AMX RMX16 with a big deluxe sound."

Our Paul Kaufman asked Alan why he chose CSR and what he particularly liked about it:

"I like the depth and richness of it. The way it decays is great. I use the Hall a lot if I want a big thick reverb. I use the Inverse sometimes on guitars if I want to sit them in a different place in the mix without them sounding distant or or if I want that distinctive gated reverb sound a bit like Nonlin on the RMX16."
He went on to add:

"When I want a reverb that sounds like a reverb as opposed to a facsimile of a room or space the CSR is normally what I will go for."

Talking about his other IK products, which he has been using for several years, Alan told us:

"I use T-RackS for fairly extreme processing. I use AmpliTube when a guitar or bass isn't giving me what I want in terms of depth or tone. If I have a DI I will stick that on it or sometimes I just use the stomp boxes in there."
We also asked Alan if there were any other albums where he found IK plug-ins to be useful:

"I used the CSR on vocals on many albums, the last Foals album Total Life Forever and the new one coming out Holy Fire, the soon to be released How To Destroy Angels album and E.P.s  as well as the tracks I mixed on The Killers 'Battle Born' and many others. AmpliTube has saved the day on many recordings I have mixed!"

If you are interested in finding out more about his Led Zeppelin recording sessions, Sound on Sound magazine, January 2013 issue, features an in-depth interview with him.

You can find full details on Led Zeppelin and Celebration Day on their official website: http://www.ledzeppelin.com/


Copyright photo of Alan Moulder reproduced by kind permission of Paul Tingen