Use VocaLive with Audiobus-compatible apps like AmpliTube and GarageBand
14 June 2013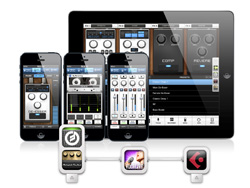 In addition to the iPhone 5 display support, VocaLive is now Audiobus compatible. VocaLive is a professional real-time vocal processor and recording app available in versions for iPhone, iPad or iPod touch. It allows singers, songwriters and producers to add professional quality effects to vocal performances, both onstage and in the studio.

Audiobus (from Audiobus Pty Ltd) allows the processing and output of audio apps to be used in real time with other apps, thus "connecting" them much like audio cables connect pieces of gear. Singers can now use VocaLive to add stunning vocal effects to their recordings in other apps like AmpliTube or GarageBand, or add instrumentation from other apps to their recordings in VocaLive.

VocaLive 1.6 is a free upgrade for existing users. For new users, VocaLive can be purchased on the App Store for $19.99/€17.99, and is available in versions for iPhone/iPod touch and iPad.