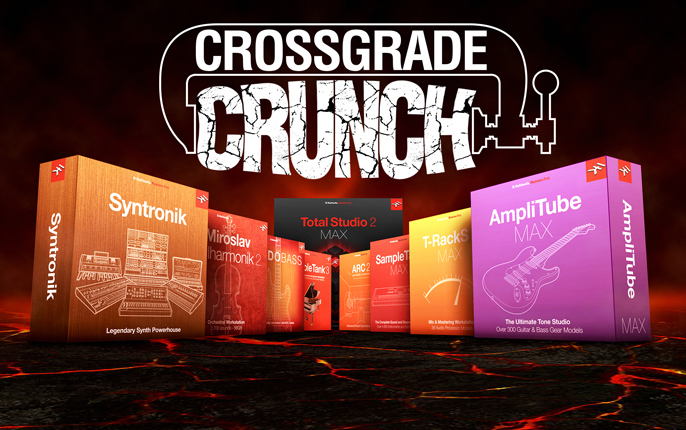 June 5 - July 2, Enjoy all crossgrades up to 33% off!
5 June 2018
From June 5 - July 2, all IK Multimedia software crossgrades and upgrades are up to 33% off! Save big on all IK's crossgrade titles with the Crossgrade Crunch promotion.  This is your chance to add any of IK's popular virtual instruments, mixing and mastering plug-ins, or guitar & bass amps and effects to your studio rig with extra savings for registered users of any IK product worth €/$99.99 or more.
Own and experience some of the best products the world has to offer with the hottest commodities like AmpliTube Max, SampleTank 3 Crossgrade/MAX Upgrade, T-RackS 5 MAX upgrade, Syntronik Crossgrade, Syntronik Deluxe Crossgrade, MODO BASS Crossgrade, Miroslav Philharmonik 2 Crossgrade, ARC 2.5 Crossgrade, and Total Studio 2 MAX Crossgrade.
Save on these popular virtual instruments, mixing and mastering plug-ins, or guitar amps and effects
AmpliTube MAX gives you your very own fully stocked tone studio complete with over 300 pieces of gear. It includes a virtual collection of meticulously rendered models of some of the most coveted gear on the planet.
SampleTank, the greatest collection of sounds has over 4,000 new instruments with 21 instrument categories covering the entire span of acoustic, electric and electronic sounds. SampleTank MAX works as a standalone sound and groove workstation for your Mac/PC, and it can also be used as a 64-bit AAX, VST or Audio Units plug-in inside your DAW of choice.
T-RackS 5 MAX is a must-have set of tools for discerning producers, engineers, and musicians wishing to sculpt single tracks and full mixes with some of the most popular, best-selling plug-ins ever created.
Syntronik is a cutting-edge virtual synthesizer that raises the bar in sound quality and flexibility thanks to the most advanced sampling techniques combined with a new hybrid sample and modeling synthesis engine.
MODO BASS® is the first physically modeled bass virtual instrument that gives you an unprecedented realistic performance for your bass tracks.
Miroslav Philharmonik 2, made in collaboration with legendary jazz bassist and sampling visionary, Miroslav Vitous, gives you a over 58GB sound library with over 2,700 instruments sampled in glorious high-definition audio.
ARC System 2.5 with MEMS microphone is the first acoustic correction system that combines a super accurate MEMS measurement microphone, measurement software AND a correction plug-in to greatly improve the audio monitoring accuracy of speakers in any studio or room listening environment in an elegant, portable, affordable, easy to use and extremely professional solution.
Total Studio 2 MAX, with 94 products including a massive range of gear and sounds from AmpliTube, T-RackS, SampleTank, Miroslav Philharmonik 2, Syntronik and more, 16,800 sounds, 39 high-end mixing/mastering processors and over 350 gear models for guitar and bass, meets the demands of today's most challenging music productions. Save nearly 90% off what it would cost you to buy everything individually.
Total Studio 2 DELUXE's 35 astonishing products strike the right balance of features, flexibility, variety and power. With over 9,700 sounds, 12 powerful virtual instruments, 22 mixing and mastering processors and 140 guitar amps and FX, Total Studio 2 DELUXE lets musicians, composers, and producers maximize their creativity.  
Take advantage of this great IK offer and upgrade your studio today with all crossgrades up to 33% off. Act now, as this promotion only last until July 2, 2018!
Although IK strives to provide accurate product and pricing information, unintentional pricing or typographical errors may occur. IK reserves the right to correct, change or update information such as pricing, availability and product descriptions, at any time without notice.