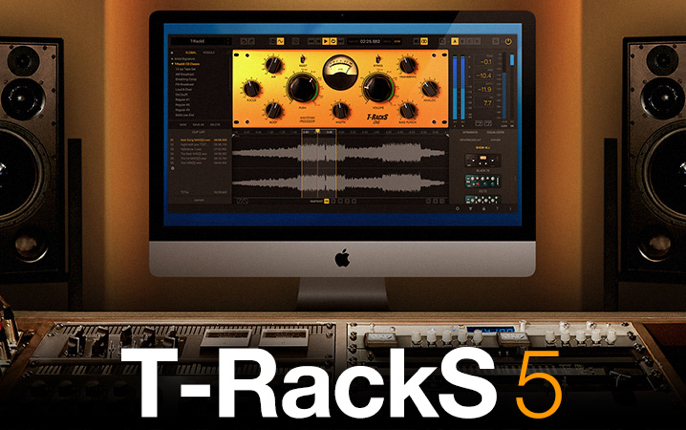 Up to 40% off T-RackS 5, T-RackS 5 Deluxe, and even T-RackS 5 MAX!
3 May 2018
IK Multimedia would like to commemorate Spring with a T-RackS 5 Spring Special! From May 3rd through June 3rd, the award winning ultimate mix and mastering software T-RackS 5, Deluxe, and MAX are all up to 40% off.
New in T-Racks 5:
4 new powerful modules: Master Match, Dyna-Mu, EQual, ONE
Fully redesigned, fully resizable, flexible interface with faster workflow
New audiophile-grade audio engine, completely improved from input to output
Enhanced, extensive broadcast ready professional metering tools
Album assembly with multi-format file export
T-RackS 5 - $/€149.99 --> Buy now for only $/€99.99 or 100 Gear Credits in Custom Shop
The ultimate mix and mastering workstation from the creator of the first desktop mastering software. T-RackS 5 has evolved into the most powerful mix and master modular system ever, offering maximum processing versatility, an improved audio engine, 4 new processors for a total of 38 high-quality modules on a flexible 16 processor series/parallel chain, a comprehensive broadcast ready professional metering tool section, a new completely redesigned, smart single-window GUI as well as an album assembly section with multi-format exporting function.
T-RackS 5 includes 9 processors overall.
Includes:
T-RackS 5 Deluxe - $/€299.99 --> Buy now for only $/€199.99 or 200 Gear Credits in Custom Shop
Our T-RackS 5 Deluxe collection provides you with the professional tools you need to take your mixing and mastering talents to the next level. It features 22 analog-modeled and digital processors which instantly expand the power of your desktop-based recording studio, for extraordinary processing versatility and soulful analog character.
In addition to the 22 processors, you will also get the all-new T-RackS 5 professional metering suite, which provides you with immediate and complete visual feedback about the content of your audio material, so you can easily deliver professional results that will satisfy the strictest broadcast compatibility standards.
Includes:
T-RackS 5 MAX - $/€499.99 --> Buy now for only $/€299.99
The T-RackS 5 MAX collection for Mac/PC comprises 38 superb modules that range from compressors and limiters to equalizers, channel strips, reverbs and more. All the gear has been modeled after some of the most sought-after production equipment of all time and chosen for its unique sonic character.
T-RackS 5 MAX is a must-have set of tools for discerning producers, engineers, and musicians wishing to sculpt single tracks and full mixes with some of the most popular, best-selling plug-ins ever created.
Includes:
Click Here to learn more about T-RackS 5
Click Here to learn more about T-RackS 5 Deluxe
Click Here to learn more about T-RackS 5 MAX
All purchases from the IK online store are subject to VAT in the EU and may vary by country. Although IK strives to provide accurate product and pricing information, unintentional pricing or typographical errors may occur. IK reserves the right to correct, change or update information such as pricing, availability and product descriptions, at any time without notice.