The most advanced audio/MIDI interface in over 200 Apple stores and online
7 September 2017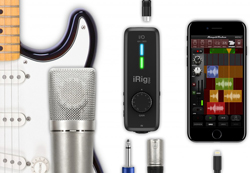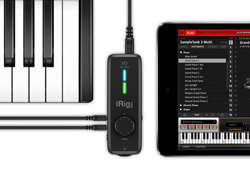 iRig® Pro I/O, the cutting-edge high definition audio/MIDI interface for iPhone®, iPad® and Mac® from IK Multimedia, is now available in the Apple Store® at more than 200 locations worldwide and online. iRig Pro I/O lets musicians connect all their gear to their mobile devices or computers to make music and produce audio, anytime and everywhere, with a portable, pocket-size mobile studio they can always carry with them.
The combination microphone and instrument input allows users to record high definition, studio quality 24-bit/96kHz audio anywhere. There is also a MIDI input and output to connect keyboards and controllers and a headphone output jack, perfect for use with the iPhone 7 and its future generations.
Being certified MFi hardware (Made for iPhone and iPad) iRig Pro I/O is guaranteed to be plug-and-play on all iOS devices with a Lightning® port. A huge selection of IK's award-winning apps and software is also included with iRig Pro I/O enabling complete music productions with a total value of more than $/€ 500.
Today IK Multimedia offers more Apple certified music and audio creation and production hardware than any other manufacturer. With more than 50 million software and app downloads and over 2 million units of its iRig branded products sold since 2010, IK Multimedia is the undisputed leader in the mobile music creation category.
iRig Pro I/O, together with the vast majority of IK Multimedia products are also "Made in Italy" in its fully owned state-of-the-art manufacturing facility that combines the highest quality processes together with a focus on unique Italian world class craftsmanship. This goes together with IK's social responsibility standards that ensure compliance with the strictest labor regulations in the world along with eco-friendly programs, such as lessening environmental impact by reducing waste, employing smart recycling techniques and reducing power consumption by utilizing roof mounted solar panels to generate electricity.