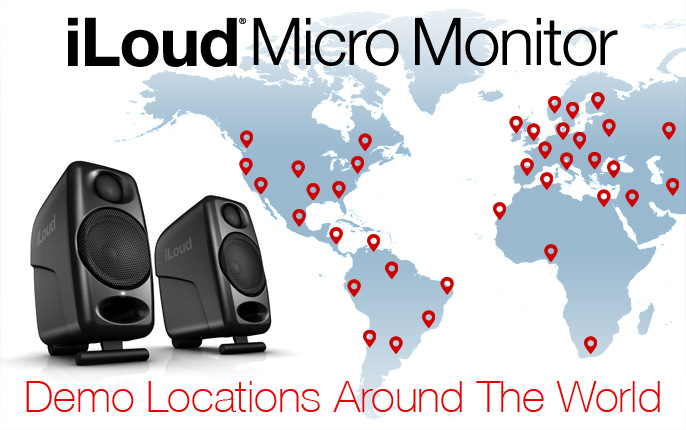 IK has several demo locations for iLoud Micro Monitor setup so you can hear what the hype is about
6 June 2017
We are proud to announce we have more iLoud Micro Monitor listening stations set up around the world, and will be adding more throughout the next several months. Stay tuned to our website, socials and newsletters for more locations near you.
iLoud Micro Monitor is two extremely portable, high-performance bi-amped speakers that delivers a combined 50W RMS of power for solid bass, plenty of headroom and a stunningly defined stereo image. Whether you're recording, editing, mixing or mastering audio, editing video, sound designing or gaming, iLoud Micro Monitor ensures your production will translate well to the huge variety of consumer devices — headphones, home stereo systems, gaming consoles, car audio systems, TVs, and other listening systems.

Simply put, the iLoud Micro Monitor sounds absolutely amazing. And now with our listening stations placed around the world you can hear just how amazing they really are. Check our iLoud Micro Monitor dealer locator to find a listening station near you. More locations to come.
iLoud Micro Monitor listening stations:
Guitar Center:
Sam Ash:
Click here to find a location near you.
iLoud Micro Monitor is now available from music and electronics retailers worldwide, and from the IK Online Store for only $/€299.99 per pair (excluding taxes).