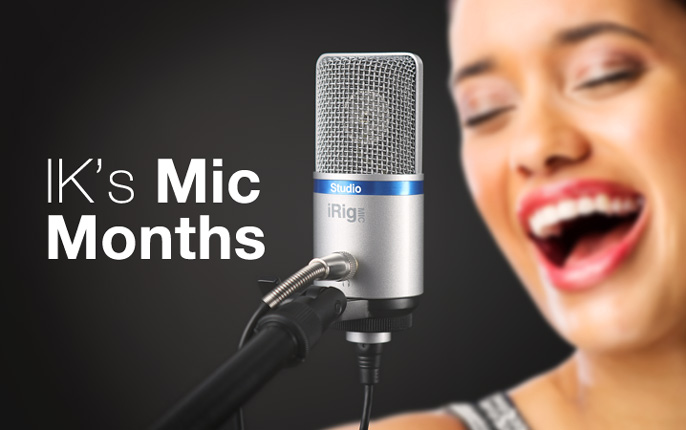 Save up to 33% off our range of microphones at your local music store
12 April 2017
IK's Mic Month is here and now is your chance to save up to 33% off our range of microphones. From now through May 31st, 2017 head to your local music store and save on iRig Mic, iRig Mic Cast, iRig Mic Lav, iRig Mic Field, iRig Mic HD and iRig Mic Studio.
IK's range of microphones are perfect for all your recording and performance needs. Whether it be in the studio or live on stage, IK has you covered. Our high quality microphones are built for singers, podcasters, online radio broadcasters, journalists, videographers, home studio enthusiasts and anyone else that needs to record high-definition audio on the go. Each can be connected directly to your iPhone, iPad or your Mac/PC, which makes them some of the most versatile microphones on the market.

Featured Products:

iRig Mic Cast - $29.99 - save 25%
An ultra-compact vocal microphone for iPhone, iPad and Android devices, iRig Mic Cast is ideal for interviews, podcasts, lectures and even conference calling.  It's small enough to slip in your pocket, so it's always ready when needed, and offers adjustable input sensitivity and a cardioid pickup pattern to reduce background noise and deliver clean, clear vocals in any situation.

iRig Mic Lav - $39.99 - save 20%
iRig Mic Lav is a discreet lapel / lavalier microphone that delivers great vocal recordings with minimal background noise.  On-camera?  Mic Lav is barely visible but works with any app that accepts audio, so it's perfect for Facebook Live and other streaming apps.  And for interviews, two iRig Mic Lav can be daisy-chained together to capture two speakers into a single signal for use with apps that don't accept 2-track audio.

iRig Mic - $39.99 - save 33%
A rugged handheld microphone, iRig Mic plugs directly into your iPhone, iPad or Android tablet and delivers professional sound quality.  The 3-way adjustable gain control lets you dial in the perfect sound for any situation, whether it's singing karaoke at home or interviewing people in the field, and its cardioid pattern helps reduce background noise.   iRig Mic also offers a headphone output for real-time monitoring so you never lose a take.

iRig Mic Field - $59.99 - save 25%
Turn your iPhone or iPad into a powerful stereo field recorder with iRig Mic Field.  iRig Mic Field features a rotatable enclosure for the best stereo image in both landscape and portrait orientations. With 24-bit A/D converter, a 44.1/48 kHz sampling rate, and a low-noise/high-definition pre-amp into an enclosure that's small enough to slip easily into your pocket. Now you can get that high-quality stereo sound anytime and anywhere.

iRig Mic HD - $69.99 - save 33%
iRig Mic HD combines the form factor and flexibility of iRig Mic with 24-bit A/D converters and 44.1/48 kHz sample rate to deliver stunning sound quality.  The freely adjustable sensitivity makes it perfect for singers, podcasters, broadcasters, videographers and more, and connects directly to your iPhone, iPad or Mac/PC for use with the widest range of apps and software.  An easy-to-see LED signal indicator lets you know at a glance that you're getting the right sound, and the rugged metal frame will stand up to years of the toughest use.

iRig Mic Studio - $99.99 - save 33%
iRig Mic Studio offers large-diaphragm condenser sound quality in an enclosure that's smaller than an iPhone. Its large 1" electret condenser capsule is perfect for recording any instrument, and 24-bit audiophile-grade A/D converter (with 44.1/48 kHz sample rate) and a built-in low-noise high-definition preamp ensure you capture every detail.   It has a gain control knob and a multicolor LED level indicator, headphone output with its own level control for onboard monitoring,and comes with a sturdy and portable tabletop tripod stand.
Don't miss out our Mic Month special. Head to your local music shop and pick up your favorite iRig Mic today.