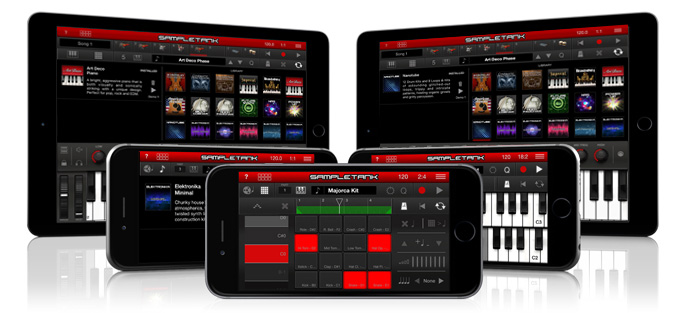 The Art Deco, Nanotube & Elektronika - Minimal
13 April 2017
We're pleased to announce new instrument collections now available in the newest release of SampleTank 2 for iOS — The Art Deco Piano, Nanotube and the Elektronika - Minimal.
Each new collection for iOS is derived from the SampleTank 3 for Mac/PC instrument collections and contain multiple instruments and patterns for the utmost in mobile music creation.  Now you play with the retro-futuristic sounds of the Art Deco Piano, take your tracks to the next level with Nanotube or strip everything down and get back to basics with Elektronika - Minimal. Each collection is now available for in-app purchase inside of SampleTank 2 for iOS.
Art Deco Piano - $/€19.99
The Art Deco Piano has been carefully recorded from a classic Blüthner® PH Grand Piano. Designed in the 1930's by Danish designer Poul Henningsen, it sports a striking curvy deco design that lacks a traditional wood cabinet and soundboard. Instead, its mixture of metal, leather and other materials produces a distinctly bright tone that's perfect for pop, rock, R&B, jazz and other styles of music that call for a lively and aggressive feeling.

Nanotube - $/€19.99
Nanotube is a futuristic library for SampleTank 3 that lets you swarm your tracks with astounding glitched-out loops, trippy and intricate patterns, howling organic growls and gritty percussion. In all, you get 12 drum kits, 20 MIDI patterns and 8 loops and hits with one-shot sounds and electronic drum hits. With Nanotube you'll have everything you need to effortlessly make cutting-edge beats. Astounding glitched-out loops, trippy and intricate patterns, howling organic growls and gritty percussion.

Elektronika - Minimal - $/€9.99
The Minimal sound library gives you the tools you need to make those kinds of hypnotic beats that keep dance floors moving for days. You get 32 loops pulled from 7 different categories with chunky rhythms, spacious atmospherics, twisted synth lines and more. Put simply, With the Minimal sound library, you can make tracks that bring the funk and make the party last all night (or longer).

These new sound libraries have been designed to be experienced with IK's growing range of companion hardware controllers. Keyboard players will love the effortlessness with which Art Deco Piano, Nanotube and Elektronika - Minimal pair with IK's iRig Keys Mini, iRig Keys and iRig Keys PRO keyboard controllers.
SampleTank 2 for iOS — A world of sounds on your mobile device
SampleTank 2 for iOS is a sample-based virtual instrument that gives you access to thousands of sounds from multiple categories of acoustic, electric and electronic instruments — all on your iPad or iPhone. Load up to 8 simultaneous parts from a selection of 140 included instruments in 16 categories like piano, drums, bass, guitar, strings, keyboards, synths, organs and more. These instruments can be played in a live setting or when composing with the device interface, an external keyboard or pads controller. The new SampleTank 2 sound engine is the same as its Mac/PC software counterpart, giving you astonishing realism and audio quality.
With SampleTank 2 for iOS you now have the power of desktop virtual instruments — without compromise —with a massive number of over 2,000 high-quality instruments and the most advanced sound and groove workstation for the mobile platform.
SampleTank 2 for iOS is available from the App Store for $19.99. Additional instrument collections are available for in-app purchase starting at just $/€5.99.