From March 21st to April 30th, 2013
Get THREE free virtual instruments when you purchase and register an iRig KEYS
The Magnum V.I. Group Buy has hit the 1,000 user mark, so we've sweetened the deal — if we can get another 500 users, it will get even sweeter
1506 users

494 left to 5 free VIs

registered users

0 days

left

time
Magnum V.I. – supercharge your mobile music studio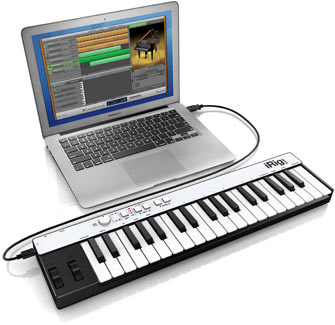 The Magnum V.I. Group Buy has reached the 1,000-participant goal, so if you're one of those who've already joined, congratulations, you're now entitled to a third free V.I.! If another 500 participate, you'll get a fourth one. If you haven't joined yet, you can still get three free V.I.s (and maybe more), by joining between now and April 30, 2013. Joining is easy, just purchase and register an iRig KEYS, our new keyboard MIDI controller for iOS devices and Mac/PC before April 30th.
Buy iRig KEYS from your favorite retailer or from the IK Online Store, register it on our website, and we'll instantly give you three full-version, award-winning Mac/PC virtual instruments.. AND… when 500 more of your closest friends, relatives and members of the global musician brotherhood/sisterhood join up, and we reach the 1,500-participant mark, you'll get a fourth free powerhouse VI of your choice. Then, if another 500 join the group, you'll get a fifth one.
Yours for only $99.99/€74.99!
iRig KEYS – "central intelligence" for your device or laptop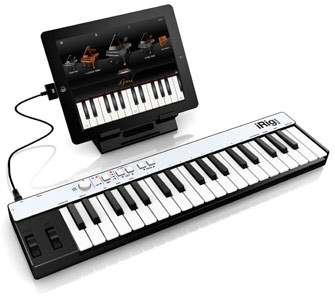 iRig KEYS is our new compact and ultra-portable MIDI controller for your iOS device, Mac, or PC, which easily fits into your backpack or laptop bag. Its plug-and-play feature allows you to plug in to your iPhone, iPad or laptop, and instantly make music on the go — and control parameters of your favorite apps right out of the box. But don't let its compactness fool you — iRig KEYS is a fully programmable full-featured keyboard and MIDI controller.
iRig KEYS comes standard with a selection of pro apps and software. For Mac/PC you get SampleTank 2 L (download from the IK User Area), which comes with a 2.11 GB library of instruments and loops. For iOS you get SampleTank FREE and iGrand Piano FREE (download from the App Store).
IK virtual instruments — the building blocks of the hits
So when you purchase iRig KEYS during this promotion, we don't give you a "watered down" versions of our software instruments… Nope, you get the real-deal full versions. IK virtual instruments have been used on countless recordings around the world by today's top professional musicians, engineers and producers. You can choose your freebies from ANY of our award-winning full-version virtual instrument collections: SampleTank 2.5 XL, Sonik Synth 2, SampleMoog, SampleTron and Miroslav Philharmonik.
Don't delay… the sooner you get on board, the sooner you can get more free stuff! Buy your iRig KEYS today from your favorite retailer or from the IK Store.
Offer good through April 30, 2013.
How to qualify for the promotion:
Purchase iRig KEYS from the IK Online Store or from your favorite retailer.
Access your User Area and click on the "Promotions" link.
Click on the "Magnum VI Group Buy" link and choose and download your free virtual instrument titles.
IMPORTANT NOTICE for all participants
Please note that your free products will remain available for download from your IK User Area for a period of 30 days after the closing date of the promotion. Claims for promotional products cannot be made after that date. So please remember to claim your free products as soon as you can!
Promotion valid from 21st of March 2013 until 30th of April 2013.
Date of registration is decisive - The purchased iRig KEYS must be registered between 21st of March 2013 until 30th of April 2013.
IK Multimedia reserves the right at its sole discretion to terminate or modify the promotion.
Although IK strives to provide accurate product and pricing information, unintentional pricing or typographical errors may occur. IK reserves the right to correct, change or update information such as pricing, availability and product descriptions, at any time without notice.
The promotion applies to new purchases only.
All prices from the IK online store exclude taxes and may vary by country.