Earlier this year, I replied to what appeared to be a straightforward question about using the ARC System but very quickly realized that there was a lot more to studio monitoring systems that one might imagine, so I embarked on a vast project to solve what for me is "the studio monitoring system problem", and now that there are new sections in the IK Multimedia FORUM, I decided to start a new topic by cloning some of my posts, since most of the posts are very specific to devising an affordable studio monitoring system and solving "the studio monitoring system problem" . . .
As an overview, these are a few key bits of information that I have realized in an immediately conscious way over the past two years:
(1) Musicians and singers who are proficient in at least one instrument or some style of singing tend to have the vastly mistaken belief that arranging, producing, mixing, and mastering are so easy to do that doing it requires nothing other than a bit of natural intuition . . .
(2) Loudspeaker manufacturers stopped designing and building woofers that have a flat, equal loudness response from 20-Hz to at least 500-Hz, which maps to the fact that there are no studio monitoring systems that reproduce the full range of normal human hearing (20-Hz to 20,000-Hz), although in some instances it is possible to extend the low-frequency response at least below the lowest frequency of the low-pitch "
E
" string of an electric bass guitar or string bass, which for reference at standard "Concert A" (440-Hz) tuning is 41.204-Hz, where doing the required low-frequency range extending necessitates adding two deep bass subwoofers, since adding just one makes the deep bass monaural and ultimately causes problems when one is focused on mixing for stereo and headphone listening . . .
This denial of the low frequencies is so pervasive that even the high-end JBL studio monitoring system has to be augmented with two deep bass subwoofers, bringing the total street price somewhere in the range of $7,500 (US) when the calibrating controller and other options are included, which might be great if one can afford it but otherwise is a "break the bank" proposition . . .
However, even though traditional loudspeaker designers and manufacturers in the music industry abandoned low frequencies decades ago, the folks who design and build car audio systems have stepped-up to the plate and produced some quite amazing deep bass subwoofers, so there are sources for subwoofers at the dawn of the early-21st century . . .
(3) Having beliefs and opinions is great, but focusing on facts also is important, and there are a few basic rules of acoustic physics that are central to making sense of studio monitoring systems, which among other things includes understanding equal loudness curves and sound pressure levels, as well as having a good but simple set of measuring devices, including a real time analyzer and a sound pressure level meter . . .
(4) Even though there are no commercial off the shelf (COTS) studio monitoring systems that reproduce the full range of normal human hearing (20-Hz to 20,000-Hz), which mostly is a matter of relegating the low-frequency range to add-on subwoofer units that double or triple the cost of a studio monitoring system, the lower frequencies are present but just
not
at equal loudness, hence in the US by law cannot be included in stated specifications, a reality that became so absurdly surreal that the Federal Trade Commission (FTC) had to make a special rule to force loudspeaker and amplifier manufacturers to use a standard set of measuring units in describing the frequency response and other parameters of their products, which over the years most of the manufacturers have bypassed by making everything specific to 1,000-Hz . . .
(5) As a general rule, people who do sound reinforcement tend to know enough about acoustic physics, measuring devices, and so forth not to be misled by marketing blurbs that suggest something is good solely because a popular musician or singer uses it, which has the direct consequence that audio equipment for DJ and PA work nearly always is both (a) much better and (b) less expensive than audio equipment for musicians and singers, which is a very important bit of information when one wants to get a stellar studio monitoring system for mixing and mastering without having to "break the bank" . . .
(6) If you want a "big" sound, then you need to listen to music on a "big" studio monitoring system when mixing and mastering, and more specifically you need to listen to it at a sound pressure level (SPL) somewhere in the range of 80dB to 85dB--at least some of the time--since this is the SPL at which the "equal loudness curve" essentially is flat over the entire range of normal human hearing, where the major corollary is that "big" maps to 15" woofers for the low frequency notes . . .
(7) The best way to make sense of all this stuff is to focus on the basic principles of acoustic physics, since this is the only way to get past all the vastly deluded marketing blurbs written by creative writers for whom providing factual information is the antithesis of their primary mission in life . . .
(8) You can and should trust your ears and what you hear, but you also need to trust correctly calibrated measuring devices, meters, and all the other acoustic physics tools and devices that are used in doing science, where for example with a bit of experience you should be able to tell intuitively when a studio monitoring system is playing at a sound pressure level (SPL) in the range of 80dB to 85dB, but it is both helpful and necessary to verify your intuition with an SPL meter, because by verifying the sound pressure level with a properly calibrated SPL meter, it becomes a
fact
rather than an intuitive belief . . .
(9) While there is great merit to George Martin's rule that "all you need is ears", if what you hear when listening to music played through your studio monitoring system is inaccurate, then you are spinning wheels and accomplishing nothing of value in the grand scheme of everything . . .
(10) And on a curiously related note, these are two examples of being able to hear something very subtle, which I provide as an example of the fact that there is more to arranging, producing, mixing, and mastering than just being able to hear stuff with remarkable, if not extraordinary, precision . . .
[
NOTE: These example are easiest to hear when you listen with studio quality headphones like the SONY MDR-7506 (a personal favorite), although yet another basic and indisputable rule of mixing and mastering is that it must be done when listening to a properly calibrated studio monitoring system, even when the intended audience only enjoys music when listening with headphones or ear buds . . .
]
(10.1) This example comes from "Hound Dog" (Elvis Presley), which is a song I have been studying for over half a century and maps to listening to it over and over tens of thousands of times, but it was only this year that I heard something mind-boggling in an immediately conscious way, which to be specific is an instance of an uvular trill . . .
Uvular Trill (wikipedia)
Uvular Trill (wikipedia) -- OGG audio clip
[
NOTE: Elvis does a uvular trill on the "h" of "hound dog" at approximately 1:59 in this YouTube monaural recording of "Hound Dog", and it sounds a bit like a snare drum roll or something similar, but it is a uvular trill done on an "h" rather than on the more common "r". I probably heard this in one way or another years ago, but I did not know enough about singing (a) to notice it in an immediately conscious way and (b) to be able to identify it specifically in technical terminology, but so what . . .
]
"Hound Dog" (Elvis Presley) -- YouTube music video
(10.2) This is an example of what at present I think is a tape splice of the word "and" augmented with a bit of electric lead guitar string bending, although I continue to ponder it along with several other possible hypotheses, and the song is "Maybe" (The Shangra-Las), featuring 15 year-old Mary Weiss on lead vocals and Shadow Morton doing the producing . . .
[
NOTE: Again, this is easier to hear when you listen with studio quality headphones like the SONY MDR-7506 (a personal favorite), and the stellar "and" is heard at 0:19, 0:58, and 2:06 in the YouTube music video. I think the first "and" is the original moment of serendipity and that the two subsequent "and" instances are tape splices. It could have been a matter of Mary Weiss needing a bit of help to hit the note for "and" and one of the guitar players helping her at the suggestion of Shadow Morton by doing a string bend, which just happened to be a bit of true musical magic. I have no idea how it happened, but it is is there, for sure . . .
]
"Maybe" (The Shangra-Las) -- YouTube music video
SUMMARY
The general perspective here in the sound isolation studio--which I think is based on facts--is that I have been able to compose songs (lyrics and music), play lead guitar, and sing proficiently for a long time, but when I mixed my songs they sounded terrible, so after finally extracting my head from my arse approximately two years ago and realizing that the often vastly delusional and absurdly high self-esteem of a lead guitar player was interfering with my ability to do arranging, producing, mixing, and mastering, I embarked on a diligent effort to make sense of arranging, producing, mixing, and mastering, which in many respects is the direct consequence of discovering and using T-RackS, which nearly instantly made it abundantly obvious to me that I did
not
know much of anything about doing arranging, producing, mixing, and mastering in the digital audio universe, which among other things soon led to discovering IK Multimedia virtual instruments and NOTION 3 (Notion Music), although somewhat indirectly as the consequence of needing a way to do a complex
Bulería
drumkit pattern and recalling that IK Multimedia had an orchestra thing (Miroslav Philharmonik), which in turn led to focusing on getting up to speed on music notation for most of the past 18 months, with this moving everything forward, except that while the mixing is getting better, it needs improvement, hence the current focus on solving the studio monitoring system problem, which was helped considerably by calibrating the bookshelf studio monitors I was using with the ARC System, except that even with ARC System calibration, the mixes continued to have problems, which as noted is the reason for the current focus, where my perspective at present is that the ARC System will work best when it has a full-range studio monitoring system to calibrate, which simply is
not
the case with the bookshelf studio monitors I was using, really . . .
[
NOTE: This is the Bulería song, which is the first complete "basic rhythm section" and melody that I did with NOTION 3 and IK Multimedia virtual instruments, and in addition to what as best as I can determine is a standard Bulería rhythm pattern for the verses and chorus, the interlude features a 36-beat rhythm pattern that I call "Surrealería", during which for the YouTube music video I plan to juggle unshucked ears of corn and make erotically suggestive hip gestures while wearing ballet tights with an impressive codpiece, point-toed bunny slippers, and a Venetian mask as part of a stellar Flamenco and Mime reenactment of The Mayan Story of the Creation of the World, since I have an odd sense of humor and entirely too much free time . . .
] ]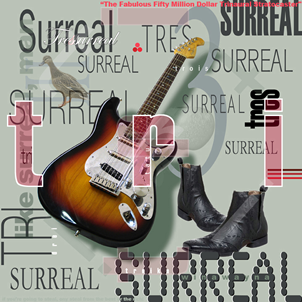 "Maríta de la Luna y Pablito el Petardo (No Es Tanto Lo Que Es Como Lo Que No Es)" (The Surf Whammys) -- MP3 (7.8MB, 279-kbps [VBR], approximately 3 minutes and 40 seconds)
Explained another way, if I can hear Elvis Presley doing uvular trills and Mary Weiss singing "and" with help from an enhanced electric guitar string bend and some brilliant tape splicing, then I should be able to do stellar arranging, producing, mixing, and mastering once I get everything working accurately and correctly here in the sound isolation studio, which is fabulous . . .
Fabulous!
P. S. Even if this current project does not solve the arranging, producing, mixing, and mastering problem, it will provide yet another part of the solution and then something else will become obvious, which is the way it works here in the sound isolation studio, where
the key is to make progress
, for sure . . .
For sure!